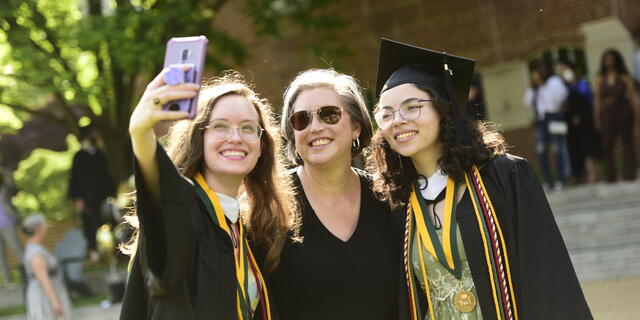 Any weather related changes to the Commencement event schedule or line-up instructions will be announced via email and posted to the McDaniel Commencement Website by: 
Senior Investiture and Honors Convocation: Noon on Friday
Graduate Commencement Ceremony: Noon on Friday
Undergraduate Commencement Ceremony: 10:00am on Saturday
Ceremony Information
2023 Graduate Commencement Ceremony

10:00 a.m. in Gill Gymnasium | Doors open at 9:00am (1 hour prior to the start of the ceremony) | No tickets are required for the Graduate ceremony.
Guests are kindly asked to depart promptly following the ceremony as the Commencement team prepares for the afternoon undergraduate ceremony.

2023 Undergraduate Commencement Ceremony

2:00 p.m. in Gill Gymnasium | Doors at 1:00pm (1 hour prior to the start of the ceremony)
Tickets are required for the Undergraduate ceremony. All undergraduates are guaranteed up to 4 tickets when they complete their graduation application with the Registrar's Office. Tickets are distributed directly to the student during Senior Week in the Office of Academic Life. If additional tickets become available, an email will be sent out in early May to all Seniors' McDaniel email accounts with directions on how to request additional tickets.
Guest Information
McDaniel students work very hard to obtain their degrees as do the parents, families, and friends who help support our students along their journey. This means not only are these ceremonies meant to congratulate and honor our new graduates, it is also an event to be shared with those who have helped them along the way. Please review the guidelines below to help make this day enjoyable for all.
Guest Behavior
Guests are asked to maintain the dignity of this ceremony. It is very important that all graduation participants and attendees conduct themselves in a polite and courteous fashion throughout the ceremony. We understand your enthusiasm; however, to ensure that everyone can hear the names of the degree candidates as they are presented on stage, guests must refrain from loud, disruptive cheering. Please do not bring balloons, large signs, noise makers, and/or other items that will obstruct viewing or be unpleasant for surrounding guests.
Illegal drugs and alcohol are not permissible in Gill Stadium or Gill Center. Please note: students under the influence may be removed from the ceremony.
Our goal is that every guest at commencement will have a positive, exciting, and rewarding experience. For guests who have an unanticipated interruption, McDaniel ushers will be available to escort you to the lobby. Ushers may ask guests to step away if they notice disruptions that affect other guests.
Dress
Business casual is suitable attire for Commencement. Please no shorts and t-shirts. Shoes should be comfortable for walking between parking areas and Gill Center (up to 1/4 mile.) Handicap parking will still require a 300 yard walk to the Commencement ceremony. For guests with mobility issues, please contact Student Accessibility & Support Services by email sass@mcdaniel.edu or phone 410-857-2504 to ensure adequate accommodations are in place.
Event Information
Traffic and Parking
Campus Safety personnel will be on hand to direct you to parking areas and to provide courtesy shuttle services for those needing assistance. A specific parking area for persons with disabilities will be reserved. We ask that guests display their handicapped placard prior to entering campus.
Persons with Disabilities
The Commencement exercises will be sign interpreted and specific seating areas will be reserved for those with physical disabilities. If seating is required for family or friends with special needs, submit a Commencement Accommodations Request as soon as possible. Questions? Contact Student Accessibility and Support Services at sass@mcdaniel.edu or phone (410) 857-2504.
Please note: Persons requesting accommodations will still need a ticket for the Undergraduate Commencement Ceremony.
Health & Safety Information
Following guidance from the Carroll County Health Department, McDaniel will continue to monitor the public health and safety of the campus and surrounding community to make decisions about ongoing operations. If at any time enhanced pandemic-related control measures are once again determined to be needed, the campus will be notified. The Return to the Hill webpage will still include the most up-to-date covid-related information.
Additional Information
Photographs of Graduates
The College contracts with a photographer to take pictures of each graduate as they receive a degree.
Photos of graduates will be taken this year immediately as a student leaves the stage area. Classic Photography & Imaging will be the photographer for the event and will make proofs of photos available for purchase following the event on their website: www.classic-photo.com, in early June. For privacy reasons, the proofs are not identified by name on Classic's website. They are posted in the same order as graduates received their diplomas: master's first, in alphabetical order, then bachelor's degrees in alphabetical order. For questions, contact Classic at 800-869-9515. Placement of order and costs are the responsibility of the graduate.
After the ceremony suggestion
It is a good idea to choose a specific location to meet your graduate after the ceremony. Otherwise, with all of the black caps and gowns, it will be very difficult to find your student.
Residence Halls:
Please remember that the halls will close at 7:00 p.m. after Commencement. Staff will be at multiple locations to collect keys.