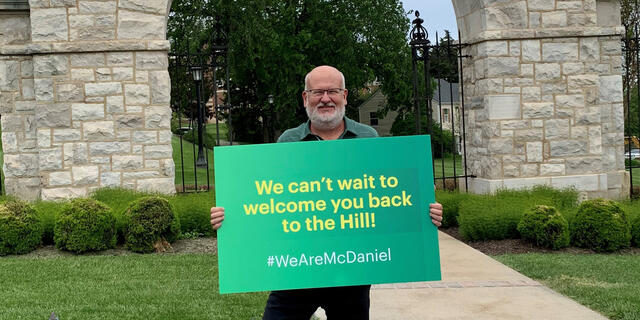 As we prepare to welcome students back to campus for the Fall 2020 academic year, our confidence in our ability to safely educate and house students on campus is due in part to some of McDaniel's unique qualities. These qualities empower our community even as other institutions of higher education may decide that they are unable to have students return to campus.

These qualities include:
Small class sizes.

Our average class size is normally just 15 students and we have further reduced by 50 percent the number of individual contacts that faculty and students will have each day this fall by establishing two sessions within the semester and utilizing hybrid instruction for many of our classes.

Regional student body.

Unlike other small private institutions in the state of Maryland, the vast majority of our students are from the state of Maryland or within 100 miles of campus. This minimizes the number of students who are arriving to campus from out-of-state hot spots.

Strong financial position.

Our financial position has allowed us to proactively invest almost $2 million dollars in necessary health and safety preparations for the fall semester.

Maryland has seen a decreasing statewide positivity rate and just today, Aug. 7, 2020, reported its lowest positivity rate during the COVID-19 pandemic.

For the third straight day, Maryland reported its lowest positivity rate and it is the first time it has fallen below four percent. Westminster (zip code: 21157) has been particularly successful at minimizing the impact with only 349 cases as of 8/7/20.

Our summer McDaniel Local pre-orientation program gave us the opportunity to refine our health and safety protocols.

McDaniel Local also ensured that incoming students will arrive on campus already familiar with campus protocols.

Proactive safety measures being taken.

The college has asked all students to quarantine prior to arrival and will be testing all residential students at move in, unless they provide a negative test result from a test completed within 14 days of arrival.

COVID-19 tests have been acquired. Due to early and consistent effort by the Wellness Center, the college will have in hand enough COVID tests before the first day of move in on August 14 to ensure that we can test all of our residential students during move in.
Strong local partnerships. McDaniel enjoys strong relationships with the Carroll County Health Department and local hospital. The advice and support of our local health agencies is essential to our successful re-opening plan. In addition, our new tele-health partnership will increase the capacity at our Wellness Center to ensure our focus on possible COVID cases on campus.
We are not simply relying on good decision making by members of our community. Even as we encourage all members of our community to make proactive and responsible decisions, we have also physically changed our campus environment to ensure rules are followed.

Thousands of pieces of furniture have been removed and reconfigured in classrooms and public spaces;
We have reduced the capacity in Englar Dining Hall by 75%;
We have made a $750,000 investment in hiring additional custodial staff, which has nearly doubled our housekeeping workforce;
Outdoor spaces have been constructed and enhanced to encourage students to use these hangout spots outdoors; and
Health/safety signage and visual cues have been installed across campus.

Students are engaged.

We know that student-to-student enforcement will be an important part of a successful semester. Overwhelmingly our students are telling us they want to be back on campus—and are willing to follow the rules to make that happen. Student leaders have also proactively created safety protocol videos to encourage their fellow classmates to make good choices.

Graduate Assistants. We also have 21 Graduate Assistants who have taken on new duties throughout campus to assist in our health and safety efforts.

A commitment to community.

The very reason why many members of our community choose to be at McDaniel is the same reason why our community is demonstrating a remarkable commitment to following campus health and safety protocols. McDaniel students, staff and faculty are uniquely caring and committed to one another. This culture of care lends itself to awareness of individual impact and supports decision-making that puts others before self.
Even with all of the characteristics and planning described above, we understand that there are risks associated with a return to campus and there is no plan that completely mitigates all risk factors. We have done our best to communicate proactively and clearly about these risks and our planning. We understand that not all students or families may feel safe returning to on-campus residence life or academic instruction and faculty have worked hard to ensure high-quality course delivery regardless of modality. This provides our students with the utmost flexibility.
Media inquiries should be directed to:
Cheryl Knauer
Director of Public Relations 
Email: cknauer@mcdaniel.edu
Phone: 410-857-2294.
Media inquiries should be directed to:
Cheryl Knauer
Director of Public Relations 
Email: cknauer@mcdaniel.edu
Phone: 410-857-2294.