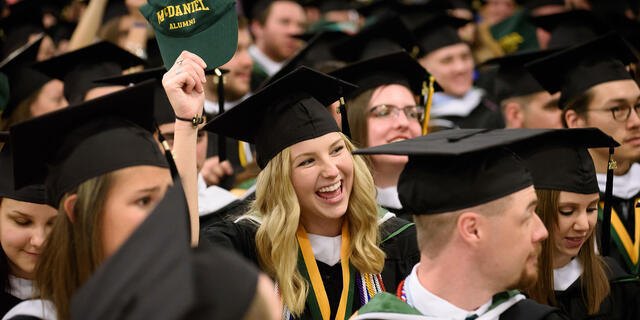 Important Contacts
Special Arrangements for Persons with disabilities (e.g., those who are deaf or hard of hearing, or in wheelchairs): Submit a Commencement Accommodations Request no later than May. Questions? Contact Student Accessibility and Support Services at sass@mcdaniel.edu or phone (410) 857-2504.
Financial Balance: Pat Tyler, ptyler@mcdaniel.edu, (410) 857-2210
Academic Attire and Announcements: Bookstore, (410) 857-2277
Photography/Videography/News Releases: Office of Communications and Marketing, ocm@mcdaniel.edu, (410) 857-2290
Diploma Information/Participation: Registrar's Office, regoffice@mcdaniel.edu, (410) 857-2755
Tickets:  Academic Life,  commencement@mcdaniel.edu, 410-857-2251
Frequently Asked Questions
Please remember that the halls will close at 7:00 p.m. after Commencement. Staff will be at multiple locations to collect keys.
When will I receive my diploma?
All May 2023 undergraduate and graduate students, who have their degree requirements verified and the degree posted, will be mailed their diploma following the ceremony. Diplomas will be mailed U.S.P.S. to the diploma address as listed on the graduation application and should be received no later than the second week of June. Graduates who have had a change to their submitted diploma address need to notify regoffice@mcdaniel.edu prior to Monday, May 15th.
Does my degree and major/minor/specialization appear on my diploma?
The diploma represents the degree earned. Undergraduate students will have their name, Bachelor Arts, and the official graduation date, May 20, 2023, listed on their diploma. If an undergraduate earned Latin honors, it will also be listed on the diploma. Graduate students will have their name and either the Master of Science or Master of Liberal Arts listed depending on the degree earned and the official graduation date, May 20, 2023.
The degree earned, graduation date, major(s), and any completed minors and/or specializations are listed on your transcript. Your official educational record is the transcript.
Are tickets required for attendance?
2023 Graduate Ceremony

No tickets are required for the Graduate ceremony.

2023 Undergraduate Ceremony

Tickets are required for the Undergraduate ceremony. All undergraduates are guaranteed up to 4 tickets when they complete their graduation application with the Registrar's Office. Tickets are distributed directly to the student during Senior Week in the Office of Academic Life. If additional tickets become available, an email will be sent out in early May to all Seniors' McDaniel email accounts with directions on how to request additional tickets.