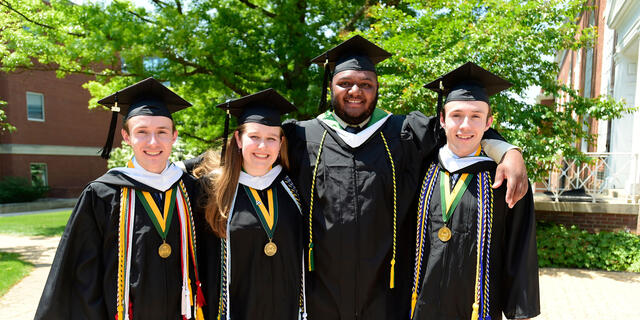 Student Guidelines
By tradition, the commencement ceremony is a formal, dignified event to honor the academic achievement of you and your classmates. Students and guests are asked to maintain the dignity of this ceremony. It is very important that all graduation participants and attendees conduct themselves in a polite and courteous fashion throughout the ceremony. We understand your enthusiasm; however, to ensure that everyone can hear the names of the degree candidates as they are presented on stage, students and guests must refrain from loud, disruptive cheering. As a courtesy to your fellow graduates, you are requested to stay until the conclusion of the ceremony.
Illegal drugs and alcohol are not permissible in Gill Stadium or Gill Center Please note: students under the influence may be removed from the ceremony.
Our goal is that every student and guest at commencement will have a positive, exciting, and rewarding experience.
Commencement Attire
Commencement is a ceremony to honor academic achievement. Students are required to wear proper academic regalia to be allowed to process in Commencement. Proper academic regalia for undergraduate and graduate students includes a cap, gown, hood and tassel. A Master's robe differs from a baccalaureate robe. Please be sure you have the proper regalia. Master's recipients should not wear their undergraduate robe. Students should order their regalia no later than April 21st. You must order the regalia through the McDaniel Campus Store.
Students who are participating in the ceremony will be required to walk/process a significant distance on uneven, grassy areas and onto the turf at the stadium (estimated to 500 yards.) Stiletto heels are not permitted on the turf and are a safety hazard. Students should wear comfortable walking shoes or wedges that will not catch in the grass or on the turf. Students should also encourage their guest to wear comfortable shoes as parking for the event may require significant amounts of walking.
Graduation Products
Herff Jones provides class rings, commencement regalia, announcements, college diploma frames, and other graduation products. Ordering is available through the McDaniel Campus Store.
After the ceremony suggestion:
It is a good idea to choose a specific location to meet your guests after the ceremony. Otherwise, with all of the black caps and gowns, it will be very difficult to find your student. Morning ceremony guest will be asked to exit campus by 12:00 so that we are able to transition our facility and parking areas for the afternoon ceremony.
Please remember that the residence halls will close at 8:00 p.m. Staff will be at multiple locations to collect keys.