Health and Wellness Resources
The Wellness Center has gathered some tips for managing mental health, stress, and anxiety during this difficult time, relevant links, and additional resources.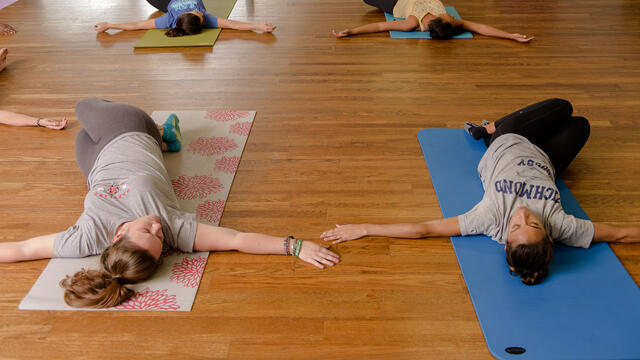 As we all know, the coronavirus is spreading worldwide and impacting our global community in significant and life-altering ways. McDaniel College has taken unprecedented steps to address the pandemic, a situation which continues to evolve on a daily basis. This outbreak may be causing cause fear and anxiety for our students, our faculty and staff, and their loved ones.
The impact of this emergency is different for each individual. People can become more distressed if they see repeated images or hear repeated reports about COVID-19 in the media.
Reactions during an infectious disease outbreak can include: (1) Fear and worry about your own health status and that of your loved ones (2) changes in sleep or eating patterns (3) difficulty sleeping or concentrating (4) worsening of chronic health problems (5) increased use of alcohol, tobacco or other drugs.
If you are experiencing a mental health crisis . . . .
Contact your local crisis response services, call 911, or go to your local emergency room
Use the National Suicide Prevention Lifeline at 1-800-273-TALK (8255)
Use the Crisis Text Line: Text HOME to 741741

Special Keyword for Students of Color: Text STEVE to 741741

The Trevor Project (LGBTQ): 866-488-7386
Trans Lifeline: 877-565-8860
Tips for Managing Stress
Feelings of fear, anxiety, sadness and uncertainty are normal during a pandemic. Fortunately, being proactive about your mental health can help to keep both your mind and body stronger. Below are tips for managing mental health, stress, and anxiety during this difficult time, relevant links, and additional resources.
Create and stick to a routine – just like you would if you were on campus and attending classes! In these uncertain times, having some regularity can be helpful for stress management and overall well-being, in addition to organization and focus. Have a start time for your day, create a to-do list, and take a lunch break.
Take care of your body

SLEEP – Maintain a regular sleep schedule (going to sleep and waking up at a similar time).
NUTRITION – Eat regular meals and choose healthy foods when you have access. Limit alcohol/caffeine intake.
EXERCISE – Schedule time to be active, such as doing an at-home workout, dancing, or relaxation practice (yoga or deep breathing). Many gyms and fitness coaches are offering live sessions, and some of these are free! Spend time outside if it is safe to do so, taking walks or going for a run. When outside, make sure to maintain distance from others and limit contact with surfaces.

Stay connected! Even though you cannot see others in person, you can still spend time together! Use your phone, videoconferencing (Zoom, Skype, FaceTime, Google Hangouts), or social media to connect live with friends. Get creative with how you spend time with others – beyond talking, you can play games online, watch a Netflix show together, or watch a live performance online together. Many musicians and comedians are providing free concerts and shows.
Follow CDC guidelines as well as those established in your local area (i.e. staying home for your own health and for the safety of others).
Stay informed, while finding balance and taking breaks from news and social media. Be careful of information overload and misinformation. It may be useful to put your electronics away (phone, computer, TV) for periods of time so that you can focus on your present experience.
Focus on what is within your control, and letting go of what is not. Additionally, some may find that focusing on helping others can help them take things one day at a time (i.e. calling friends and family to check in, posting helpful images/quotes on social media, pitching in with tasks and chores in your house, or helping folks in your neighborhood if it is safe to do so).
Seek out additional resources for support. We have a number of resources listed below to get you started!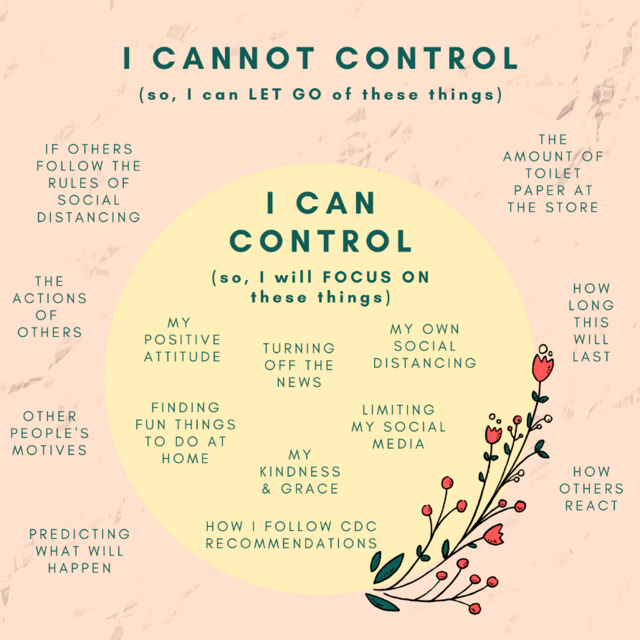 Wellness Center Services
As our campus has transitioned to online instruction for the remainder of the semester, we will be available only for phone consultation and remote teletherapy services. Please understand that there are some restrictions about who would be eligible for the teletherapy option. We welcome the chance to connect with you via phone to discuss how you can take care of yourself during this time, to explore sources of support, and to make a plan for next steps.
Remember, you can still reach Wellness Center staff by phone or email. You can call 410-857-2243 and leave a message or email us at wellness@mcdaniel.edu. Voicemail and email are checked regularly between the hours of 8:30am and 4:30pm, Monday through Friday.
Resources
McDaniel College COVID-19 Information Page
Health and Wellness Information
Wellness-Related Free and/or Low-Cost Apps and Websites
Meditation and Breathing
Yoga and Exercise
Music and Sounds
Activities to Stay Connected While Staying Home
Other