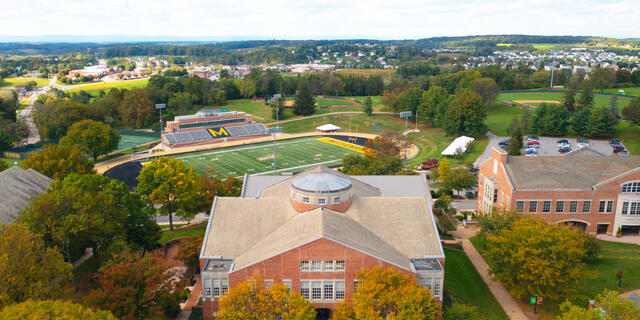 Strategic Planning
The Strategic Planning Process began in the Fall of 2021 and will continue through Fall 2022. The final Strategic Plan is expected to be presented to the Board of Trustees for approval in October 2022. 
Strategic Planning Process
Strategic Planning Phase Breakdown
Phase 1: Mission, Vision, Values and Drivers (M,V,V,SD)

September 2021 – AGB Spring Survey launched
October 2021 – Board of Trustees Retreat Focusing on Strategic Plan
November 2021 – Strategic Planning Committee of the Board (SPCB) and Steering Committee established and begin meeting.
February 2022– Open Community Meetings on M,V,V,SD (faculty, staff, students, alumni council and parent and family council);
February Board meeting – Senior leadership team present M,V,V,SD to Board of Trustees.

Phase 2: Goals

February – March 2022 – Steering committee broken into nine workgroups. Workgroups convene, hold open sessions and conduct SWOT Analysis for area on each strategic drivers. Goals brought back into master draft.
April 2022– Open community meetings on draft goals.
May 2022 – Senior leadership teams presents draft strategic plan to Board of Trustees.

Phase 3: KPIs (Key Performance Indicators)

Summer 2022 – KPI Teams are established, optional steering committee participation
September 2022 – Constituent feedback, community endorsement
October 2022 – Final Strategic plan presented to the Board of Trustee for approval.
McDaniel College Strategic Plan 2022 - 2027
DRAFT - revised 5.2.22
McDaniel College changes lives by inspiring students to achieve educational excellence and realize their potential within a supportive, inclusive, and diverse community.
McDaniel will be recognized as an innovative liberal arts college focused on student achievement and professional success.
VALUES:
Inclusivity: We are a welcoming place where individuals can thrive in an atmosphere of belonging and appreciation.
Authenticity: We genuinely care for our students, alumni, colleagues, and community.
Individual focus: We support the ongoing personal and professional growth of individuals in a creative and collaborative environment.
Lifelong learning: We encourage, support and engage each other in the continual pursuit of knowledge and understanding.
Equity: We commit to the fair and just treatment of all people through our policies, practices and opportunities. 
Generosity: We promote volunteerism, community engagement, stewardship, and philanthropy.
STRATEGIC DIRECTION:
To enhance financial strength by:
aligning operating income and expenses.
Creating additional resources for investment in capital, people and program development.
STRATEGIC INITIATIVES:
STUDENT ATTRACTION, ACHIEVEMENT AND OUTCOMES: Provide a rich, engaging experience for students at all levels to increase student satisfaction, academic quality and the value proposition of the institution.

Goal 1.1: Ensure that undergraduate students are career and life-ready

Ensure a revised general education program attracts and engages students, develops critical thinking skills, and prepares graduates for meaningful roles in their communities and professions
Further leverage the promise of the McDaniel Commitment to help students prepare professionally
Increase access to and numbers of career-related events in all disciplines
Encourage study abroad and connections with McDaniel's Budapest campus to enhance students' intellectual, networking, and career opportunities
Track & improve rates for job placement and graduate school admission and market programs that excel in these areas
Identify & emphasize career-translatable skills/pathways within existing and new programs of study in all majors and within the college's liberal art core
Offer majors, certifications, credentialing, and skill development to meet student and employer demand
Offer community sustaining academic experiences that meet the needs of our diverse student population and prepare the college for demographic shifts

Goal 1.2: Build student success structure and programming to increase retention, persistence, and graduation rates

Improve effectiveness, continuity, and accessibility of advising
Establish tracking and outreach campaigns to improve student persistence and enhance students' sense of belonging and achievement
Develop more flexible paths within the academic program to facilitate degree completion
Become more transfer-friendly
Simplify early academic planning and revise policies that create unintentional roadblocks to retention and graduation
Increase use of academic support services for underrepresented groups in particular
Expand efforts to ensure curriculum, pedagogy, policies, and practices are equitable and inclusive
Utilize Jan Term and Summer Term more effectively for multiple purposes (e.g., experiential learning, gen ed requirements, credit recovery, math support)

Goal 1.3: Improve campus living environments to promote community and student satisfaction.

Improve the quality and condition of the residence halls
Increase the variety and richness of the College's living-learning residence offerings
Use current trends in dining plans, options, and venues to improve student dining experience
Improve services designed to meet students' basic needs, including access to healthy food and stable housing
Engage in a program evaluation process of athletic teams to improve McDaniel's athletic reputation and the student experience

Goal 1.4: Align existing and new cross divisional programming to focus on the dimensions of wellness.

Social: Create large group experiences throughout the student's lifecycle to continue student engagement, school spirit and a sense of belonging after their first year
Spiritual: Support the religious and/or spiritual identity development of students by providing programs and services and opportunities for interfaith collaboration
Financial: Provide pathways and curriculum for students to increase their financial literacy
Environmental: Invest in infrastructure and programming focused on sustainability
Emotional: Establish additional mental health programming and support
Intellectual: Invest in innovative curriculum and innovation-oriented faculty development
Physical: Increase activity-oriented extracurricular programming

EMPLOYER OF CHOICE: Attract and maintain top-quality talent that supports the college's mission and value.

Goal 2.1: Become a more diverse, inclusive and supportive employer.

Increase diversity and retention for faculty and staff
Establish a DEIJ professional learning community for discussions, development, and collaborative experience
Acknowledge and address any unsustainable working conditions for faculty and staff
Connect employees with diverse community leaders, BIPOC owned businesses, and the social justice community

Goal 2.2: Develop a holistic approach to improve faculty and staff engagement, satisfaction and connection to the college.

Prioritize increases for all faculty and staff compensation to better align with industry market rates
Establish a comprehensive employee wellness program
Strengthen relationships and collaborative opportunities among franchised faculty, adjunct instructors, and staff
Establish methods to encourage staff input and feedback on decisions made at the leadership level
Leverage technology solutions to improve faculty and staff experience to complete job-related actions
Improve opportunities for and investment in faculty and staff professional development and training

COMMUNITY PARTNERSHIPS: Expand alliances within the city of Westminster and the region to enhance the student and employee experience.

Goal 3.1: Increase experiential learning opportunities for students.

Collaborate with DEIJ oriented and other non-profit groups to establish ongoing placement opportunities
Identify occasions for student groups to interface with businesses or non-profit entities
Increase number of meaningful experiential learning opportunities both inside and outside the classroom (e.g., internships, community engagement, undergraduate research, study abroad.)
Improve the mechanisms by which students can access and participate in EXP opportunities.

Goal 3.2: Establish and promote a more integrated relationship between McDaniel and the city/region.

Build capacity within the CEO and alumni office to engage in these efforts
Create consistent and effective communication strategies to increase engagement
Provide opportunities for community leaders to advise and/or participate in collaborative initiatives and activities with a particular focus on DEIJ
Establish and increase student, faculty, staff, parents and alumni access to and presence in downtown Westminster
Collaborate with community partners to enhance a sense of safety and belonging in Westminster
Identify and establish opportunities to bring city and regional community members to campus

REVENUE GENERATION, ENHANCED BUSINESS OPERATION AND GOVERNANCE: Identify programs and operations to increase revenue, maximize resources, modernize practices and improve integration.

Goal 4.1: Grow graduate and professional studies enrollment and revenue.

Develop new graduate programs in Health and Human Services, Business/Computer and Data Science/Engineering, and/or Education and explore potential for additional program synergy at the undergraduate level
Expand Bachelor's-to-Master's pathways for McDaniel students and external partner institutions
Revise and reimagine current programs in GPS for sustainability and growth
Improve graduate online teaching and learning efforts to ensure access, competitiveness, and quality
Improve student support outside the classroom including onboarding/new student orientation, networking and professional development opportunities, and alumni engagement

Goal 4.2: Align campus resources with institutional goals and priorities.

Create a multi-year budget to facilitate long-term planning
Launch a comprehensive campaign to fund strategic plan priorities
Improve campus facilities and infrastructure to enhance college operations.
Establish and operationalize an enterprise risk management process and compliance tracking system
Develop a Campus Master Plan that incorporates the institutional goals, sustainability, enhanced outdoor spaces, and modernization
Identify technological solutions to increase efficiency and eliminate manual processes and systems

Goal 4.3: Increase constituent engagement through meaningful experiences that deepen connection with the college and enhance institutional effectiveness.

Consider new configurations for trustee governance that recognize the complex and interconnected nature of board level decision making
Increase personal and personalized contacts with constituents (alumni, parents, friends, corporate partners)
Seek out new partnerships and alliances tied to the strategic plan
Build an innovative Alumni and Future Alumni Welcome Center that reflects the constituent engagement lifecycle model and welcomes alumni back to campus in an impactful way.
Better leverage alumni council and parent family council to increase engagement among those constituent groups
Establish or re-establish campus events and traditions designed for all constituents to increase vibrancy of campus community and welcome alumni back to campus
Create a marketing team and plan that is designed to source, develop and deploy relevant and timely multi-channel communications for primary constituents

Goal 4.4: Expand the depth, diversity and quantity of McDaniel College advocates.

Develop strategies to holistically involve corporations and foundations in the College and the lives of students
Establish an alumni professional network that gives young alumni a competitive advantage in their first-job-out-of-college search
Research, recognize and honor significant DEIJ moments throughout the college's history
Increase support for envisioning, writing and monitoring grants for faculty research
Develop new pathways for BIPOC and LGBTQIA+ alumni to connect to current DEIJ initiatives and foster relationships with faculty, staff, and students
Strategic Planning Steering Committee
Julia Jasken, President
Wendy Morris, Acting Provost & Dean of Faculty
Janelle Holmboe, Executive Vice President for Constituent Engagement
Eric Simon, Vice President for Administration and Finance
David Sears, Vice President for Institutional Advancement
Richard Smith '00, Associate Provost for Equity and Belonging
Heidi Reigel '97, Associate Vice President of Alumni & Parent Engagement
Jenni Glennon M.S. '04, Associate Vice President for Administration
Andrew Van Der Stuyf, Associate Vice President for Facilities
Bill Leimbach, Chief Information Officer
Liz Towle, Dean of Students
Vickie Mazer, Dean of Graduate and Professional Studies
Adam Hertz, Director of Athletics
Matthew Adamson, Director of Academic and Student Affairs McDaniel College Budapest
Julie Fisher, Controller
Marissa Lander, Chief of Staff
Christina Goodman, Executive Director of Advancement Engagement
Cheng Huang, Faculty Representative
Kate Dobson, Faculty Representative
Chloe Irla '07, Faculty Representative
Mona Kerby, Faculty Representative
Kyle Engler, Faculty Representative
Steve Johnson '87, Faculty Representative
Anouar Boukhars, Faculty Representative
Kevin McIntyre, Faculty Representative
Pam Zappardino '71, Senior Graduate Adjunct Lecturer
Tara Dunsmore, Staff Representative
Destiny Edwards '24, Student Representative
Ray Conaway M.S. '22, Graduate Student Representative
Tiombe Page, Westminster Representative
Mark Richman '12, Alumni Representative
Strategic Planning Committee of the Board of Trustees
Mary Lynn Durham '70
Jin H. Kang
Jill Mennicken '81
Charlie Moore '71
Bruce Preston '75
Bill Rodgers
Robin Salomon