2021 Summer Session
Session I: May 24 - July 5 | Session II: July 6 - August 16
Summer Session Classes are 100% Online!
Summer session registration for all McDaniel students is completed online via Self-Service.  For newly admitted students or members of the community, please contact the Registrar's Office to complete your registration.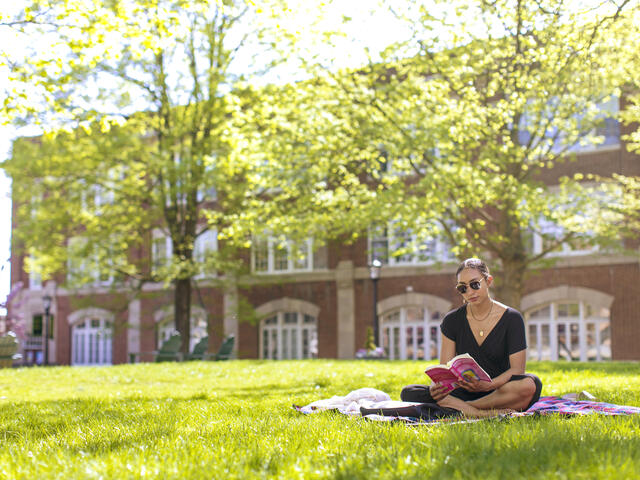 TUITION & REGISTRATION
Priority registration, March 22- April 20: $1,900 per 4-credit course
Regular registration, 

April 21 until the day before class begins

: $2,160 per 4-credit course
Summer Session I: May 24 - July 5
All Courses are 4 Credits
AHY-1113 History of Western Art I (McKay, Gretchen)
A survey of painting, sculpture, and architecture from 15,000 B.C. to 1400 A.D. Included are Near Eastern, Egyptian, Greek, Roman and Medieval Art. McDaniel Plan: Creative Expression
BUA-1T01 Personal Finance (Duvall, Kerry)
Personal Finance equips students with the knowledge and skills to make financial decisions that contribute to overall well-being. Topics include cash and credit card management, consumer loans, insurance, investments, retirement and estate planning, tax planning, financial planning, and the time value of money.
BUA-1T02 Introduction to Excel (Routzahn, Julie)
This course provides basic training in Microsoft Excel for Windows. Students will learn the essentials of spreadsheet creation, including data entry and editing, formatting, and printing. Emphasis will be placed on creating and using formulas and functions, moving and working with data.
COM-2207 Communication in the Digital Age (Trader, Robert)
Students learn to compose and deliver messages across media by selecting and organizing ideas, supporting ideas logically, backing claims with research, adapting to specific audiences and cultural constraints, and delivering messages effectively using appropriate channels. The course is informed by Communication theory, practice, and research. Emphasis is placed on developing skills in persuasion and message design.
ENG-2103 Transmedia Storytelling (Muhlhauser, Paul)
Students will build worlds. Students will make their own Star Wars, My Little Pony, or Marvel Universe. They will create media franchises around a story they'll tell across media channels. The different media used contributes uniquely to the story's world. In other words, students will create stories that might be expressed through writing and video and action figures and games and websites and cereal boxes and social media. The main point of the course is the dispersal of content through multiple delivery channels to create a unified entertainment experience. McDaniel Plan: Creative Expression
ENV-1T01 Health in the Anthropocene (Abrams, Michael)
As a deadly pandemic rips through global civilization and the pernicious effects of climate change become manifest, it becomes clear that the first casualty of the human domination of the planet's systems is our own health and well-being. This course will offer a comprehensive survey of the primary factors that determine the quality of human life in the Anthropocene, including: ecological overshoot and the limits to growth, climate change, biodiversity and ecosystem services, emerging infectious disease, social capital, inequality and the global consumer society. We will explore models that situate human health in the context of the health of the biosphere, such as OneHealth and EcoHealth. Last, we will critically evaluate visions of a future in which all life, including human life, can thrive. The course will be built around insightful readings, provocative films, and compelling presentations by guest speakers. McDaniel Plan: Scientific Inquiry, & Social, Cultural, and Historical Understanding 
GEO-2200 Cultures of the Non-Western World (K'Olewe, Ochieng')
The goal of this course is to explore the cultural geography of non-western developing world. It is based on a multidisciplinary approach, this means thematic topics from subject areas like anthropology, sociology, environmental studies etc. are used to study people's experiences. The course examines among other major questions: Where are these areas geographically located? What are the common and unique characteristics of the cultural environment that have been created? How have these people's cultures impacted the western world and vice versa? Geographic areas and regions studied include Africa, Asia, Latin America, and the Caribbean. McDaniel Plan: International Nonwestern
HIS-1T03 Witchcraft, Magic & Medicine (Bjerke, Jillian)
In this course, we will examine three interrelated topics in premodern Europe. We will explore witchcraft and efforts to expose it as well as various systems of magic, prophecy, and alchemy. In considering medicine in conjunction with witchcraft and magic, we will see how the lines that distinguish these elements were often blurry. Primary sources include chronicles, religious texts, literature, images, and medical treatises. McDaniel Plan: International; Social, Cultural, and Historical Understanding
KIN-2325 Nutrition (Higgins, Kimberly)
A study of the nutritional needs throughout the human lifespan. Topics include energy nutrients, vitamins, minerals, recommended dietary allowances, and weight control. Fad diets, nutritional supplementation, and the world's food supply are also examined. McDaniel Plan: Scientific Inquiry
MDC-1100 My Design (Flora-Nakoski, Vanessa and Ford, Jessica) (2 credits, cost $1,080)
This course provides students at the beginning of their academic journeys with instruction and experiences that yield a better understanding of their individual strengths, their goals, and of the resources and people on McDaniel's campus who can help them cultivate their potential. Students will develop and expand areas of interest related to the liberal arts, potential college majors, and future career paths. (2 credits) McDaniel Plan: Jan Term 
PHY-1106 Understanding the Universe (Mian, Apollo)
Did you ever want to understand the inner workings of the universe? If so, then this class is for you! This course will introduce students to the fundamental ideas and experiments that scientists rely on to help explain how everything in the universe works. Possible topics include the potential of extraterrestrial life; the mysterious quantum world of matter and light; symmetries in nature; the beginning of the universe; the existence of dark matter and energy and their connection to the universe's final fate; the fundamental importance of energy; the lifecycles of stellar systems and stars; and Einstein's theory of relativity and black holes. McDaniel Plan: Scientific Inquiry with Embedded Lab
PSY-2204 Social Psychology (Phillips Dezalia, Rebekah)
This course will introduce students to research and theory in social psychology. Social psychology involves the study of how other people (real, imagined, or implied) influence our thoughts, feelings and behavior. This course will include discussion of research in the areas of the self, social organization, conformity, persuasion, group behavior, stereotyping and prejudice, attraction, aggression, prosocial behavior, and gender and culture. McDaniel Plan: Social, Cultural, and Historical Understanding
SOC-1104 Introduction to SOC: Global (Semu, Linda)
This course offers an overview of the discipline of sociology from a global perspective, focusing particularly on cross-cultural comparison of social, economic and political relationships. It explores how social forces impact the structure of society, its social institutions as well as cultural patterns, crimes, groups, personality, and human interactions. McDaniel Plan: International Nonwestern; Social, Cultural, and Historical Understanding
Summer Session II: July 6 - August 16
All Courses are 4 Credits
ART-1101 Perceptual Drawing (Dovgan, Katya)
A studio course in drawing concentrates on developing an understanding of perceptual drawing technique that emphasize proportion and. spatial conventions. Compositional skills are developed, and different mediums are explored. Students develop creative problem-solving skills by investigating complex still life arrangements. McDaniel Plan: Creative Expression
BUA-1T01 Personal Finance (Duvall, Kerry)
Personal Finance equips students with the knowledge and skills to make financial decisions that contribute to overall well-being. Topics include cash and credit card management, consumer loans, insurance, investments, retirement and estate planning, tax planning, financial planning, and the time value of money.
ENG-1104 Writing from the Underground (Flora-Nakoski, Vanessa)
In this course, students will compare/contrast both mainstream media and underground/alternative media to deconstruct the style, argument, and effectiveness of zines as a tool for subverting political or cultural oppression. McDaniel Plan: Multicultural
ENV-1131 Environmental Problem Solving (Chaney, Cheryl)
This course is the introductory course for environmental science. An interdisciplinary study of environmental problems that considers world populations, energy, air and water pollution, sustainable agriculture, biodiversity and environmental health. Class discussion will center on solutions including technical and human behavioral modifications that can lead to the sustainable use of our environment. McDaniel Plan: Scientific Inquiry Embedded Lab
HIS-2220 Twentieth Century Europe (Zejmis, Jakub)
In the early twenty-first century, historians must grapple with how to define the tumultuous and in many ways tragic period that preceded. Worldwide depression, two world wars, Cold War, communism, totalitarianism, Holocaust, collectivization, decolonization? These singular events have greatly altered the image of a prosperous and progressive Europe that took hold in the previous century. In this wide-ranging course, which will consider cultural, social, economic, and political trends in Europe from the First World War to the present, we will attempt to understand the various paths that Europe and individual European nations have taken, their global and human implications, and the place of Europe in the world today. McDaniel Plan: International; Social, Cultural, and Historical Understanding
HIS-2237 Immortals, Ancestors, and Demons (Fang, Qin)
A monkey named Wukong (aka Goku in Dragon Ball and Monkey King in Forbidden Kingdom) accompanies the monk Tripitaka on a journey to retrieve Buddhist sutras from India to China. He is able to lift his 17, 000-pound iron cudgel with ease and to travel 34, 000 miles in one somersault. He knows 72 transformations into various shapes of animals and objects, even a clone of himself. He even knows various spells to command wind, to divide water, to conjure protective circles against spider spirts, and to freeze humans. Students, using a 16th-century novel Journey to the West, explore (1) the development of popular beliefs (in immortals, oxen demons, hungry ghosts, kitchen god, silkworm goddess, goddess of mercy, spider sprits, ancestors); (2) the boundaries between the seen and unseen realms of divine worlds; (3) a changing society entwined in what have formed/become the history of China. Focusing on Chinese religiosity within its own historical contexts, we examine and explore the knowledge and categorization of "religions" in the field of Chinese studies.   McDaniel Plan: International Nonwestern; Social, Cultural, and Historical Understanding 
IDS 1160 The Failure of Humanity in Rwanda (Keubeung, Gerard)
This course analyzes the genocide of Tutsi in Rwanda. More than a study of the genocide itself, this course is considered as a case study for the impact of colonization in people's life. It's also analyzes the process and the narrative of nation-state building in Africa. Reading materials and films will shed light on the mechanism that Belgian colonization use to divide one people in two ethnic groups that will lead to the 1994 genocide. Students will reflect on the role of both the Rwandan politicians and also the role of so called "international community" in the killings of almost a million of people in less that hundred days. Ultimately, this course is a reflection of the following question: Do Black lives really matter? McDaniel Plan: International Nonwestern 
MAT-1106 Mathematical Excursions (Abrams, Michael)
Explore the way mathematicians approach problem solving through the study of a variety of topics. These topics may include logic, number theory, counting techniques, discrete probability, graph theory, and the mathematics of personal finance. The course is intended for non-Mathematics majors. Students who plan to take Calculus should take MAT-1107. McDaniel Plan: Quantitative Reasoning
PHI-2233 Elementary Logic (Mensah, Shaeeda)
An introduction to formal logic, propositional and predicate. The study of various forms of inference, theorems, derivations, and proofs. McDaniel Plan: Quantitative Reasoning
SOC-3315 Police, Courts, & Corrections (Dewees, Jim)
A study of the functions of police, courts, and corrections as institutions of social control in American society. This will include a review of the English roots of America's system, the historical development of modern law enforcement and correctional organizations, an analysis of these criminal justice components from an organizational behavior perspective, and an analysis of current challenges facing them. The most effective methods of organization and analysis of these components of the system are emphasized. 
Common Ground on the Hill
Common Ground on the Hill offers a broad range of week-long classes including visual arts, singing, instrumental music, recording, dance, yoga, film, and lecture classes taught by nationally and internationally renowned instructors. All skill levels are welcome! Individual workshops available; students seeking McDaniel College credit enroll in 5 classes taking place over a one, two, or three-week period.
Traditions Weeks classes run June 28-July 2, July 5-9, and July 12-16.
Information and registration for Common Ground on the Hill workshops can be found at
https://www.commongroundonthehill.org/traditions-weeks-home.html
Please contact commonground@commongroundonthehill.org with questions.