2022 Summer Session
Session I: May 23 - July 1 | Session II: July 5 - August 11
Summer Session Classes are 100% Online!
Summer session registration for all McDaniel students is completed online via Self-Service.  For newly admitted students or members of the community, please contact the Registrar's Office to complete your registration.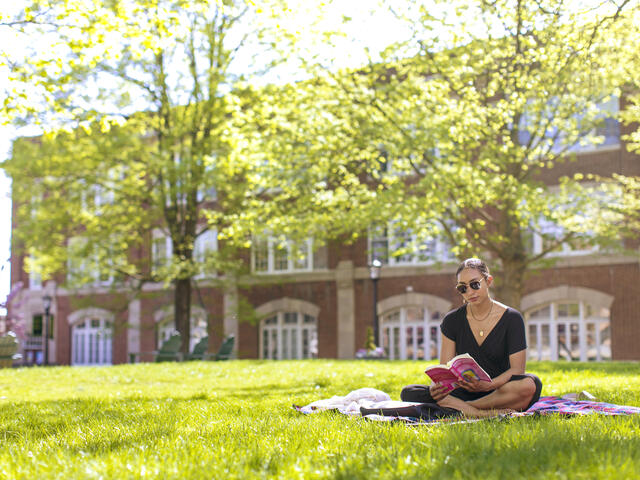 TUITION & REGISTRATION
Priority registration, March 22- April 20: $1,900 per 4-credit course
Regular registration, 

April 21 until the day before class begins

: $2,160 per 4-credit course
Summer Session I: May 23 - July 1
All Courses are 4 Credits
BUA-1T01 Personal Finance (Duvall, Kerry)
Personal Finance equips students with the knowledge and skills to make financial decisions that contribute to overall well-being. Topics include cash and credit card management, consumer loans, insurance, investments, retirement and estate planning, tax planning, financial planning, and the time value of money.
BUA-1T02 Introduction to Excel (Routzahn, Julie)
This course provides basic training in Microsoft Excel for Windows. Students will learn the essentials of spreadsheet creation, including data entry and editing, formatting, and printing. Emphasis will be placed on creating and using formulas and functions, moving and working with data.
COM-2208 Ad Design (Trader, Robert)
In Ad Design, students will attempt to create, replicate, or improve upon popular graphic or video ads by applying basic design principles. This course does not require prior knowledge of design. Students will need Office 365 (which every student gets freely from the College), and a cell phone that can take good quality photos and videos (which the student will need to supply).  McDaniel Plan: Creative Expression
ENG-1101 Intro to College Writing (Brown, Lori)
Instruction in how to write clear, correct, and effective expository prose; practice in careful, analytical reading of significant literature; training in research techniques. 
ENG-1104 Writing from the Underground (Flora-Nakoski, Vanessa)
In this course, students will compare/contrast both mainstream media and underground/alternative media to deconstruct the style, argument, and effectiveness of zines as a tool for subverting political or cultural oppression. McDaniel Plan: Multicultural
GEO-2200 Cultures of the Non-Western World (K'Olewe, Ochieng')
The goal of this course is to explore the cultural geography of non-western developing world. It is based on a multidisciplinary approach, this means thematic topics from subject areas like anthropology, sociology, environmental studies etc. are used to study people's experiences. The course examines among other major questions: Where are these areas geographically located? What are the common and unique characteristics of the cultural environment that have been created? How have these people's cultures impacted the western world and vice versa? Geographic areas and regions studied include Africa, Asia, Latin America, and the Caribbean. McDaniel Plan: International Nonwestern
HIS-1105 Ancient World to Early Modern Europe (Bjerke, Jillian)
An introduction to the diverse peoples and societies that created what is conventionally termed Western Civilization. The course focuses on the formative period of that tradition, and provides a firm chronological basis for understanding the interaction, evolution, and achievement of these peoples and societies in the ancient, medieval, and early modern periods. McDaniel Plan: International
IDS-2111 Japan Online (Trader, Robert)
In Japan Online, students learn about different aspects of Japanese soft culture (including gaming, anime, relationships, customs, food, and everyday life) by looking at digital and streaming sources. This course is only offered in the summer.  McDaniel Plan: International Non-Western
KIN-2325 Nutrition (Higgins, Kimberly)
A study of the nutritional needs throughout the human lifespan. Topics include energy nutrients, vitamins, minerals, recommended dietary allowances, and weight control. Fad diets, nutritional supplementation, and the world's food supply are also examined. McDaniel Plan: Scientific Inquiry
PHI-2250 Bioethics (Stojanovic, Pavle)
A study of ethical issues in biology and medicine including health care policies, euthanasia, scientific fraud, and reproductive technologies. This course will explore these and similar issues and case studies and create a framework for ethical decision making based on philosophical principles. McDaniel Plan: Textual Analysis
PHY-1106 Understanding the Universe (Mian, Apollo)
Did you ever want to understand the inner workings of the universe? If so, then this class is for you! This course will introduce students to the fundamental ideas and experiments that scientists rely on to help explain how everything in the universe works. Possible topics include the potential of extraterrestrial life; the mysterious quantum world of matter and light; symmetries in nature; the beginning of the universe; the existence of dark matter and energy and their connection to the universe's final fate; the fundamental importance of energy; the lifecycles of stellar systems and stars; and Einstein's theory of relativity and black holes. McDaniel Plan: Scientific Inquiry with Embedded Lab
PSY-1106 Introduction to Psychology (Phillips DeZalia, Rebekah)
An introduction to the basic theories, principles, and methods of psychology, including a focus on neuroscience, personality, social influences, learning, thinking, memory, emotion, and abnormal processes. Universal principles as well as cultural variations in human behavior will be explored. The course will also examine applications of psychological concepts to challenges encountered in life. McDaniel Plan: Social, Cultural, and Historical Understanding
SOC-1104 Introduction to SOC: Global (Semu, Linda)
This course offers an overview of the discipline of sociology from a global perspective, focusing particularly on cross-cultural comparison of social, economic and political relationships. It explores how social forces impact the structure of society, its social institutions as well as cultural patterns, crimes, groups, personality, and human interactions. McDaniel Plan: International Nonwestern; Social, Cultural, and Historical Understanding
SPA-1101 Elementary Spanish I (Olivares, Magdalena) **Synchronous online class meetings required**
The acquisition of oral/aural skills through intensive exposure to Spanish used both as the medium of communication and the object of study. It enables students to express their daily experiences accurately in spoken and written Spanish, and to understand communications of a moderate level of difficulty.
Special Session: June 13 - July 22
SWK-2T02 Social Work, Social Justice, and the Traditional Arts (Kunz, Jim)
This course examines - and provide opportunities to practice - a core ethical principle of the social work profession: to challenge social injustice. As noted in the profession's code of ethics, "Social workers pursue social change, particularly with and on behalf of vulnerable and oppressed individuals and groups of people. Social workers' social change efforts are focused primarily on issues of poverty, unemployment, discrimination, and other forms of social injustice. These activities seek to promote sensitivity to and knowledge about oppression and cultural and ethnic diversity". This course includes, and is wrapped around, participation in the first two weeks of the Common Ground on the Hill Traditions Weeks Program. Students will meet online for two weeks prior to Traditions Weeks to learn about social work, social justice, and marginalized populations. Following their experiences during Traditions Weeks 1 and 2, during where they will take courses and engage in activities that are focused on social justice, students will meet online for two weeks to discuss the traditional arts and cultural experiences they encountered and present their social change proposals.  McDaniel Plan: Multicultural
Summer Session II: July 5 - August 11
All Courses are 4 Credits
ART-1101 Perceptual Drawing (Dovgan, Katya)
A studio course in drawing concentrates on developing an understanding of perceptual drawing technique that emphasize proportion and. spatial conventions. Compositional skills are developed, and different mediums are explored. Students develop creative problem-solving skills by investigating complex still life arrangements. McDaniel Plan: Creative Expression
ENV-1131 Environmental Problem Solving (Chaney, Cheryl)
This course is the introductory course for environmental science. An interdisciplinary study of environmental problems that considers world populations, energy, air and water pollution, sustainable agriculture, biodiversity and environmental health. Class discussion will center on solutions including technical and human behavioral modifications that can lead to the sustainable use of our environment. McDaniel Plan: Scientific Inquiry Embedded Lab
HIS-2220 Twentieth Century Europe (Zejmis, Jakub)
In the early twenty-first century, historians must grapple with how to define the tumultuous and in many ways tragic period that preceded. Worldwide depression, two world wars, Cold War, communism, totalitarianism, Holocaust, collectivization, decolonization? These singular events have greatly altered the image of a prosperous and progressive Europe that took hold in the previous century. In this wide-ranging course, which will consider cultural, social, economic, and political trends in Europe from the First World War to the present, we will attempt to understand the various paths that Europe and individual European nations have taken, their global and human implications, and the place of Europe in the world today. McDaniel Plan: International; Social, Cultural, and Historical Understanding
HIS-2237 Immortals, Ancestors, and Demons (Fang, Qin)
A monkey named Wukong (aka Goku in Dragon Ball and Monkey King in Forbidden Kingdom) accompanies the monk Tripitaka on a journey to retrieve Buddhist sutras from India to China. He is able to lift his 17, 000-pound iron cudgel with ease and to travel 34, 000 miles in one somersault. He knows 72 transformations into various shapes of animals and objects, even a clone of himself. He even knows various spells to command wind, to divide water, to conjure protective circles against spider spirts, and to freeze humans. Students, using a 16th-century novel Journey to the West, explore (1) the development of popular beliefs (in immortals, oxen demons, hungry ghosts, kitchen god, silkworm goddess, goddess of mercy, spider sprits, ancestors); (2) the boundaries between the seen and unseen realms of divine worlds; (3) a changing society entwined in what have formed/become the history of China. Focusing on Chinese religiosity within its own historical contexts, we examine and explore the knowledge and categorization of "religions" in the field of Chinese studies.   McDaniel Plan: International Nonwestern; Social, Cultural, and Historical Understanding 
IDS-1160 The Failure of Humanity in Rwanda (Keubeung, Gerard)
This course analyzes the genocide of Tutsi in Rwanda. More than a study of the genocide itself, this course is considered as a case study for the impact of colonization in people's life. It's also analyzes the process and the narrative of nation-state building in Africa. Reading materials and films will shed light on the mechanism that Belgian colonization use to divide one people in two ethnic groups that will lead to the 1994 genocide. Students will reflect on the role of both the Rwandan politicians and also the role of so called "international community" in the killings of almost a million of people in less that hundred days. Ultimately, this course is a reflection of the following question: Do Black lives really matter? McDaniel Plan: International Nonwestern 
MAT-1106 Mathematical Excursions (Abrams, Michael)
Explore the way mathematicians approach problem solving through the study of a variety of topics. These topics may include logic, number theory, counting techniques, discrete probability, graph theory, and the mathematics of personal finance. The course is intended for non-Mathematics majors. Students who plan to take Calculus should take MAT-1107. McDaniel Plan: Quantitative Reasoning
PHI-1101 Introduction to Philosophy (Jenkins, Daniel)
A study of selected thinkers dealing with basic epistemological, metaphysical, and ethical questions. The course may include issues such as theories of knowledge and reality, the relationship of philosophy to daily life situations, science, and religion. McDaniel Plan: Social, Cultural, and Historical Understanding, Textual Analysis
PHI-2233 Elementary Logic (Mensah, Shaeeda)
An introduction to formal logic, propositional and predicate. The study of various forms of inference, theorems, derivations, and proofs. McDaniel Plan: Quantitative Reasoning
PSY-2204 Social Psychology (Phillips Dezalia, Rebekah)
This course will introduce students to research and theory in social psychology. Social psychology involves the study of how other people (real, imagined, or implied) influence our thoughts, feelings and behavior. This course will include discussion of research in the areas of the self, social organization, conformity, persuasion, group behavior, stereotyping and prejudice, attraction, aggression, prosocial behavior, and gender and culture. McDaniel Plan: Social, Cultural, and Historical Understanding
SOC-3315 Police, Courts, & Corrections (Dewees, Jim)
A study of the functions of police, courts, and corrections as institutions of social control in American society. This will include a review of the English roots of America's system, the historical development of modern law enforcement and correctional organizations, an analysis of these criminal justice components from an organizational behavior perspective, and an analysis of current challenges facing them. The most effective methods of organization and analysis of these components of the system are emphasized. 
Common Ground on the Hill
Common Ground on the Hill offers a broad range of week-long classes including visual arts, singing, instrumental music, recording, dance, yoga, film, and lecture classes taught by nationally and internationally renowned instructors. All skill levels are welcome! Individual workshops available; students seeking McDaniel College credit enroll in 5 classes taking place over a one, two, or three-week period.
Traditions Weeks classes run June 27-July 1, July 4-8, and July 10-15.
Information and registration for Common Ground on the Hill workshops can be found at
https://www.commongroundonthehill.org/traditions-weeks-home.html
Please contact commonground@commongroundonthehill.org with questions.