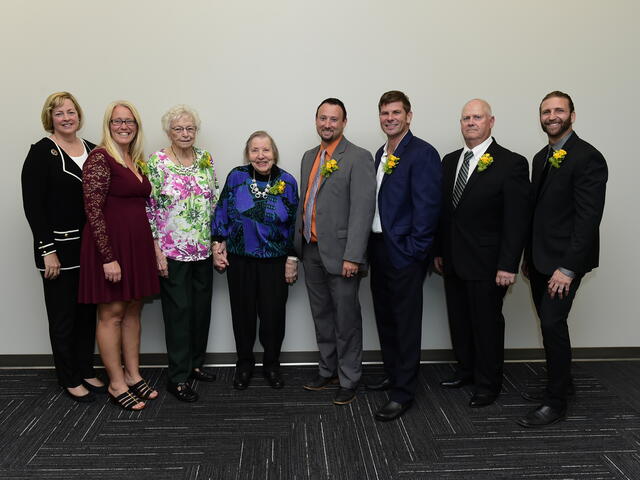 Green Terror Sports Hall of Fame
The Green Terror Sports Hall of Fame, sponsored by the McDaniel College Alumni Association, honors former athletes who have achieved prominence in their chosen fields and who also have made contributions to society. An athlete must be separated from intercollegiate competition at the College for a minimum ten-year period for nomination. Any coach, staff, administrator or manager nominated may be inducted in that role immediately after retirement in that capacity.
2019 Inductees pictured left to right: Wendy Fisher, daughter of Barbara Davison Shanklin '53; Kellie Mitros Allman '97; Annette McMahan Wood '49; Margaret Ruppenthal Hurlbrink '49; Scott Morrow '07, M.S. '12; Jamie Harris '02, M.L.A. '05; Tom Mavity '71, M.Ed. '76; Chris McNally '02.
2019 Sports Hall of Fame Inductees
Kellie Mitros Allman '97
Kellie Allman made her mark at Western Maryland College early. Not only did she earn a spot as a starter during her freshman year on the field hockey team, she hit the ground running and finished the season as a team leader in goals and shots. Her remarkable freshman year led to an All-Centennial Conference selection, an award she became familiar with all four years on the Hill. By sophomore year, Allman earned her first Centennial Conference First Team honor which she would repeat in 1995 and 1996. Allman was named team captain for her 1996 senior season. In 2018, the Centennial Conference named Allman to the Silver Anniversary field hockey team, which celebrated 35 of the best players over the conference's 25-year history.
The sociology major's prowess didn't end on the field. She excelled in the College's Honors Program all four years and was inducted into Phi Beta Kappa Honor Society as an upperclassman. In 1996, she was awarded the College's James P. Earp Award for Outstanding Leadership and Scholarship in Sociology. Allman appreciated the environment of Western Maryland College which allowed her to grow and learn in a comfortable place. Allman lives in Bowie, Md. with husband Eric Allman '95 and is the mother to Thomas, William, Lucy, and Megan. Allman has a very rewarding job working with toddlers with autism for Anne Arundel County Public Schools. Allman proudly volunteers as her daughter's field hockey coach.
Len Biser '63
Leon Biser Jr. '63, "Lenny" to all, a product of Baltimore's Polytechnic Institute, was a mathematics major who lettered four years in football and baseball. With an 8-1 record, the 1962 Green Terror football team was the Mason-Dixon Conference Champions and Co-Champion of the Middle Atlantic Conference Southern Division. Biser was an outstanding fullback who had many long runs during his football career. Biser distinguished himself as a fullback in his freshmen year and was named the first team fullback on the MAC and Mason-Dixon All-Conference teams.
He played football from 1959-1962 and still has the second best average yards/rush at 5.51 yards per carry in program history. He was named the MVP in 1962 as the leading rusher with 549 yards and 106 carries that season in a unanimous vote by his teammates. The Baltimore Sun's All-State 1962 small college football first team backfield featured future all-pros Leroy Kelly and Emerson Boozer alongside Biser. His athletic ability did not stop at football. He was also an outstanding baseball player who, as catcher/outfielder, lettered all four years and had five triples.
After college, Biser served as an Army Air Defense Artillery Officer in Germany. He spent time working in Holland, England, and Germany working for computer companies such as Siemens, IBM, and Honeywell. He returned to the U.S. in 1984, working as a proposal manager in the Washington area. In 2004, Biser moved back to Germany to be near his daughter and four grandchildren. He taught his grandchildren how to play football and even picked up tennis for himself. Biser passed away in 2014 in Hamburg, Germany.
Jamie Harris '02, M.L.A. '05
Jamie Harris, or "Boo," as he was known by everyone at the College, was quite the football player, ranking as the best quarterback in program history for average yards per pass and pass efficiency. He was a two-time first team All-Centennial Quarterback and a two-time Centennial Conference Offensive Player of the Year. In 2018, he was selected for the Centennial Conference Silver Anniversary Football Team.
McDaniel taught Harris how to think through problems and to think critically. He is currently a national account manager for Verizon's largest private infrastructure company and is the owner of Swanky Soiree Events, an event design and wedding planning company. Harris is a member of the Florida Wireless Association and Special Operations Warrior Foundation.
Harris resides in Sarasota, Fla. with his family.
Lara Henderson Herrmann '00
In 2018, Lara Henderson Herrmann was named to the Centennial Conference Anniversary Team asa three-time first-team All-Conference selection in singles and doubles. She played tennis during her time on the Hill, serving as team captain, and was named to the Fellowship of Champions in 1997.
After graduating from Western Maryland, Herrmann moved out to Lake Tahoe, Calif., with friends to work in Squaw Creek. She then went south to San Diego and changed career paths. The sociology major enrolled in prerequisite nursing classes at San Diego Community College before returning to Maryland to attend Johns Hopkins University for nursing school. She worked as a nurse in a variety of capacities in New Jersey and New York before she met her husband, Arthur, and moved to Chicago. They now live in Park City, Utah with two sons, Arthur and Gavin. She no longer practices nursing but enjoys skiing and hiking with her dogs and family and still plays tennis socially
Margaret "Dutch" Ruppenthal Hurlbrink '49
Margaret "Dutch" Ruppenthal Hurlbrink was truly a 'tour de force' in women's athletics from the moment she stepped on the Hill. She was one of six physical education majors in her class and led the way on class teams, captaining many of them and leading them to four-year dominance in field hockey and softball. She was on the rosters of six varsity sports, receiving Honorary Team selection for all four team sports. In women's basketball, she was a dominant scoring forward and was team captain her senior year. That season she averaged 23 points per game, leading the varsity team to a 3-1 record. In that senior season, "Dutch" led the varsity squad to victory over previously unbeaten Towson, scoring 22 of WMC's 32 points. Earlier that same day, she had represented WMC in both singles and doubles badminton competition. "Dutch" was the high scorer in all four of the season's basketball games, scoring 28, 29, and 15 points in the other three games.
In field hockey, she was on the Honorary/Varsity Team roster for three years and was also on the volleyball honorary team both her sophomore and senior year. A talented tennis player, she won both her singles and doubles matches when representing WMC at the Towson State Teachers College Play Day. She was elected by the faculty committee to be a "Blazer Girl," which was highest individual athletic award at the time.
Tom Mavity '71, M.Ed. '76
During Tom Mavity's time on the Hill, he played football, wrestling and lacrosse. In 1970 he was selected as a defensive lineman on the All-Middle Atlantic Conference Team and was football co-captain. Mavity still has the best career PAT kick percentage at 95 and ninth for season percentage, also at 95 percent. Mavity was named to the All-Mason Dixon and All-Maryland Small College teams. Mavity was a member of Dr. Sam Case's conference championship wrestling team placing in the conference and in Maryland Intercollegiate Championships. He played attack on the lacrosse team as well.
After graduation, Mavity returned to the Hill as an assistant football coach and lacrosse coach, coaching during the very successful Jim Hindman football era as line coach and was Bill Thomas' assistant during the lacrosse team's championship years. Over the years, Mavity has continued his love for sports and coached many championship youth baseball and ice hockey teams.
Mavity is a recent retiree but before that worked for 30 years as vice president and manager for Lincoln County Land & Cattle Company and for his last nine years at direct support professional at Benedictine School – Adult Program. Mavity, who resides in Easton, Md., stated McDaniel College "taught him the value of perseverance." Mavity's daughter Katie Mavity White also became an alumna of the College in 2002.
Gladys Sause McLeod '48, M.Ed.'49
Gladys Sause McLeod was a four-sport athlete, including women's basketball, field hockey, volleyball and soccer, all before the passing of Title IX.
She received the "Blazer" Girl Award, the highest athletic honor at the time. Gladys was a natural leader as demonstrated by her election as vice president of the Women's Athletic Association in her junior year and president her senior year. This was unusual in the WAA. Usually the best athlete/ leader in the rising senior class was elected president. The vice president almost certainly was also a rising senior, usually another standout athlete in that class. For McLeod to be elected while still a sophomore to the vice presidency, over talented athletic juniors, demonstrates that she was highly respected as an athlete and as a leader even as a sophomore. Also in her junior year, she received the "M" award and green sweater, again a year ahead of the usual schedule of this award, typically not earned until senior year.
McLeod was a gifted natural teacher and in her senior year was asked by the physical education department to teach physical education classes. She stayed on after graduation, continuing to teach P.E. classes while taking graduate classes. Keeping it all in the family, McLeod has two sisters who attended McDaniel as well: Jean Sause Heemann '49 and Carol Sause Burch '54. Carol is married to Ernest Burch '50.
Chris McNally '02
Christopher McNally wrestled on the Green Terror mat all the way to the record books as the millennium turned. He was named an All-American his senior year, qualified for the NCAA championship in 2000, 2001, and 2002, and was selected all-Conference in those same three years. His 37 wins as a junior still ranks third all-time in a single season. He is also still eighth all-time with 31 career pins while his 96 wins are fifth.
McNally didn't leave himself much time to wipe away the sweat, earning his degree in chemistry while also working as a resident assistant. The three-time Centennial Conference Champion let his love for athletics fly after graduation as a professional Mixed Martial Arts fighter from 2006-2012 after three years on the wrestling coaching staff at The Citadel. McNally later turned this love and his knowledge learned on the Hill into a fitness program and studio which earlier this year was awarded the Best Choice of Charleston award for Best Gym in Berkeley County, S.C. He currently resides in Charleston, S.C.
Scott Morrow '07, M.S. '12
Scott Morrow of York Haven, Pa. was named to the men's soccer Centennial Conference Silver Anniversary Team in 2018 for good reason. He was first-team All-Centennial Conference in 2004, 2005, and 2006, and was Third Team All-Mid-Atlantic Region in 2005. Morrow was named Centennial Conference Player of the Year in 2005. That same year he was selected to be team captain and again in 2006. Scott was awarded the John Alexander Medal in 2007. He holds the distinction of starting all 24 games during a single season in 2003 – something only three others can boast in the history of the program. He still ranks third for penalty kicks made and attempted.
Scott's time on the Hill taught him many valuable lessons such as time management, proper preparation, and leadership. Scott teaches CP chemistry, forensic science, and material science courses in the Red Lion District in Pennsylvania. He also received his Administrative I Certificate to be a Principal for K-12 schools. He is also a co-creator and member of Aspiring Administrators PLC, a member of the Professional Growth Team, and a member of the Professional Development Subcommittee for the Red Lion District Comprehensive Planning Committee.
Barbara Davison Shanklin '53
On her arrival to the WMC campus, Barbara Davison Shanklin, who was referred to as Bobbi in the yearbooks, was already an established field hockey high school star. In her first varsity game she scored her first goal from the left halfback position against Towson who was undefeated and unscored on in five games. During her field hockey days, the teams' cumulative record was 10-2-2. They outscored their opponents 35-6 in those games. This is amazing considering they were not allowed to practice as a team and would only play together during games.
Shanklin was also a four-year starter on the varsity basketball team earning top scorer honors twice. In her junior year she also led all participants as top score in the intramural class tournament, outscoring every Western Maryland athlete, since all were required to participate. Shanklin earned her Local Basketball Officials Rating early as a sophomore.
She was also described a standout softball player. A Goldbug article from the fall of 1952, commenting on the breadth of Shanklin's skill sets said, "On the score sheet of volleyball, softball, tennis and archery, we can always find your name written." And another mention in the Goldbug captures, "The hockey team's chances look good this year with the return of Bobbi Davison, who has introduced advanced techniques to the team that she learned in the summer."
Annette McMahan Wood '49
Growing up as an only child on the Eastern Shore of Maryland before the Chesapeake Bay Bridge was built, WMC allowed Annette Wood to expand her experiences and meet a wide variety people, creating lasting friendships. During her time on the Hill, Wood played varsity women's basketball, varsity field hockey, varsity volleyball, and on her class softball team. She played as a defensive player for basketball during the years when there were three guards and three forwards and each group stayed on opposite sides of the court and only did one job, offense or defense. Annette was the goalkeeper for varsity field hockey and for her class intramural field hockey team which was undefeated in her four years. She was the recipient of the Women's Athletic Association's "M" Award with Green Sweater which was a coveted achievement award for female athletes, recognizing the achievement of having more than 1,500 participation points from both individual and team sports all four years. Wood was also the ALOHA women's sports editor.
Wood started a trend in her family. She is a 1949 graduate, her daughter Sharon Wood Schaeffer is a 1974 graduate, and her grandson Curtis Schaeffer is a 2006 graduate. Over the years, she has been back to McDaniel many times including working on the Class of 1949, 50-year reunion and also proudly attended her grandson's lacrosse games.
Wood is a retired physical education teacher where she was able to share her love of sports with her students. She has volunteered in many roles at Baptist churches, helped plan numerous Homewood Retirement Community activities serving as resident president, vice president and past president and was presented the Homewood Volunteer Recognition for Service. Wood resides in Hanover, Pa.
Tim Keating, Coach
Tim Keating is the winningest coach in McDaniel/WMC football history. Keating made an instant impact on the program, leading the team to the top of the Centennial Conference during his 19 seasons on the Hill with 110 victories and seven conference championships 1997, 1998, 1999, 2000, 2001, 2002, and 2004. He coached Green Terror NCAA Playoff Appearances every year from 1997 through 2001 and ECAC Bowl appearances in 2002 and 2004. Keating holds the 8th highest winning percentage of any WMC/McDaniel football coach at (.569). Coach Keating is beloved by his former players, one stating that "Coach put Green Terror athletics on the map." Another said that, "he also taught a group of young men how to be successful both on the field and in life." In an interview with the Baltimore Sun, Keating said, he respects the fact that youngsters are willing to give "their blood and bones" to play football for a school. Keating's players have gone onto success in many different professions, with a lineage that includes multiple NFL staff, college coaches, and high school championship coaches.
Sports Hall of Fame Inductees:
Inductees are listed in alphabetical order with year inducted in parentheses.
A
Donte Abron '98 (2008) Meaghan Giorno Alegi '00 (2010) Karen L. Alexander '96 (2006) Ifeanyi Ani '03 (2014) Rebecca Arnold '04, MS '09 (2015) Ronald F. Athey '72, M.Ed. '75 (1983)
B
John E. "Jack" Baile '62, MEd '73 (2012) Douglas Barnes '79 (2013) Paul L. Bates '31 (1979) E. Carter Baum '55 (1995) Susan R. Beeler '62 (1997) Stanley Benjamin '38 (1983) Jack Bentham '67 (2000) Julia K. Berwager '39 (1979) Wayne R. Birely '79 (1996) Arthur E. Blake, Jr. '71 (2002) Julie Backof Boden '98 (2009) Joseph F. Bona '26 (1984) Ricci G. Bonaccorsy '80 (1998) Jerry Borga '69 (2005) Rebecca "Becky" Cassilly Borland '81 (2010) Johnson D. Bowie '71, M.Ed. '74 (1993) Tom Bowman '64 (2014) James Boyer, Coach (1996) Bruce Bozman '70 (2009) Barbara C. Brazis '80 (2003) Robert E. Bricker '42, LL.D. '84 (1995) Joseph J. Brockmeyer, III '73 (1990) Arthur G. Broll '29 (1992) Charles M. Brown, III '62, M.Ed. '71 (1991) Barbara Wolf Brummett '90 (2004) Jennifer Prowinski Bruno '96 (2013) Frederick "Fred" Burgee '61 (2008) C. Harry Bush '50 (1992) C. Lease Bussard '34 (1986) Robert W. Butler'57 (1998) S. Leroy Byham '26 (1988)
C
H. LeRoy Campbell '38 (1988) Samantha Abrams Campo '04 (2014) Nicholas W. Campofreda '36 (1983) J. Richard Carpenter MEd '72 (2017) Nancy Hutchinson Carter '86 (2001) H. Samuel Case '63 (2004) Lyal W. Clark '29 (1982) Anne C. Clemmitt '59 (1979) Richard Clower '50 (1999) Sherry Albright Clower '94, MS '99 (2005) Dean Coccia '96 (2008) Catherine W. Cockburn '31 (1981) Laura Ciambruschini Colson '88 (2000) Stephen Comes '93 (2017) Charlie Conaway '00 (2017) Susan Head Conklin '94 (2005) Richard Conner '84 (2005) Terry L. Conover '70, M.Ed. '74 (1993) Sandi Stevens Corbo '89 (1999) Joseph A. Corleto '50 (1986) Henry A. Corrado '50 (1997) Kristy Costa '06 (2016) Douglas S. Crosby '31 (1988) Robert Cuthrell '60 (2006)
D
Lynn Glaeser Damiano '78 (1991) Gregory M. Davis '96 (2011) Earl W. Dietrich '69 (2001) Reese "Rick" Diggs '70 (2008) Fred A. Dilkes '61 (1998) George Dix, Coach (2008) Mary Ellen Senat Dixon '33 (1984) Blanche W. Drennan '40 (1982) Joseph Drugash '39 (1988) James W. Dunn '34 (1985) Joanne Siehler Durst '56 (2001) Kerry Wilson Duvall '00 (2010) Julian L. Dyke '50 (2007)
E
Homer C. Earll '50 (1985) * George L. Ekaitis '31 (1978) * Charles A. Engle '30 (1978) Richard E. Estes, Jr. '98 (2012)
F
Jamie L. Falcone '01 (2011) John Feldman '76 (2015) E. Bruce Ferguson, Jr. '35 (1981) Erin Murphey Forman '97, M.S. '02 (2007) * Sterling F. Fowble '36 (1978) K. Denise Frech '83 (1994) Carol A. Fritz M.Ed '69, Coach (2007) Eric C. Frees '92 (2003) Brent C. Fuchs '00 (2018)
G Lawrence M. Garro '73 (2007) Joseph M. Giannelli '50 (1989) Kenneth R. Gill '61 (2012) * Robert J. Gill '10 (1978) Andrew G. Gorski '35 (1982) Jeffrey Groff '01 (2018)
H
William A. Hallett '89 (2003) Betty Jean Lenz Hallmark '50 (1987) Stephen Hallowell '97 (2009) Lisa Sullivan Harford '88 (2001) Katie Haley '99, M.S. '03 (2008) Josh Hanlon '04 (2016) * Richard C. Harlow, Coach (1978) S. Dennis Harmon, Jr. '57, M.Ed. '61 (1979) Walter A. Hart '52 (1981) Odd E. Haugen '73 (1992) * Charles W. Havens '30 (1978) Marilyn Naas Keane '94, M.S. '97 (2008) Claudia Henemyre-Harris '92 (2006) John Heritage, Jr. '68 (2009) Marie "Maggie" Mules Herman '81 (2010) Beverley J. Hill '60, M.Ed. '68 (1986) Fern R.Hitchcock, Jr. '47 (1986) Knut Hjeltnes '77 (1987) Kathryn Walter Hobart '73, M.Ed. '76 (1989) John Holter '61 (2017) Donald E. Honeman '41 (1992) Matthew C. Hoppe '97 (2014) John H. Hort '58 (2002) Anne Glaeser Hubach '83 (1995) Paul Hugus '06, MS '09 (2017) Frank B. Hurt, Coach (1981)
I
Jill K. Ibex '01 (2012)
J
Allen S. Jacobson '49 (1990) Sigurd L. Jensen, Jr. '47 (1979) April Brown Johnson '04 (2015) Richard C. Johnson '84 (1999) Robert B. Johnson Jr. '96 (2007) Ronald F. Jones '55 (2000) Rodney L. Joyner '88 (2011) W. Scott Joyner '66 (1996)
K
Ann Thomas Kangas '90 (2007) Bernard Kaplan '35 (1981) Holly Martin Keller '19 (1980) J. William Kern, Sr. '50 (1995) Franklin Kidd '65 (2013) Frederick John Kiemle '72 (2018) Thaddeus B. Klepac, Sr. '32 (1987) Richard Klitzberg '63 (1993) Lester J. Knepp, Sr. '41 (1990) Thomas Knieriem '82 (2005) * Harold W. Kopp '33 (1978) Jill M. Krebs '02 (2012)
L Jayne Kernan Lacy '82 (1993) Harry "Buzz" Lambert '58, MEd'67 (2010) Leo J. Lathroum '51 (1997) Clifford R. Lathrop '37 (1994) Harry L. Lawrence, Jr. '31 (1979) H. Richard Linton '54 (1998) June E. Lippy '42 (1983) Joseph A. Lipsky '35 (1980) Thelma Yohn Lockard '39 (1988) Lee D. Lodge '43 (1993) John Lowe (2015)
M
Victor J. Makovitch '52, M.Ed. '59 (1982) Sharon Fischer Manning '65, L.H.D. '79 (1992) Ira W. "Will" Marshall III '98, MS'05 (2011) David H. Martin '62 (1994) Rebecca Martin '80, M.Ed. '81 (2004) Jacie Mathias-Jones '00 (2016) Broderick Maybank '06 (2016) Elizabeth Blasi McGraw '00 (2017) Toby McIntire '04 (2015) John H. McNally '34 (1986) Glenn R. McQuillen '40 (1989) C. Victor McTeer '69 (1993) Joe Menendez '81 (2009) Albert A. Mensah '83 (2003) Karen L. Merkle '76 (1997) Robert Merrey '71 (2006) Albert Miller '57 (2004) John Montanye '84 (2009) C. Wray Mowbray '58 (2003) Vernon H. Mummert, Jr. '75, M.Ed. '77 (1994)
N
Orville E. Neal '29 (1985)
O
Alexander "Alex" Ober '63, MEd'69 (2010) Michael O'Loughlin '80 (2004) Thomas E. O'Malley '63 (2003) Anthony H. Ortenzi '38 (1979) * Carlo J. Ortenzi '48 (1978)
P
John Patrick '80 (2013) Carol Morelock Patterson '66 (2018) Alvin R. Paul '50 (1985) Vincent Pedalino '02 (2013) William C. Pelton '30 (1987) Edward A. Peters '39 (1988) Carol Pettersen Willen '59 (2011) Michael Phillips '47 (1984) G. Howard Phipps '51, M.Ed. '68 (1991) Jennifer Piccolomini '03 (2017) Douglas L. Pinto '83 (2000) Thomas J. Pontecorvo '36 (1983) Teron T. Powell '02 (2012) Arthur J. Press '52 (1980) James, F. Pusey '62 (2000) Nancy Kammerer Pusey '88 (2002)
R Samuel Reed '57 (posthumously) (2005) Faith Millard Reinhardt, Coach (1981) Art Renkwitz '65 (2018) Michael Rentko '53 (1999) Jerry L. Resh '95, MS'06 (2011) Winfred P. Roberts '03 (1983) John M. Robinson, Sr. '43 (1990) Colleen Gohegan Rosberry '84 (2006)
S
Frank E. Sadowski '38 (1988) * Alfred A. Sadusky '34 (1978) James I. Schartner '72 (1989) Richard N. Schmertzler '73, M.Ed. '76 (1985) Gary L. Scholl '71, M.L.A. '78 (1992) Linda Sullivan Schulte '68 (1989) Julie Cox Schultz '96 (2006) Eric Schwaab '82 (2000) Kimberly Camponelli Sechrist '04 (2014) Donna DuVall Sellman '45 (2009) Ron Sermarini '00 (2010) Gordon Shelton '68 (2009) * William L. Shepherd '35 (1978) Sarah Lednum Shockley '69 (2004) Kathy Lane Showvaker '77, M.Ed. '79 (1996) LuMar Myers Slocum '39 (1995) Katherine Coleman Smith '66 (1985) William Spaar '58 (2004) Hugh B. Speir '22 (1984) Susan Lapidus Spencer '83 (2002) Sally Fite Stanfield '78 (1998) Andrew R. Steckel '92, MS'94 (2012) Suzanne Stettinius '11 (2012) Robert H. Stropp '40 (1983) Larry J. Suder '69 (2001)
T Thomas J. Tereshinski, Sr. '44 (1996) William F. Thomas '39 (1988) Cynthia Boyer Thompson '87 (1999) Roselda Fowler Todd '28 (1987) Kelly Cramp Tomlinson '05 (2015) John Trainor '65 (2013) Martin D. Tullai '52, M.Ed. '59 (1981) * Carl C. Twigg '11 (1978) William A. Tyrrell III '95 (2014)
U
Philip E. Uhrig, M.Ed. '52, Coach (1998)
V
Brian Van Deusen '96 (2006) Linda E. Van Name '74 (1984) George F. Varga '61, D.H. '92 (1982) January Scott Vaughan '99 (2018) Kenneth W. Volk '47 (1991) Carl H. VonTobel '97 (2007)
W
Robert J. Waldorf, Coach (1990) Charles I. Wallace, Sr. '39 (1988) Howard L. Wallace '81 (1999) Rex Walker '65, M.Ed. '69 (2016) Charles Walter '63 (2015) Nathan Weinstock '29 (1987) Rolando Welch '94 (2016) John "Jeff" Weyer '85 (2007) Charles T. White '55 (1991) Matthew Wilchinski '03, M.S. '07 (2016) Eugene "Stoney" Willis '34 (2010) Ralph E. Wilson, III '68 (1989) Steve R. Wilson '75 (1997) W. Wilson Wingate '18 (1982)
Y
Richard N. Yobst '63 (1996)
Z
Laszlo Zsebedics '63 (2002) * Charter Member