Author to discuss and sign copies of new young-adult novel
First-time author Jared Reck, who was a student in McDaniel's Writing for Children and Young Adults graduate certificate program, gives a talk and signs copies of his new book, "A Short History of the Girl Next Door."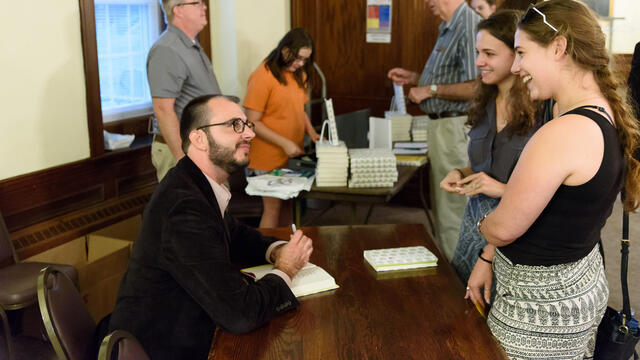 First-time author Jared Reck, who was a student in McDaniel's Writing for Children and Young Adults graduate certificate program, will give a talk and sign copies of his new book, "A Short History of the Girl Next Door," on Sept. 27 at 7 p.m. in McDaniel Lounge.
Due for release Sept. 26, Reck's book, about a JV basketball player who happens to fall in love with his childhood best friend, landed the English teacher a six-figure deal from publisher Knopf for the young adult novel recommended for readers ages 12 and up. Visit www.mcdaniel.edu/MyFuture for more information. Books will be available for purchase.
After working on the novel for several summers, Reck began looking around for writing classes that would force him to work on the book during his busy school years teaching writing to eighth graders in Pennsylvania's Spring Grove School District. He lives in Hanover, Pa., with his wife and two daughters.
As soon as he found McDaniel's Writing for Children and Young Adults graduate certificate program, he knew it was the perfect fit for him as a teacher and father.
"The courses were online and offered by a highly respected school that was only 20 minutes from home," says Reck, a graduate of Clemson and Shippensburg universities whose father earned his school principal certification at McDaniel. "And, from colleagues, I knew of Mona Kerby (professor and coordinator of the WCYA program) and her outstanding reputation in the field."
Reck took "Reading Like a Writer" and "Fiction: Writing Novels for Grades 3-12" with two highly acclaimed authors, Lisa Graff and Daphne Benedis-Grab. It was the fall of 2014, and there he was, still writing — in pencil in composition books with mottled black-and-white covers — as he welcomed a fresh batch of young teens to his classroom. In fact, Reck worked with the same main character questionnaires in his graduate class that he used with his middle school students.
"Both courses were hugely rewarding for me, but above all else the feedback on pacing I received on the first 30 pages of my book was extremely helpful," he says, explaining that the classes helped him figure out how to end his novel and the input from other students was really "awesome."
By the end of the summer of 2015, he had finished the story of JV basketball player Matthew Wainright and what happens when he falls for his childhood best friend, Tabby. Reck had been researching and querying agents for six months when Crockett pulled his query from her mailbox in mid-January.
She was hooked immediately.
"He jumped right to the heart of the book, and his writing was authentic to the young adult voice," says Crockett, who then asked Reck for 50 pages. "Then I wanted page 51. I begged for more and finished it that night.
"I had to have it, and two days later offered representation."
As if that weren't enough of a whirlwind, Crockett's phone rang with an offer within a week of sending the manuscript to seven editors. Erin Clarke, executive editor at Alfred A. Knopf Books for Young Readers and editor of bestsellers "The Book Thief" and "Wonder," offered six figures for world rights to Reck's first and second stand-alone titles.
The call came on April Fool's Day. It wasn't a joke but there were wide grins all around.