Bio: Joan Develin Coley, Graduate Commencement Speaker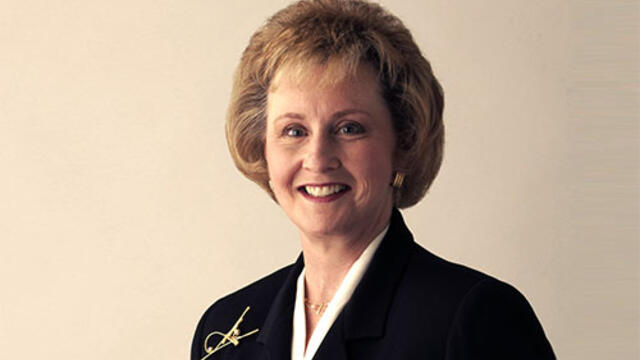 Joan Develin Coley, Ph.D.
Former President of McDaniel College
Joan Develin Coley is a leader forever entwined with the over 150-year-old story of McDaniel College.
As McDaniel College's first female President and first to be promoted from the faculty ranks, Dr. Coley served nearly four decades as a professor of education, department chair, Dean of Graduate Affairs, Provost and as the College's eighth President during her last 10 years at McDaniel. Upon her retirement in 2010, she received an honorary doctor of laws degree and was honored with emeritus status as Professor of Education and College President. The Joan Develin Coley Endowed Chair in Creative Expression and the Arts provides ongoing support for a faculty scholar who is passionate about creativity in all its forms: as artistic process, expression or performance. And the Joan Develin Coley Award for Excellence in Education is annually awarded at Commencement to a graduate student with the best record in the study of literacy theory and practice.
Joining the faculty of then Western Maryland College in 1973 as Director of the Graduate Reading Program, she was elected President in 2000 after serving as Interim President for nearly a year. She led the College through a major re-positioning that was launched in 2002 with its name change from Western Maryland College and led the successful Carpe Diem Campaign, which raised more than $77-million and set new records of support from trustees, alumni, faculty and staff.
During her tenure as a faculty member and director of the College's graduate program in reading, Dr. Coley became a national and international authority in the field, with scores of published papers and books and over 100 presentations including many at national conferences. She has published extensively, writing articles and reviews for national journals and has authored, co-authored and edited several books. She also created and directed for 26 years a four-week intensive summer reading clinic for Maryland elementary and middle school students, which has been in existence in Carroll County for over 40 years.
A native of Philadelphia, Dr. Coley received an A.B. with honors from Albright College. She went on to earn both her master's and doctorate in education from the University of Maryland. Both alma maters have honored her; in 2001, the University of Maryland presented Dr. Coley with its Outstanding Leader in Education award, and in 2006, Albright College awarded her with an Honorary Degree in Humane Letters. She also earned Albright College's Jacob Albright Award, the school's highest alumni honor, in 2016.
Her numerous honors include the 1989 Outstanding Teacher Educator in Reading by the Maryland Council of the International Reading Association. In March 2004, she was named to The Daily Record's Top 100 Women Circle of Excellence. In 2007, she received a Girl Scouts of Central Maryland Distinguished Women's Award and in 2010, she was named one of central Maryland's Hometown Heroes by the region's chapter of American Red Cross.
Dr. Coley has volunteered with the House of Ruth and the Friends of Carroll County Public Library. She is a former member of the Network 2000 of Greater Baltimore and the boards of Center Stage, BB&T and the Carroll County Chamber of Commerce. She is a past member of the board of directors of Target Community & Educational Services, Inc., a nonprofit that assists children and adults with intellectual and other disabilities.
Additionally, in August 2013, Dr. Coley was named the thirteenth President of Notre Dame of Maryland University serving for a one-year period while a search was conducted for the institution's next permanent president. Her accomplishments included developing a one-year strategic plan and securing a $1.5 million gift for the university's nursing program.