Campus garden offers lessons in sustainable agriculture, teamwork and life
More than 30 students and professors turned out on an early Saturday morning in late October to help the Green Terror Garden aka The Pollinator Pickle Patch team put their baby to sleep for the winter.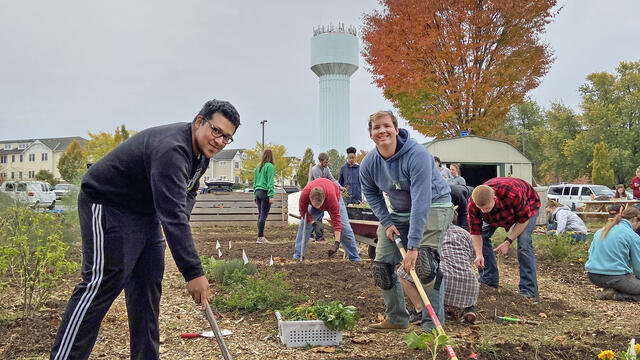 More than 30 students and professors turned out on an early Saturday morning in late October to help the Green Terror Garden aka The Pollinator Pickle Patch team put their baby to sleep for the winter.  
It was a work party for sure. Led by garden interns Gunnar Ward and Emma Findeisen and Environmental Studies professor Elly Engle, volunteers loosened the soil, yanked out weeds, sorted perennials from browning annuals and tucked garlic cloves under a blanket of nutrient-rich compost, the Compost Club's first-ever crop. 
But it was also a celebration of a bountiful and sustainable harvest, a life-changing experience, a battle with nature well-waged on both sides. Only organic or non-chemical gardening practices were used, and the trio of professor and interns approached sustainability in a holistic way with focus on its environmental, social and economic dimensions. 
"Sustainable agriculture takes into account not just ecologically sound and regenerative food and fiber production practices, but also how these practices support economic vitality, community building and social equity for all," says Engle, who teaches a course in sustainable agriculture at the college. "This garden meets all these dimensions by creating a space where students can explore pollinator systems, soil regeneration, food security and balancing budgets, among many other things, all in one project. 
As summer gave way to fall, the final tallies were in. The total harvest weighed in at 10 pounds of sweet peppers, 27 pounds or about 1,000 assorted hot peppers, 12.5 pounds of green beans, 15.5 pounds of red beets, 22 pounds of tomatoes, 17 pounds of yellow onions plus 36 bunches of sweet and Thai basil and 26 small bouquets of flowers.   
And the recipients of the bounty? The college's Home on the Hill food pantry program, summer research students, AVI/Dining Hall, McDaniel's own grounds crew and last but certainly not least, a pack of hungry groundhogs especially fond of cucumbers. 
The trend is sweeping across the country with students at an increasing number of colleges starting or cultivating gardens and farms that range in size from a small plot like McDaniel's to some that are 500 productive acres. Students say they relish the break from studies — getting back to the land, taking in big gulps of stress-clearing fresh air and watching tiny sprouts peek from dirt they tilled a few weeks earlier.  
"We're gardening to learn, not learning to garden," says Ward, a junior Environmental Studies major from Oakland, Md. "I've learned dedication, patience, the power of teamwork and so much more. 
"Our garden is a place of community for people of all backgrounds to come together to work toward a common goal."  
Volunteers from Green Life, Compost Club and Alpha Phi Omega (APO) national service fraternity joined forces to put the garden to bed and paint two picnic tables while feasting on apple cider donuts, apples and Findeisen's egg casserole loaded with veggies and herbs from the 30-by-55-foot plot of land lovingly also known as GTG.     
The tables, donated by Green Life, help fulfill the garden's mission to be a community space where students, professors and staff can come to sit, enjoy nature, share a meal. The murals on the tables' tops were designed by Findeisen, a senior Environmental Studies and History double major and president of Green Life, and Jake Fine, a junior Music major from Lambertville, N.J. 
"We're hoping that the grounds crew uses them too," says Engle, explaining that McDaniel's campus caretakers lend the garden team tools and often visit with them when they're working. "They've been amazing partners to us." 
Ward can't help but look at the garden and remember that it was nothing more than a weed pit when he and Findeisen started planning and tending it. He's looking forward too, to spring when he's sure to encounter a garlic sprout or two poking up from the compost-rich soil. 
"We're celebrating today," he says, standing in the middle of the garden, knee pads and work boots on, leaning on a muscle-powered tiller and smiling as he surveys the freshly turned soil around him. "It's a great combination of community and healthy, nutritious sustainable food."