Class of 2019: Lindsey Farrell
Communication major Lindsey Farrell leaves a legacy of grit behind on the Hill where she played varsity lacrosse and soccer and was the assistant technical director of McDaniel's Sports Communication program.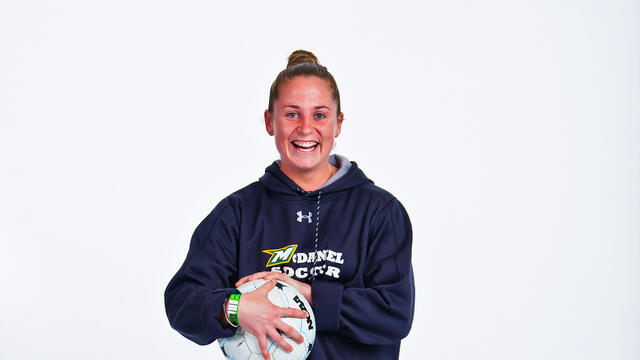 Lindsey Farrell is a Communication major with a Marketing minor from Towson, Maryland.
When I took my first step on the Hill, I was: timid at the fact that I may fail, I may get hurt athletically in the sports I always dreamed of perusing. I was so hard on myself that I could fail; I was not brave enough to take the leap of faith to trust the community around me, and my team to catch me if I did fall. Once I took my first step, and I felt at minor setbacks, I had a supportive community around me to dust me off, and show me the right steps to be successful.
The me who will ring the Old Main bell on Commencement Day is: someone who has faced adversity, problem solved through the worst of times, who is coming out stronger than I could have ever dreamed. I have allowed all my weaknesses and obstacles to shape me to become braver, stronger, and more resilient in each step I take from here on out.
Footprints I'm leaving on the Hill: I am leaving a legacy of Grit. To show the incoming freshman and classes behind me that it is okay to feel uncomfortable in what you are pursuing, because that moment you feel like you are uncomfortable, is the moment you are challenging yourself to be something extraordinary. I'd rather become someone extraordinary, than someone ordinary, and that is exactly the footprint I embedded at McDaniel.
My mentor. For life: Sandy Lagana, Head Women's Soccer Coach. I truly believe Sandy will always be my mentor for life here at McDaniel College because she believed in me, when I did not want to believe in myself. She saw me hit some of the lowest of lows here through sports, academics, and of course social life and without hesitation guided me through. She pushed me to be the athlete I dreamt of being ever since I was a little girl, allowing me to not only be a part of this successful program, but be the most successful woman I can be leaving.
My favorite spot on campus: The Bermuda Soccer Fields. This is hands down my favorite spot because it gives me a sense of comfort the moment I step on these fields. This type of soccer pitch dies in the winter, and comes back to life in the spring and summer. As a four-year member of the women's soccer team, I have laughed, cried, and went to war on that field with my best friends and I can't imagine a more special place on campus that have captured that many of my emotions the way that field did over the past four years.
Most mind-boggling idea I learned at McDaniel: It is always team before me. I was on the women's lacrosse and women's soccer teams for four years. You never realize the impact you have on your teammates around you. Your team quickly becomes your family away from home, and your coaches quickly become mentors that you don't ever want to let down. Through the college experience you find yourself consciously asking yourself "Is this what is best for the team?" or "Am I making the team better by making this decision?". I never knew I would be so hyper-aware of the teammates around me, and put them above myself before anything. You learn this in a blink of any eye, which sticks with you for the rest of your life.
Real world experiences: I was the assistant technical director for McDaniel's Sports Communication program.
What's next: I'm headed to Uprooted Platinum in Downtown Baltimore, where I will be a sales & marketing associate.