Class of 2019: Morgan Collinson
Morgan Collinson completed two internships and studied abroad at McDaniel's branch campus in Budapest. The Accounting Economics and Business Administration major earned her first internship during Interviewing Day, a Business Administration department program that brings about 25 companies to campus to do quick 20-minute interviews with multiple students in a three-hour period.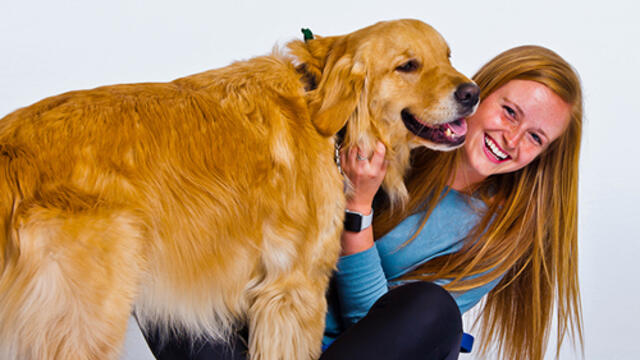 Morgan Collinson, from Harwood, Maryland, is an Accounting Economics and Business Administration double major with a minor in Economics.
When I took my first step on the Hill, I was: nervous but excited to meet new people and my new teammates on the women's lacrosse team.
The me who will ring the Old Main bell on Commencement Day is: thankful for everything McDaniel has done to prepare me for the real world and excited to take on the next chapter of my life.
Real world experiences: I completed two internships and study abroad for a semester. My first internship came through Interviewing Day, a Business department program which brings about 25 companies to campus to do quick 20-minute interviews with students. Everyone interviews with multiple companies to practice interviewing skills, gain experience, and even receive internship or job offers. I was offered an internship from a small accounting firm William G. Jones and later received an internship opportunity from one of the Big Four accounting firms, KPMG. After completing this internship, I received a full-time job offer. But my favorite experience off campus was studying abroad at McDaniel's campus in Budapest, Hungary, for a semester. I traveled to 10 different countries and took in new cultures!
The footprints I'm leaving on the Hill: can be spotted all over the library, throughout Lewis Hall, and of course on the lacrosse field.
Professor who most influenced who I have become: Business Administration professor Kerry Duvall has significantly influenced who I have become. Through her enthusiasm and passion for the subject, she helped me find my love for accounting. Professor Duvall wants the best for every one of her students and will put in the extra effort to help find internship and job opportunities.
Best class ever: Although I enjoyed my accounting and business classes, my favorite class I have taken is archery. Archery was an exciting class because of the competition and being able to be outside with classmates learning about something not a lot of students know how to do.
Took me totally by surprise: I wouldn't be without animals my whole four years at McDaniel. Saying goodbye to your dogs is always the hardest goodbye when leaving home from breaks, but McDaniel makes this easy with our therapy dog program. This program invites people from the community to bring their therapy dogs in during midterms and finals weeks and other random times. Students are able to pet and play with the dogs for as long as they desire. Although none of them can replace your own dog, it is nice to have some interaction with them.
My favorite spot on campus: I really enjoy the patio outside of Hoover Library, especially in the spring. When it's nice out I like to sit there with an iced coffee to study and do homework. There's not a ton of people walking by, so you don't get too distracted and some of the high-top tables overlook the stadium which is a nice view.
My capstone: My capstone class for my majors was Business Strategy. This course introduces you to the basics of how business organizations plan to conduct their business and generate wealth for their owners. We focus on how a firm sets its direction, chooses its business activities, and establishes and defends its position in a competitive market.
What it's really about: My capstone class really looks at different well-known companies such as Walt Disney Company, Tesla, and Netflix, and examines why and how they have been successful because of the strategies they have implemented. We also look at what challenges companies may have faced along the way and how they reacted to them.
What's next: After graduation, I have accepted a full-time position as an audit associate at KPMG in Baltimore, that will begin in August 2019. I will begin taking the CPA exam before I begin working.