Computer Science student among winners in national cybersecurity competition
Shelton Wilson's strong sense of logic and puzzle solving skills paid off when the senior Computer Science major was one of only 100 finalists among 13,000 contenders to solve nearly 300 cybersecurity challenges and win a $22,000 Cyber FastTrack scholarship.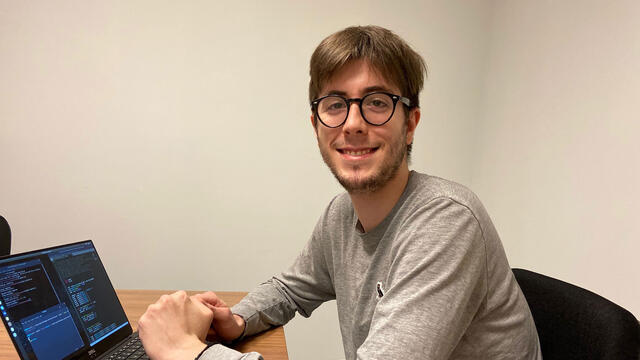 Lucky for Shelton Wilson that he loves solving puzzles. His persistence and strong sense of logic didn't hurt either. The senior Computer Science major is among only 100 finalists out of 13,000 contenders to solve nearly 300 cybersecurity challenges and win a Cyber FastTrack full scholarship worth $22,000 at the SANS Technology Institute.
The first of three rounds of competition began in April with an assessment and 15 computer puzzle or Capture-the-Flag problems. Wilson of Gaithersburg, Md., was among only 304 people out of the original 13,000 to complete all 15 problems.
The second round featured 236 programming, forensics and attack-method problems followed by an aptitude test related to computers. Again Wilson soared above nearly everyone — he was one of only 24 people to complete all 236 challenges. In addition to Wilson's top-24 level of competitors, other high performers also moved into the third round.
The final round was more in depth, Wilson said. The candidates studied 50 sections on various cybersecurity topics and then took a final exam. By then it was mid-September, and as much as Wilson enjoys solving puzzles, even he was ready to be finished.
"I've always been interested in computers, but I just never wanted to be a software developer," he says, explaining that he likes programming but uses it for smaller tasks. "Cybersecurity works with my strengths — logic, puzzle solving and persistence. I would sit down for hours to solve the challenges."
With one exception. Almost at the finish line, Wilson had two problems to go. He had no idea how to solve them. Candidates were allowed to enlist any resources to solve any of the problems and Wilson often googled how-to information to solve problems, but with these two problems he was lost. He didn't even know what to google.
Less than a week before the Sept. 16 deadline, he walked away. He just stopped working through the problems. Then, in the final hours, he leaped back in and solved both problems in a matter of hours.
"I was making them more complicated than they should have been," he says in hindsight.
After Computer Science professor Paul Lin told him about the challenge, Wilson was on his own. Much of the work was over the summer, even replacing video games. But Wilson was determined.
"It's an impressive accomplishment," says Mathematics and Computer Science department chair professor Spencer Hamblen, explaining that it takes a lot of knowledge and understanding of computers and the field of cybersecurity to know even where and what to search to figure out the answers.
Now, as he prepares for a career in which certificates complement and reinforce college degrees, Wilson will have the opportunity to earn three certificates in advanced immersion courses with his full scholarship to the SANS Applied Cybersecurity Program. The winners range in age from 18 to 63, representing 63 colleges in 28 states. One quarter of the finalists are women and one-eighth are minorities.
"Winning was a boost," says Wilson, who looks forward to beginning the courses in December and continuing them while finishing his senior year at McDaniel. "We're all susceptible to the imposter syndrome, where you doubt yourself and your abilities and think maybe you don't belong in a particular field.
"Being one of the winners helped put those doubts away — I must have had some idea even if I don't know everything and I certainly know enough to learn and complete the challenges."