Environmental Studies alumna sparks action to preserve the planet through education
The best part of Ashley Pritchard's job as education coordinator at Marineland in St. Augustine, Fla. — a job that often finds her swimming in crystal clear water with playful dolphins and other marine life — is motivating young people to make a difference, however small, in the health of the planet. The 2016 Environmental Studies alumna loves teaching but her ultimate goal is to provide connections to the environment and conservation issues that result in action.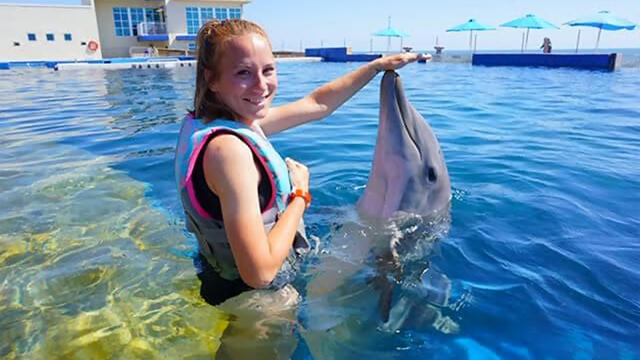 One recent summer day, Marineland education coordinator Ashley Pritchard '16 met a family visiting the St. Augustine, Fla., interactive park. The kids — an inquisitive bunch of boys — asked the Environmental Studies alumna one question after another, leading her to give them activity books and summer camp shirts. The mom and Pritchard even exchanged phone numbers.
The next day it happened. An environmental educator's dream come true. Moved by their Marineland encounter, the boys had done a beach cleanup and the mom had sent a picture.
"It warmed my heart," Pritchard says. "I made an impact on these kids' lives."
It's the best part of a job that often finds her swimming with dolphins and other marine animals. Teaching people about marine life is only part of Pritchard's mission — providing them with connections to the environment and conservation issues is the ultimate goal.
"Teaching someone something new is rewarding but giving them something that they can walk away with is even more rewarding," she says. "That's true whether it's being more environmentally conscious, choosing to make more sustainable choices or having a greater appreciation for the ocean — this is what I strive for."
Overseeing the environmental and conservation education aspects of field trips, summer camp and individual visits, Pritchard takes every opportunity to share her knowledge and enthusiasm for the environment. She also works with a local high school as mentor and advisor for the environmental class and their community projects. Recently the students worked on a project called "Forever Flagler" to come up with different platforms to teach others about what affects their local environment.
"McDaniel taught me a lot of critical thinking and creative thinking skills — I wouldn't be where I am today if I didn't think outside the box." - Ashley Pritchard '16
"I helped students by providing them with feedback, with different ways to look at things and then also challenged them to think bigger," she says.
Her dedication to being a role model and inspiration to young women who are thinking of entering STEM fields matches her passion for the environment. She often shares her story of growing up with learning disabilities and a speech impediment that held her back in second grade and seemed always to put her behind other students.
Except, that is, when it came to her determination, hard work and true grit. There she had no match. She took honors and AP courses in high school and continued on to earn not only her bachelor's but her master's degree in Environmental Studies as a first-generation college student breaking new family ground in navigating higher education.
"I hope that my story can help other young women to connect and to understand that we all face different life challenges but that it does not need to stop us from reaching our dreams," she says, explaining that's why her work with the STEM Spark program in Florida is so important to her. "Nothing is unattainable if you set your mind to it."
Interested in the environment since she participated in a stormwater run-off restoration project during her middle school years in Glen Burnie, Md., Pritchard had her eye on research when she arrived at McDaniel. She did her capstone research on the effect of no-till soil on the crop fields at McDaniel's Singleton-Mathews Farm, now the McDaniel Environmental Center, and presented her work at the Geological Society of America conference in 2015.
During graduate school at Goucher College, Pritchard worked as the after-school coordinator at EcoAdventures in Millersville, Md., where she got her first taste of being an environmental educator and fell in love with it. At EcoAdventures she focused on reptiles, alligators and crocodiles but easily transitioned to marine animals at Marineland.
"One of the main lessons I learned from McDaniel was that our paths do not always go the way we plan but could end up even better than expected," says Pritchard, whose favorite McDaniel memory is a backpacking trip with professor Jason Scullion's Conservation Biology class to Dolly Sods wilderness area in West Virginia. "I entered McDaniel with a very specific plan of what I wanted to do and the career path I wanted to take. That path is 100% different today and I could not be happier.
"McDaniel taught me a lot of critical thinking and creative thinking skills — I wouldn't be where I am today if I didn't think outside the box."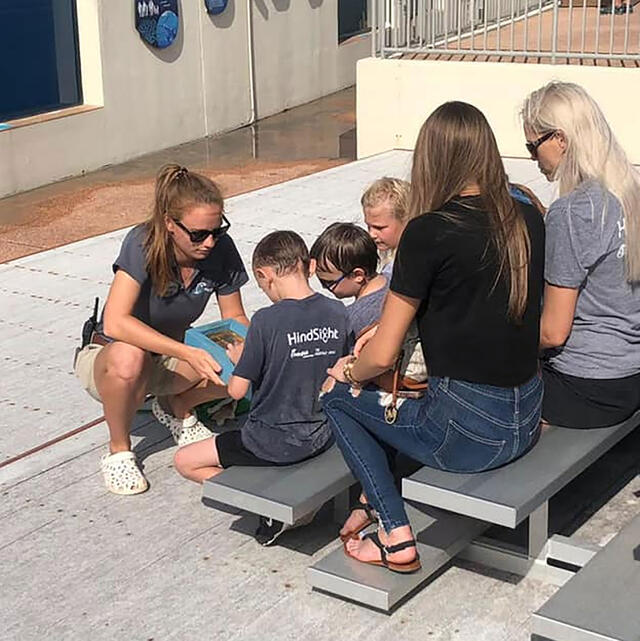 Pritchard's creative thinking has made Marineland's summer camp more than a marine biology camp. It's outdoor education, environmental science, marine biology and conservation all rolled into an adventure that has campers making crafts such as recycled paper, traveling to the beach and taking a nature walk through a river-to-sea preserve.
School field trips also reflect her innovative thinking. Surprisingly, not all Florida students have seen the ocean or even a dolphin before their Marineland visit. Pritchard seizes the chance to again make a difference in a young person's life — as she did with a recent group of elementary school students.
"The small impact of seeing the ocean and seeing dolphins up close allowed these students' minds to explode with questions, excitement and so much more," she says, explaining that these elementary school students participated in full education stations on dolphin, shark and sea turtle anatomy. "Our animals definitely elicit the biggest response from these students in particular."
Another career change doesn't seem likely — Pritchard says she's found her niche.
"My goals are to continue to grow within the education field of zoos and aquariums, creating a learning space based on conservation and compassion for our environment as a whole. "