Former scholar athlete finds perfect career fit as physical therapist
There's not much McDaniel College alumna Emma Ardolino '10 enjoys more than watching patients in her physical therapy practice achieve their goals and get back to their pre-injury function.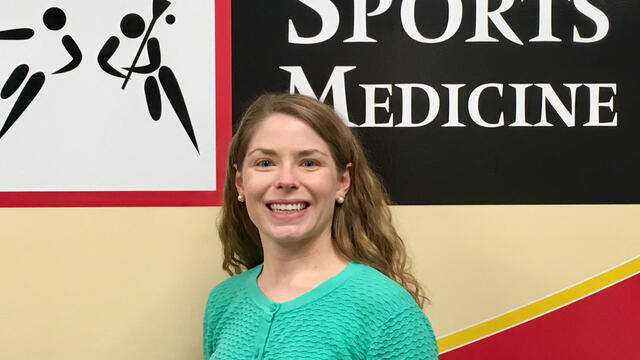 There's not much McDaniel College alumna Emma Ardolino '10 enjoys more than watching patients in her physical therapy practice achieve their goals and get back to their pre-injury function.
"It is so great to see my patient leave with a smile on his or her face, knowing I played a part in their accomplishments and happiness," says Ardolino, an Exercise Science (now Kinesiology) graduate who has worked at Towson Sports Medicine, part of the University of Maryland Medical System, since earning her doctorate in physical therapy at the University of Delaware in 2013.
Her practice specialties are orthopedics and sports medicine — not surprising for a stand out Green Terror field hockey and lacrosse player. Always fascinated with medicine, she watched teammates in high school as well as college suffer injuries and go through physical therapy to recover.
"I was intrigued by how physical therapy combined working with injured athletes and medicine," she says. "I started exploring the field more during my freshman and sophomore years at McDaniel and just found it to be a perfect fit!"
Certified as an Orthopaedic Clinical Specialist (OCS) by the American Board of Physical Therapy Specialties, Ardolino is also certified in Selective Functional Movement Assessment (SFMA), a system she utilizes to assess for and better treat movement dysfunctions in her patients.
With certification from the Titleist Performance Institute, Ardolino specializes in golf-specific movement assessment that she utilizes in treatment of golfers and development of an exercise program specifically for golfers. Some are patients who have suffered injuries or surgeries and are trying to get their swing back. Others are self-pay clients who want to up their game.
"Golf is a lifetime activity," says Ardolino, explaining that she uses film and technology to assess a golfer's functional movement and swing to design fitness and warm up programs individualized to each golfer. "Every person is built and moves differently, and a golfer's swing is unique to what his or her body can do. It is important a golfer has a customized program to maximize their swing efficiency and minimize their risk of injury."
While golf is a growing part of her practice, Ardolino is also a certified clinical instructor and greatly enjoys teaching PT students to prepare them for clinical practice.
"I am also particularly interested in rehabilitation and return to play for youth, adolescent and college-aged athletes — as well as weekend warriors of all ages," she says.
During her senior year at McDaniel, Ardolino won one of only three 2010 Maryland Association of College Directors of Athletics (MACDA) postgraduate scholarships for superior work in the classroom and on the field and was honored at graduation with the Richard A. Clower Award for Excellence in Exercise Science and Physical Education.
In field hockey she helped McDaniel to the semifinals of the Centennial Conference tournament in 2006 while finishing her career as a three-year starter with two goals and a defensive save in 58 games played. She scooped up 82 ground balls and caused 34 turnovers in four years as a defender on the Green Terror women's lacrosse team. A member of the 2007 ECAC championship squad, she guided McDaniel to two conference tournament semifinal appearances in 2007 and 2008.
All of that while maintaining a 3.9 GPA in her Exercise Science major and Biology minor, serving on the Student Athlete Advisory Committee (SAAC) and being a member of the Allied Health Club (now the Kinesiology Club). She volunteered with the Tournament of Champions and in the Exercise Physiology Lab — and belonged to four honor societies: Tri-Beta (Biology), Alpha Lambda Delta (First Year Students), Omicron Delta Kappa (Leadership), and Phi Beta Kappa.
It all paid off not only in what she learned but in her acceptance to Delaware's highly selective DPT program and the career she enjoys today.
"Everything I did at McDaniel enhanced my confidence in myself as a student and in my ability to interact with people and develop relationships," she says. "I made some lifelong friendships while at McDaniel that I deeply cherish. In addition, I learned the importance of networking and building professional relationships.
"This was fostered by the small class environment of McDaniel, allowing me to seek guidance of the faculty in the Kinesiology department that was absolutely vital in my success at McDaniel, PT school, and beyond."
Although she arrived at McDaniel with a love of learning, the classes she took and the professors she worked with in the Kinesiology department cultivated her passion even more.
"I can truly say that I am a lifelong learner, continuing to seek educational opportunities on a regular basis that enhance my skills and maximize the care I give my patients," says Ardolino, who remains in touch with her professors — Stephen McCole and Andria Hoffman — and often returns to campus to chat with current Kinesiology students.
In even the short time since Ardolino graduated the Kinesiology department has grown and added courses and opportunities — and of course the new physiology and performance labs and classrooms. Students can take advantage the College's close personal environment while learning in labs with leading-edge equipment.
"The Kinesiology department has greatly enhanced their course offerings and learning opportunities to students since my graduation," she says. "I would strongly recommend to any student interested in physical therapy or other health fields to consult their advisor early on and take advantage of as many of these opportunities as possible."