Free Press editor wins 'Dear Abby' national scholarship award for columns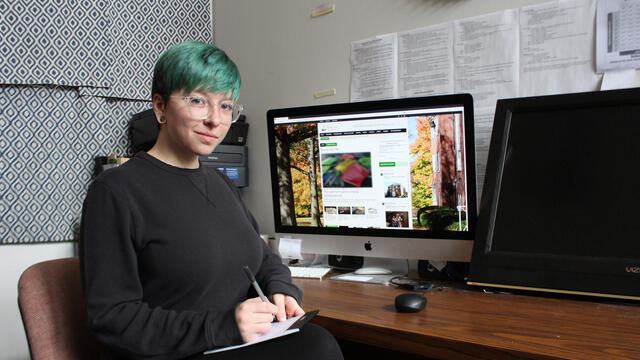 Marya Kuratova, a senior English major with minors in Journalism and Writing, is the national winner of the 2019 "Dear Abby" College Columnist Scholarship Contest, sponsored by the National Society of Newspaper Columnists Education Foundation.
The award, a $5,000 scholarship, was based on three of Kuratova's columns from the McDaniel Free Press student newspaper.  
Marya Kuratova's body of work stood out among a strong field of writers for many reasons, according to contest judge Connie Schultz.
"The writer's submissions shared consistent qualities that marked the work as top of class," Schultz said. "Kuratova writes with a unique combination of an activist's strong voice and a teacher's patience. The point to be made in each column is clearly made alongside good use of reason and fact that help to educate the reader as well as to persuade." 
Kuratova has been involved with the Free Press since August 2016 and is currently the editor-in-chief. She also serves as the editor-in-chief of Contrast, the college's literary magazine and is a tutor at the college's Writing Center.  
In May 2019, Kuratova won the Millard Milburn Rice Non-Fiction Prize and first place in prose and poetry categories for her work in Contrast in 2018. Kuratova received the Anne Thomas Stazesky Academic Scholarship in 2017 and 2018.
The "Dear Abby" College Columnist Scholarship Program is backed by The Jay & Rose Phillips Family Foundation of Minnesota on behalf of Jeanne Phillips, who is known as "Dear Abby" and the co-chair of the foundation.