Internationally-recognized leader in the field of hematology receives highest alumni honor
Nancy Speck '77 has fostered better understanding of the formation and development of blood cells and applied her findings to fighting leukemia.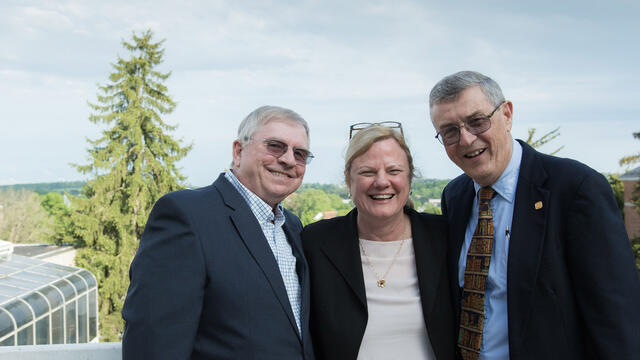 The McDaniel College Board of Trustees presented its prestigious Trustee Alumni Award to Nancy A. Speck, an internationally-recognized leader in the field of hematology. She earned a bachelor's degree in both Biology and Chemistry from the College in 1977.
The award is the highest alumni honor given at McDaniel in recognition of alumni career and service achievement.
Speck has spent more than 30 years making important contributions to better understand the formation and development of blood cells and has translated these findings to fighting leukemia. She is best known for her identification of the proteins RUNX1 and CBFß, mutations in which are regularly found in leukemia.
Currently the chair of the Department of Cell and Developmental Biology in the Perelman School of Medicine at the University of Pennsylvania, she is also co-leader of the Hematologic Malignancies Program at the Abramson Cancer Center and an investigator in the Abramson Family Cancer Research Institute. In addition, she is the scientific director of the RUNX1 Research Program, a nonprofit organization dedicated to finding a cure for patients with familial platelet disorder with predisposition for acute myeloid leukemia caused by inherited mutations in the RUNX1 gene.
She has published more than 100 peer-reviewed articles in academic journals. She also serves as a reviewer for leading journals such as "Blood," "Nature," "Nature Genetics," "Cell Stem Cell," "Cancer Cell," "Science" and "PNAS." Speck has received numerous awards and accolades, including The Leukemia Society of America Scholar Award, the Fogarty International Center Senior Fellow Award, the 2015 Henry M. Stratton Medal for Basic Science from the American Society of Hematology and the 2018 Donald Metcalf Award from the International Society for Experimental Hematology. In 2019, she was elected to membership in the National Academy of Sciences in recognition of her distinguished and continuing achievements in original hematology research.
Prior to her coming to the University of Pennsylvania in 2008, she started her own laboratory at Dartmouth's Geisel School of Medicine, where she held the James J. Carroll Chair of Oncology. She earned a Ph.D. in Biochemistry from Northwestern University and completed postdoctoral research fellowships at the Whitehead Institute for Biomedical Research, a nonprofit institution in Cambridge, Mass., and at MIT.
Speck spoke of her experience as a first-generation college student. Her mother had a high school diploma and her father only completed school up to the eighth grade. After acknowledging her Biology and Chemistry professors Bill Long, Rick Smith, the late David Herlocker and Don Jones, she said, "I have often wondered whether I would be scientist today had I attended any other college or university. I think not. I needed to be at a place where the faculty cared about me, would take the time to nurture me, recognize in me an aptitude for science that I could not see, and encourage me to pursue science as a career."
Speck is also the parent of a McDaniel alumna. Her daughter, Caroline Speck '06, now works as a senior research program coordinator at Johns Hopkins School of Medicine.
Trustee Alumni Award recipient Nancy Speck with Bill Long, Professor of Biology Emeritus, and Rick Smith, Professor of Chemistry Emeritus