Interviewing Day at McDaniel: Jobs, internships and career contacts
The first floor of Lewis Recitation Hall was electric with excitement, anticipation and nerves as the clock ticked off the final minutes before the 3 p.m. start of Interviewing Day 2018.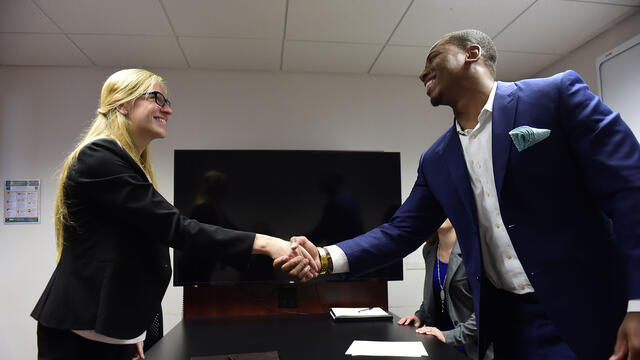 The first floor of Lewis Recitation Hall was electric with excitement, anticipation and nerves as the clock ticked off the final minutes before the 3 p.m. start of Interviewing Day 2018.
Some 50 students from McDaniel's Business Administration and Economics department chatted with professors, alumni and each other. Having traded their football jerseys, volleyball uniforms and Greek-lettered sweats for smart suits and shined shoes, they fidgeted with folders packed with resumes while shifting weight from foot to foot.
These sophomores, juniors and seniors had every reason to be confident as they faced, many for the first time, interviews for what they would call "real jobs" or internships leading to "real jobs." They were prepared — primed with rigorous academics, practiced skills and experience communicating.
New as they are to interviewing, they share common ground with many of the interviewers. More than 20 McDaniel alumni were among the representatives of the 24 regional and national employers who would conduct 175 interviews — seven 20-minute interview each — over a three-hour period before ending with a feedback session and dinner sponsored by Gross, Mendelsohn and Associates.
Organized by professor Kerry Duvall with logistic support from academic secretary Tracy Fleming, the event typically yields internships for about 12 percent of the students interviewing and jobs for another 20 percent. Duvall credits much of the day's success to Don Lavin, the Economics and Business Administration department's executive-in-residence whose connections and constant contact with alumni and businesses results in extensive opportunities for students.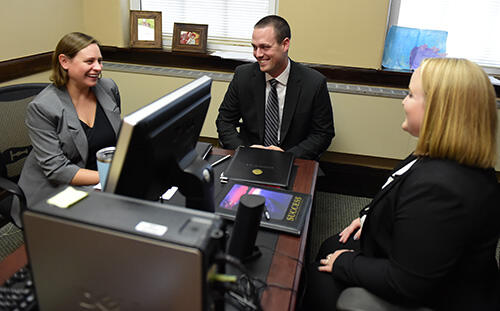 RSM representatives Julia Flannery '04 and Mike Bucci '15 talk with sophomore Accounting-Economics and Business Administration major Jaidyn Nicely of Sparrows Point, Md.
A supervisor in RSM's assurance practice, Mike Bucci '15 found an internship that led to his job during Interviewing Day when he was a student. Now the tables are turned as Bucci returns each year to conduct interviews.
"Interviewing Day is where my career started," said Bucci, whose internships with two different companies helped him figure out that he wanted to work in audit, not tax, at a national, instead of regional, company. "I like the idea of being able to provide the same opportunity to today's students.
"McDaniel has some excellent candidates and we're always able to bring a few students in to the office to continue the interview process."
Confidence and nervousness battled for face-time as Renie Tsomos stepped through the glass doors of Lewis Recitation Hall and into Interviewing Day.
The senior varsity basketball player from Forest Hill, Md., knew her majors, Accounting-Economics and Business Administration, gave her an edge in the job market. Unlike her peers at many other colleges, her accounting degree is enriched with a liberal arts perspective. She'll graduate with expertise in accounting and a broad perspective on the economy — coupled with business administration.
The question is most likely which job offer she'll accept rather than if she'll be offered a job. But for her to accept a job offer, she wants to be sure that the company is a good fit.
"It's so important to see how you and the company mesh together," she said, explaining that she works well in groups and teams and serves on the women's basketball team's leadership council. "There are several ways to find out the company's culture — you can go on the website, go into the office, even looking at a floor plan to see if everyone works in cubicles or an area that is more conducive to conversation."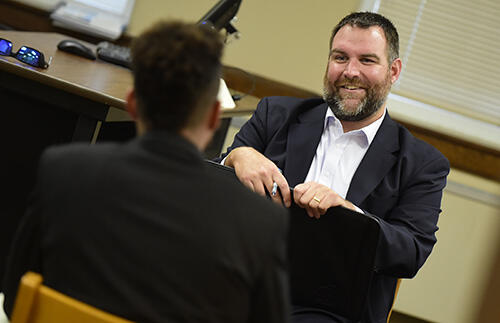 Jim Dahlgren '06, president of WPM Real Estate Management, interviews senior Business Administration major Andre Henry of Frederick, Md.
Employers also stressed the importance of fit. Since resumes are typically limited for students and new graduates, Jim Dahlgren '06, president of WPM Real Estate Management who returned for his first Interviewing Day, looked for cultural fit and then whether the candidate for job or internship researched his company, and finally whether the candidate showed the ability to effectively communicate.
"Doing homework in advance carries a lot of weight with me," said Dahlgren, who helped double WPM's business from 10,000 units in 100 properties eight years ago to its robust 23,000 units in 150 properties today. "The students I interviewed today were extremely well prepared. I was impressed."
While most of the companies at Interviewing Day are accounting, tax, audit, finance or investment firms, WPM provides a full suite of property management services for multifamily, condominium, homeowner association, commercial and retail clients. Still, Dahlgren is quick to point out that his job utilizes many concepts he learned at McDaniel — accounting and excel skills, corporate finance, marketing, ethics and management. Just as vital to career success is the ability to communicate, skills Dahlgren honed in the classroom as well as on football and baseball fields and knowing almost everyone on McDaniel's campus.
"Property management is not glamorous, but we take great pride in our work and have passion for our profession," said Dahlgren, who was named president in February. "We're managing little cities and no two days are ever the same. Our mission is to ensure great properties for individuals to live, work and invest in, and at the same time to make a positive impact in the communities we serve.
"It's a great place to go to work."
That's just the result Michael Nepini, a senior Accounting Economics and Business Administration major from California, Md., hoped his extensive preparation and thoughtful interviewing brings. Armed with two civilian internships in different divisions at Patuxent River Naval Air Station and volunteer work in tax preparation with McDaniel's VITA program, Nepini also added experience to his candidacy.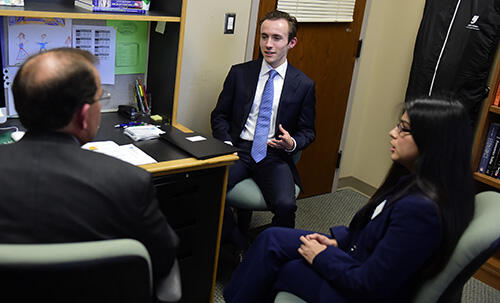 Senior Accounting-Economics and Business Administration major Michael Nepini of California, Md., explains his career goals to Gross Mendelsohn representatives Ed Thompson and Jocelyn Diaz '18.
Nepini's day was a success on many levels — he has a second interview with one company and the probability of an offer from another company. He also made invaluable contacts, became more confident at interviewing and fielded a few unexpected questions.
"The biggest takeaway I learned was to be prepared to talk about how my previous work experience relates to the positions I interviewed for," said Nepini. "One of the interviewers asked me to talk about a time when I worked in a customer service role, and I was able to use an example from one of my previous internships with the Navy."
Senior Renie Tsomos shakes hands with Withum representative and McDaniel alumnus Aaron Slaughter '10 at the beginning of her interview with the national accounting firm.