Kimberly Johnson receives Bailer Award from McDaniel College
Bailer Award recipient Kimberly Johnson earned a master's degree in school librarianship in 2012 and obtained administrator I certification in 2019 from McDaniel. She's a school library media specialist for Carroll County Public Schools.
Kimberly Johnson is the recipient of the 2020 Joseph R. Bailer Award from McDaniel College. The prestigious award, named for one of the college's most highly respected career educators, is presented each year to a McDaniel College master's degree recipient who has made a significant contribution to the field of education.
Johnson of Manchester, Md., earned a master's degree in School Librarianship in 2012 and obtained Administrator I Certification in 2019 from McDaniel. She graduated from Messiah College with a bachelor's degree in History and a certification in Social Studies Education in 2005.
A school library media specialist for Carroll County Public Schools, she works at Westminster High School, where she serves as the faculty advisor for the Westminster High School's Book Club. Johnson is involved as the secretary for the Maryland Association of School Librarians (MASL) and serves on the MASL Professional Development Committee. She has presented at the district and state levels on topics ranging from school library makerspaces, the newly adopted National School Library Standards and diverse literature for young adults.
Johnson was named the Maryland School Librarian of the Year in 2017 and was a finalist for Carroll County Teacher of the Year in 2018 and 2019.
"I'm so proud to be a member of McDaniel's School Librarianship Program's family. From the McDaniel instructors who more than prepared me to meet the challenges and opportunities of school librarianship to the other McDaniel graduates I work alongside of in schools across the state, we take seriously the charge of promoting and redefining what it means to be teacher librarians in the 21st century," Johnson said.
"School librarians are champions of equity, access and connections in their buildings. Our job is dynamic, people-centered and necessary, especially in an information-saturated world."
As a school librarian, Johnson's focus is empowering students to tell their own stories. Her recent publication in the American Association of School Librarian's book Content-Area Collaborations for Secondary Grades titled "Hand-lettered Infographics" examines the intersection of fine arts, graphic texts and student research. Students collaborated with a local hand-lettering expert, who helped them develop their own infographics that reflected their research topics. In 2019, Johnson conducted a Human Library event in Carroll County, hosting 32 students as "books" and 200 "readers."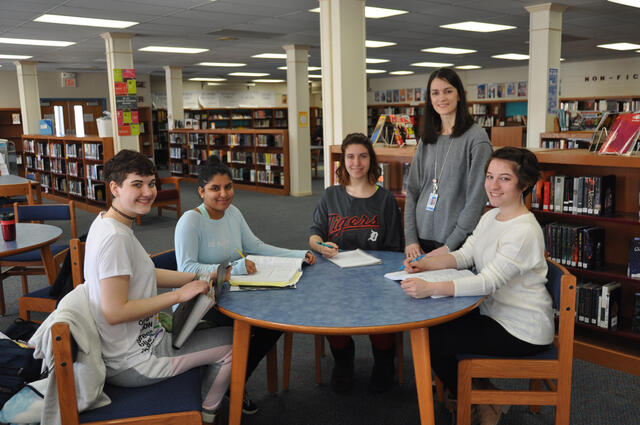 The Joseph R. Bailer Award was established by the family of Dr. Bailer, who died in 1974. Bailer was chair of the Education Department at McDaniel College, then Western Maryland College and also Director of its graduate program from 1949-1971. He was a primary contributor to the growth of the program and influenced the lives of hundreds of graduate students, many of whom have gone on to leadership roles in educational programs both in Maryland and beyond. In the spirit of dedication and professionalism, the Bailer Award is given annually to a former graduate of the master's program who has subsequently made a significant contribution to the field of education. The award rotates among many of the graduate programs of the college.
Johnson said, "I'm honored to be this year's recipient of the Joseph R. Bailer Award. In reading more about Dr. Bailer, as well as past recipients of the award, it is humbling to be considered alongside this group of committed educators. I know my journey in education is far from over, but that is part of being a teacher: continuously learning, reflecting and growing."