Maryland Ensemble Theatre celebrates 20 years of entertainment and education
When Theatre Arts lecturer Gené Fouché and her husband Tad Janes first envisioned their own theatre company, neither would have guessed the role their dream — the Maryland Ensemble Theatre or MET — would play in the education of Theatre students and budding actors alike.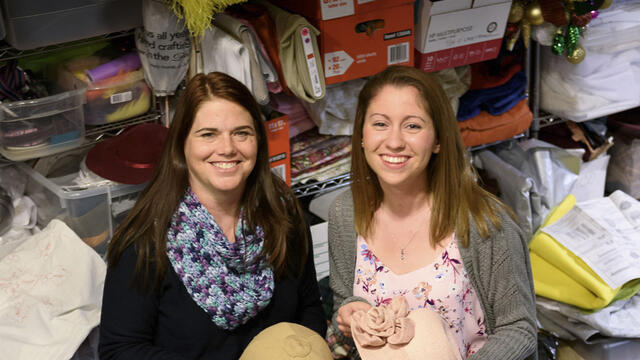 When Theatre Arts lecturer Gené Fouché and her husband Tad Janes first envisioned their own theatre company, neither would have guessed the role their dream — the Maryland Ensemble Theatre or MET — would play in the education of Theatre students and budding actors alike.
Yet now, as MET celebrates its 20th anniversary, the names of Theatre Arts grads dot the playbills. It is nearly an impossible task to count the number of 6- through 66-year-olds who have taken theater courses at MET. And literally thousands of elementary through high school students have benefited from MET bringing theater to their schools.
Regional theater-goers will no doubt flock to MET to see the revival of the holiday favorite, "A Christmas Story," during its Dec. 1-23 run and giggles will bubble up from a young-at-heart audience during the Nov. 25-Dec. 24 weekend matinee performances of that sassy first-grader "Junie B. Jones in Jingle Bells Batman Smells." Look for 2015 McDaniel grad Daniel Valentin-Morales on stage in Junie B. Jones — and during the week staging shows with youngsters at their elementary schools.
The MET is even bringing its touring theater company to Westminster, Md., to the Carroll Arts Center on Dec. 8-9 for "A Christmas Carol."
Still, there's more. Fouché, who never imagined becoming a teacher, credits teaching with making her a better artist — while emphasizing that being a working artist empowers her teaching.
"It's a great combination of practice and teaching," says Fouché, who teaches Acting, Directing, Devising for Performance, Creating a Character and Improv, among other courses. "Teaching makes me look at my practices and processes, and the College values the fact that I am a working artist."
Fouché and Janes, who both have directed theatre productions at McDaniel, started MET on the advice of professionals Fouché met at the Williamstown Theater Festival during one of three summers she worked at the prestigious summer festivals. Since the on-the-road lifestyle of the freelance actor didn't appeal to them and the odds of getting two callbacks per 50 auditions were the norm, they decided to "make their own work."
First came their Improv comedy group, the Comedy Pigs, which 25 years later is still performing. Then they founded the Shakesperience, which enjoyed success in taking "Antigone" to high schools in 1993 but met a devastating end with "Romeo and Juliet" in the spring of 1994. Ice storms that winter closed schools and caused most to cancel their bookings in the spring as they tried to make up for lost time. Most of the company's actors left town.
"I just wanted to create," says Fouché, who then started an ensemble theater school for children through adults. "Theater artists came out of the woodwork and we saw what tremendous interest there is in theater."
Prompted and frankly prodded by her mother to read a book about the women of Gettysburg, Fouché and Janes wrote their first show. Together they brought to life and to the stage "Finally Heard: Feminine Heroes of an Uncivil War" featuring the women who were spies, nurses, soldiers, canteen workers and former slaves during the Civil War.
It would be the Maryland Ensemble Theatre company's — the MET's — first production. But certainly not its last. Now in its third space on West Patrick Street in Frederick, the MET stages six main stage and five children's shows each year.
McDaniel senior Alex Tolle, a Theater Arts and Communications major from Woodstock, Md., doesn't start her official internship at the MET until spring semester, but that hasn't kept her away from the theater. She's volunteering to help with "A Christmas Story" rehearsals and costumes and anything else that will take her close to the stage.
Tolle's internship will be in marketing for the theater itself.
"I'm fortunate to have an internship that combines both of my majors and is in a field that I'm passionate about," says Tolle, who played Stella in the College production of "A Streetcar Named Desire," which also was directed by Fouché. "Working with Gené has been one of the best experiences I've had because she is so good at what she does and has so much real world experience.
"She helps me grow as a performer."
Fouché and Janes, who is chair of Frederick Community College's Theater Arts department, now employ nine administrators at the MET and oversee a company of 30 members who are paid on a project basis but liberally volunteer their time. The founders are officially part-time, but just as involved and busy as always.
"I'd like for the MET to become a sustaining organization that outlives me," says Fouché. "And this past 10 years we've put things in place that we could be replaced and the MET would still be successful."
For now, Fouché relishes the fact that her two worlds are "colliding" more often and that she's able to continue working with her students beyond their graduation.
"I am so proud to have established a place in our community with MET, and even more thrilled to be able to offer practical experience there for our McDaniel grads," she says.
McDaniel College Theatre Arts lecturer Gené Fouché  and her husband Tad Janes celebrate the 20th anniversary of Maryland Ensemble Theatre, the theater company they founded.