McDaniel College welcomes record-setting class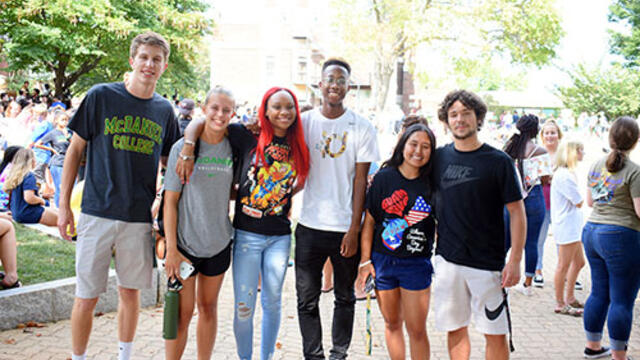 McDaniel freshmen made history Aug. 22 simply by arriving on campus. The class of 2023 — 587 first year and 50 transfer students — is the largest ever welcomed to the Hill.
Although record setting in sheer numbers, the class also will be known for its firsts:
• First to be 50 percent students of color.
• First to experience McDaniel Local, a three-day summer program to connect them to their peers, the college and the Westminster community.
• First to explore new programs in Actuarial Science, Applied Mathematics, Biochemistry, Biomedical Science, Criminal Justice, Health Sciences, Marketing, Writing and Publishing, and specialization in Engineering.
• First to reap, from acceptance to graduation, the benefits of the McDaniel Commitment, providing a strategic, mentor-guided exploration that results in a tailored education program that prepares them for personal and professional success.
• First to be guaranteed at least two high-impact experiential learning experiences, including research, study abroad, community service and internships.
While McDaniel's attention to increasing diversity, its visionary McDaniel Commitment and innovative curricular design no doubt contributed to the size of the class of 2023, the freshmen and transfer students are much more than numbers and firsts.
Born in the 21st century — and the third millennium — they have conducted research, operated family businesses, organized a food pantry, used birthday donations to create scholarships, cared for special needs siblings, interned with Baltimore city police and tagged great white sharks around Cape Cod.
They graduated from 366 high schools in 17 states and four countries. A student athlete — a swimmer — is traveling 8,752 miles from New Zealand, and a softball player is headed to the Hill from Denmark. Baltimore City College high school is sending 19 new graduates to McDaniel, the largest number from any one high school.
Call out the name "Matthew" or "Emily" and you are sure to make a friend — there are 12 Matthews and nine Emilys, not to mention eight each named Nicholas or Anthony and seven each named Brooke or Megan. The most popular birth month is May, when 67 new students celebrate each year.
They've cheered on the Ravens, Steelers, Redskins, Broncos, Cowboys and probably even the Patriots, but at 1 p.m. Saturday, Sept. 7, you'll find them tailgating around the rim of McDaniel's famed drive-in stadium cheering on their new team, the Green Terror, in its first gridiron match of the 2019 season.
We're proud to welcome the Class of 2023.
Read more about the Class of 2023 in the Carroll County Times.
McDaniel College first-year students (l-r) Logan Feuer of Gaithersburg, Md.; Taylor Lindsay of Kennett Square, Pa.; Kiyara Fleming of Baltimore; Zonte Painter of Baltimore; Kaeana Aguon of Gaithersburg, Md., and Jason Heeley of Silver Spring, Md.