McDaniel faculty honored with top teaching awards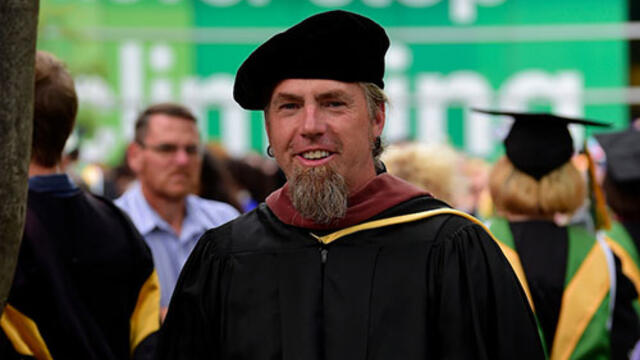 Steven Pearson, professor of Art and Art History, brings a creative and innovative approach to his classes that invariably inspire, empower and energize his students. Pearson's dedication to his art and to his students mirror the values of the liberal arts and the mission of McDaniel College, earning him the 2019 Ira G. Zepp Distinguished Teaching Award. 
Pearson has taught courses in Painting, Perceptual Drawing, Drawing, Printmaking, Color Theory, Two-Dimensional Design, Advanced Studio Art I–IV and Studio Art Senior Capstone.  But he has also ventured across campus into other disciplines to design and teach First Year Seminars, Sophomore Interdisciplinary Studies, Honors classes and entrepreneurship in the Encompass Distinction program. 
In his foundation-level drawing courses, he encourages students to explore various approaches and weave new media — audio, video, digital — into their projects. For one assignment the class ventured down Main Street in Westminster recording sounds and drawing or photographing objects, fixtures and plants they came across along the way. Students recorded the sounds of cars passing over a grate and complemented it with a drawing of the grate. A Biology major did rubbings of tree leaves, and another student sketched water and storm drains. 
Pearson sparks critical thinking skills in his four semesters of Advanced Studio classes by cultivating students' understanding of how art engages with the world. His syllabus reflects his philosophy: "Think of this class as a metaphorical journey. Every journey has a starting point and a destination, but what we can never predict are the obstacles and detours we encounter along the way. Work through them and embrace them, because they could lead you down a road that is more exciting than your original route. The important part is to just keep driving." 
Students have traveled to New York City art museums and the Chelsea gallery district, not to mention to Baltimore's Museum of Art. Pearson launched the College's Visiting Artist Lecture series and is unwavering in his commitment to keeping a vibrant exhibition program alive in Rice Gallery. "Skepsis," an exhibition Pearson curated in recent years, paired the sculptural work of artist Breon Gilleran with the work of Biology professor Katie Staab's Comparative Biology students, including the 3D printed skull of an Asian tapir and the re-articulated color-coded skeleton of a rabbit. 
Pearson, who served in the U.S. Navy upon graduation from high school, earned his B.S. at The College of Saint Rose and his M.F.A. at the Maryland Institute College of Art. He has taught "From Mark to Message: Drawing Now" as a First Year Seminar. He teamed with English professor Paul Muhlhauser to teach "Make It, Mark It, Sell It," designed to help students access their creativity and involving for one assignment repurposing and reconceptualizing items purchased at Goodwill. 
With English professor Robert Kachur, Pearson designed and taught "The Postmodern Generation," which explores the web of connected shifts in art, literature, science, philosophy, film and politics. Students were treated to Pearson's individualized approach to teaching as he meticulously taught each student how to use cartoon-generating software for their culminating project, an illustrated memoir. 
Often invited to give artist lectures at other colleges and universities, Pearson has had numerous solo and group exhibitions. In 2012, he was named a semi-finalist for the Janet and Walter Sondheim Artscape Prize and he was a semi-finalist for the Bethesda Painting Award in 2013. He is known as a talented artist, a devoted mentor, an enthusiastic teacher, and now The Ira G. Zepp Distinguished Teacher for 2019. 
Dana Ferraris, associate professor and chair of the Chemistry department, and Chemistry lecturer Michael Polen will use the Ira G. Zepp Teaching Enhancement Grant to establish a STEM Learning Center, like the Writing Center that will benefit all science, technology, engineering and math (STEM) students at McDaniel. The learning center will serve the growing numbers of students who are taking STEM courses at the college by helping to improve general study habits and quantitative skills in STEM fields.  
Advanced students will have opportunities for training and certification as peer tutors.  
"Incorporating all STEM disciplines into the Center will strengthen the community and camaraderie among STEM students at McDaniel," Ferraris says of the planned STEM Learning Center that will be funded with the Zepp grant. 
Ferraris served as a visiting professor before joining the McDaniel faculty as associate professor in 2017. At McDaniel, he has been involved in student-faculty research on cancer drugs. He also worked with McDaniel chemistry instructor Steve Robertson on an outreach program for the sciences in Carroll County high schools. A synthetic medicinal chemist, he spent over 15 years doing drug discovery in the pharmaceutical industry.
Polen, who recently received his Ph.D. in Chemistry from Carnegie Mellon University and did his undergrad studies at Widener University, researched STEM centers with Ferraris during the 2018-2019 academic year. He teaches General Chemistry and his interests are in environmental and analytical chemistry. During the summer he and four Chemistry students are revamping lab experiments.
Jon Seligman, the 2019 Shelton Adjunct Faculty Award recipient,  is a talented percussionist and engaging percussion teacher. But even those accolades don't come close to telling the whole story of why the Music adjunct lecturer is honored with the 2019 Shelton Adjunct Faculty Award for Teaching Excellence.
For more than 25 years, Seligman has taught cultural understanding along with the drumming heard echoing from not only his classrooms but those of colleagues teaching courses on everything from New Orleans to the Arab World, Latin America and more. In World Music classes, he taught drumming skills and patterns while adding historical and cultural context.
"Students in my World Music classes learned how drumming fit into culture, and how culture was woven through drumming," says Robin Armstrong,
A guest speaker in Arabic and Middle Eastern Studies classes, Seligman has introduced students to Arabic music and involves them in his in-class drumming demonstration. He teaches Arabic drumming and percussion as a 4-credit course in the Arabic and Middle Eastern Studies major and minor. Seligman's talents, along with those of the musicians who accompany him, have enriched the College's "Taste of Islam Ramadan Dinner" and "Taste of Arabia" events with Arabic, Turkish, Persian and Middle Eastern music.
Seligman's passion about learning and teaching understanding through studying culturally authentic music and percussion coupled with his connection with students across all disciplines have earned him the 2019 Shelton Adjunct Faculty Award for Teaching Excellence.
The Ira G. Zepp Distinguished Teaching Award recognizes inspired classroom work and dedication to students.
The Ira G. Zepp Teaching Enhancement Grant encourages a significant project designed to enhance teaching. The award favors, but is not limited to, faculty in the first decade of service at McDaniel College and is designed to demonstrate the College's ultimate commitment to the classroom as our most important function. 
The Shelton Adjunct Faculty Award for Teaching Excellence recognizes an outstanding adjunct faculty member at the graduate or undergraduate level whose teaching demonstrates a commitment to excellence and genuine care for their students. This award was established in 2018 through the generosity of Dr. Barbara P. Shelton '70 and Dr. Gordon B. Shelton '68.