McDaniel honors faculty and staff for teaching, scholarship, research and service
McDaniel faculty were recognized throughout the last week of classes for the 2019–2020 academic year by Provost Julia Jasken during a Faculty Appreciation Week, coinciding with National Teacher Appreciation Week (May 4-8).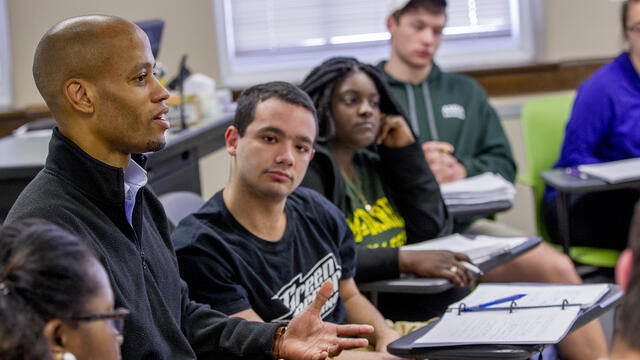 During Faculty Appreciation Week and the last week of classes for the academic year, McDaniel recognized members of faculty and staff for excellence in the classroom, scholarly pursuits, research and service to the college.
The 2020 Ira G. Zepp Distinguished Teaching Award honoree is Richard Smith, an associate professor of Sociology and Class of 2000 McDaniel alumnus applauded for being an outstanding teacher not only to students but to colleagues and the community as well.
Known among his colleagues in Sociology as a gentle giant who never flinches when confronted with potentially explosive questions or comments, Smith teaches some of the most controversial topics in sociology, including race, ethnicity and religion.
"Richard is masterful at engaging students in a way that makes them feel comfortable opening up about sensitive, controversial, and difficult topics," says Sara Raley, associate professor of Sociology. "He can simultaneously keep things light enough that folks do not close themselves off from introspection as well as facilitate discussion in a way that fosters deep reflection and growth."
Smith, who earned an M.A. and Ph.D. in Sociology from Temple University, teaches American Ethnicity, Cultural Anthropology, Sociology of Gender and Historical Significance in American Society. In addition to serving on faculty committees, he is the adviser to the Black Student Union and the Brothers Elite and is a First Generation Student mentor. Recently he was appointed special advisor to the Provost for Diversity Initiatives.
His students are among his fans, saying "Each time he steps into the classroom he demonstrates a mastery of the subject material, care for his students and profound desire to provide his students with the knowledge and tools to develop a deeper understanding of the world around them."
Professor Ira Zepp mentored Smith during his student days on the Hill. And Smith credits Zepp with teaching him how to use the power of words to address problems.
"His patience, compassion, and willingness to listen took me from where I was to where I needed to be and has become an integral part of my teaching philosophy," Smith says of Zepp. "He affirmed who I was while inspiring me to believe in the greater potential of myself and others.
"I have done my best to continue in that same mode with all of my students."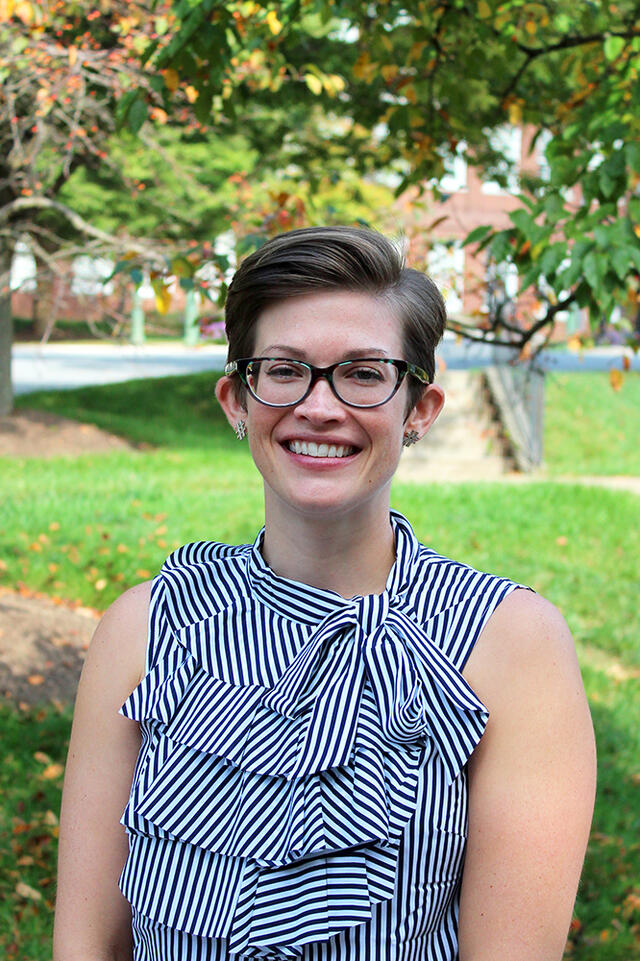 The 2020 Ira G. Zepp Teaching Enhancement Grant goes to Chloe Irla, assistant professor of Art, for enhancements to her graphic design studio classroom in Peterson Hall. With funding from this grant, Irla will purchase state-of-the-art equipment and technology to support the graphic design specialization.
The studio enhancements will give graphic design students hands-on experience with cutting-edge techniques and skillsets to be optimally prepared for future careers. Investing in the studio classroom will open many opportunities for experiential learning and collaboration, including connecting for linked-courses and cross-departmental experiences, according to Irla, who is also a 2007 alumna.
The Shelton Adjunct Faculty Award for Teaching Excellence honors Alana Murray, adjunct lecturer in the Equity and Excellence in Education Graduate Certificate program in Graduate and Professional Studies. Murray, who completed her MAT at Brown University and Ph.D. at the University of Maryland, created this program at the request of the leaders of the Montgomery County Education Association with the goal of preparing teachers to meet the needs of their culturally and linguistically diverse student population. In addition to designing many of the classes in this program, she also mentors interns to prepare them for their own future teaching responsibilities.
Currently the principal at Shady Grove Middle School where she leads a multicultural school community, Murray is committed to helping every student succeed in this program and cares deeply about their unique individual circumstances and challenges.
One of her students summarizes her impact. "Dr. Murray's expertise, knowledge, coaching and personal advocacy have pushed me to learn more about myself as a student, teacher, leader and member of society. The knowledge and expertise she shared with me and others in the McDaniel courses have helped me have courageous conversations about race, implicit bias, and cultural relevant instruction."
The Charles A. Boehlke, Jr., Engaged Faculty Fellows Awards was established with a gift from Charles A. Boehlke, Jr., a 1978 alumnus of the college and current member of the McDaniel Board of Trustees. The 2020 awardees are:
Lauren Dundes, professor of Sociology, focuses in her teaching to prepare students for a future based in critical thinking and has co-authored a remarkable 36 articles with her students over the past 16 years. She encourages her co-authors, not all of whom are Sociology majors, to conduct independent research with the goal of generating new knowledge.
Students choose their own research questions based on their interest and Dundes helps structure their projects to align within existing sociological research. "Each student has enriched my life and I feel that by publishing together, aside from the intellectual experience, we also form a bond by having our names linked by our collaboration," she says.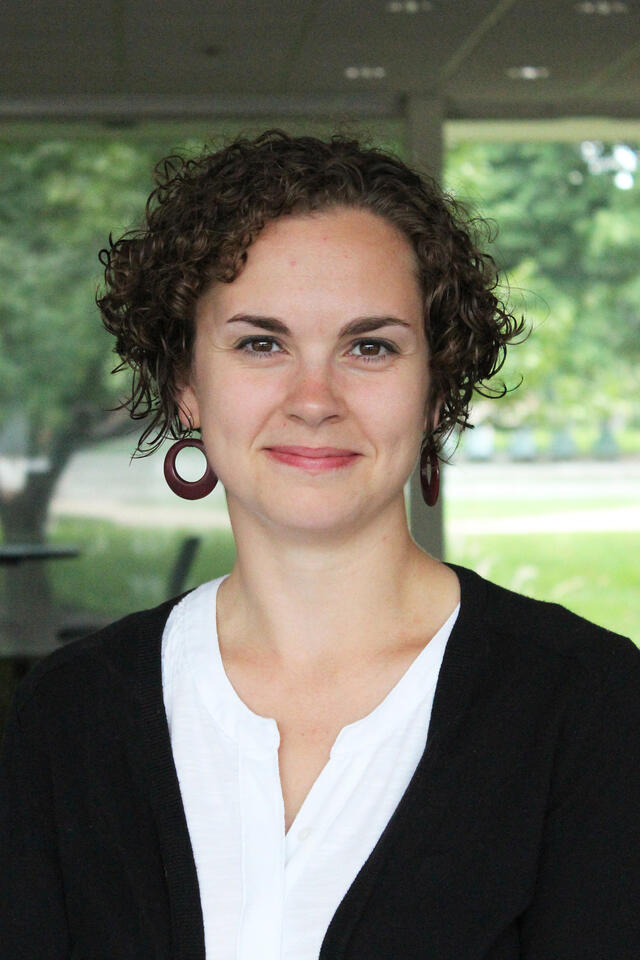 Elly Engle, assistant professor of Environmental Studies, joined the faculty in fall 2018 and has worked to incorporate experiential learning opportunities into her courses and through her important leadership role at the McDaniel Environmental Center. Her main focus is to provide opportunities for students to engage deeply in pressing social, political and environmental problems. Engle has worked with students during the academic year and in the summer to develop high-quality individualized research and internship experiences. A strong supporter of community engagement, she is also a faculty advisor for Green Life and Compost Club.
Chloe Irla, assistant professor of Art, has been an example of a truly engaged faculty member since she returned to the Hill full-time in 2016 after earning her bachelor's degree from the college in 2007. Currently the faculty advisor for the Art Club, the Magician's Club, Phi Alpha Mu and the McDaniel Student Art League, Irla has also been mentor to the men's lacrosse team for the last four years.
She has expanded opportunities for McDaniel students to participate in meaningful internships by partnering with a significant number of local and regional companies for graphic design students to prepare for careers. In working with students, she seeks to "dispel the myth of an artist working alone in their studio or a designer working solely at a desk. Art and design can help drive social change and opportunities exist beyond exhibiting art in a commercial gallery."
Cathy Orzolek-Kronner, professor of Social Work, has used her state-wide professional contacts over the past 20 years to provide field placements, internships and employment opportunities for McDaniel students. Service learning is a signature feature of her course, Social Work Practice with Individuals, where the students complete 30 hours of service learning at organizations such as the Cold Weather Shelter and On Our Own.
As Director of Field Education for eight years, it was Orzolek-Kronner's responsibility to identify and establish field placement opportunities for social work majors. Every year she supervises a number of these students, visiting the sites to watch their work, meeting with the site supervisor and mentoring each student along the way. The impact of her investment in experiential learning is evident in the number of Social Work majors returning for Homecoming, 'I Love the Hill' events, and their availability to serve as guest presenters, social work advisory board members, field instructors, adjunct faculty and mentors to current students.
Faculty retiring at the end of this academic year and granted emeritus status by the Board of Trustees are:
Donna Evergates, Professor of Foreign Languages and History, with 33 years of service.
Andria L. Hoffman, Associate Professor of Kinesiology, with 15 years of service.
Eddy Laird, Associate Professor of Education, with 20 years of service.
Kathy Mangan, Professor of English, with 43 years of service.
Vasilis Pagonis, Professor of Physics, with 34 years of service.
Susan Scott, Professor of Art and Art History, with 19 years of service.
Two staff members awarded emeritus status for their impressive contributions to the College are Dana Plevyak in the Wellness Center with 21 years of service, and Anna Thomas in Graduate and Professional Studies with 36 years.
The Ira G. Zepp Distinguished Teaching Award recognizes inspired classroom work and dedication to students.
The Ira G. Zepp Teaching Enhancement Grant encourages a significant project designed to enhance teaching. The award favors, but is not limited to, faculty in the first decade of service at McDaniel College and is designed to demonstrate the College's ultimate commitment to the classroom as our most important function.
The Shelton Adjunct Faculty Award for Teaching Excellence recognizes an outstanding adjunct faculty member at the graduate or undergraduate level whose teaching demonstrates a commitment to excellence and genuine care for their students. This award was established in 2018 through the generosity of Dr. Barbara P. Shelton '70 and Dr. Gordon B. Shelton '68.
The Charles A. Boehlke, Jr., Engaged Faculty Fellows Award was established with a gift from Charles A. Boehlke, Jr., a 1978 alumnus of the college and current member of the McDaniel Board of Trustees. Awards are conferred annually to McDaniel faculty who provide exceptional mentorship and/or experiential learning opportunities to students, especially within the areas of independent undergraduate research, community-supported learning, internship support and study-away experiences.