McDaniel students plan unforgettable Tournament of Champions
Lecturer Linda Kephart and her Adapted Physical Education students designed activities for the 31st Tournament of Champions, while students in an independent study formed a hands-on planning committee. With over 100 student-athlete volunteers partnered with local children to take on each activity, the event was a festive success.
For 30 years, the Tournament of Champions took place every spring. McDaniel athletes decked out in their green and gold jerseys partnered with Carroll County Public School students with physical and cognitive disabilities for a day of athletic accomplishment. On a yearly basis, beanbags flew through cornhole boards and balloons bobbed in the juggling challenge.
When the COVID-19 pandemic began in 2020, the 31st tournament was postponed indefinitely — until this year. On May 6, local elementary and middle school students returned to the Hill for the Tournament of Champions. And to ensure the renewal of the tournament was a lasting memory, McDaniel students had been carefully planning the event for months in advance.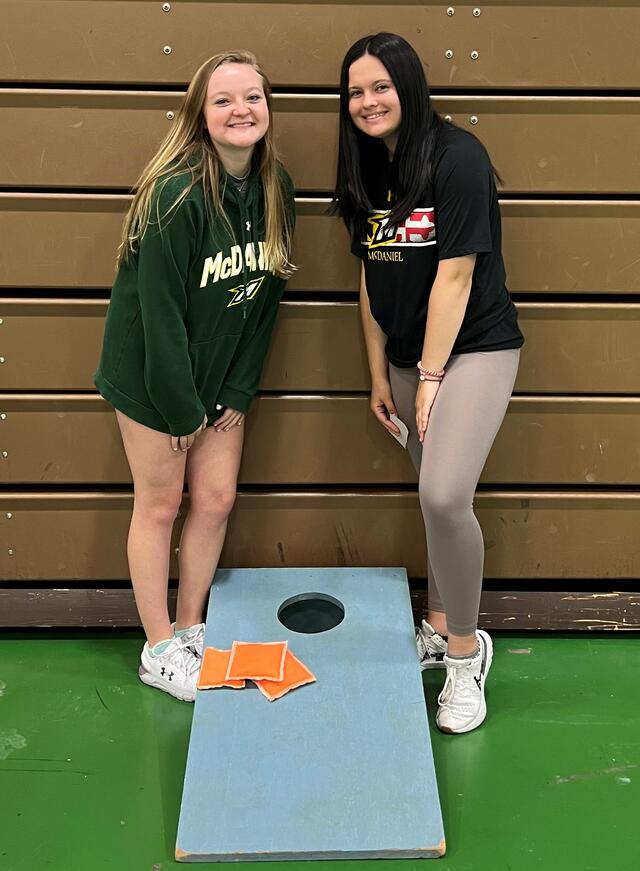 Students in Adapted Physical Education (KIN2215), taught by Education lecturer Linda Kephart '75, M.S. '90, spent the spring semester learning about physical education techniques that account for disabilities, then put their new skills into practice for the tournament.
"We looked at the special education process, how Individualized Education Programs work, and adapted P.E. in a K-12 setting," says Kephart. A previous K-12 P.E. teacher and administrator in Carroll County Public Schools, Kephart has over 40 years of experience in physical education and has been teaching at McDaniel for five years. She received a bachelor's degree in Physical Education from McDaniel in 1975, and after earning a master's from Ohio State she returned to the Hill to earn her master's in Education Administration in 1990.
One in-class exercise asked students to design an activity adapted for intellectual, physical, and hearing/vision disabilities — at the time, students didn't realize they would be doing exactly that for the tournament. Rachel Smith, a freshman Kinesiology major in the class who helped design the cornhole activity, loved the active nature of the course: "It's not all lectures. Professor Kephart is really hands-on, which helped me learn a lot."
Before the big day, each student had planned an official activity station that met the needs of every student and then facilitated it during the event. Activities ranged from adapted hockey, golf, and bowling to tic-tac-toe. Students also volunteered at the Special Olympics hosted at Westminster High School.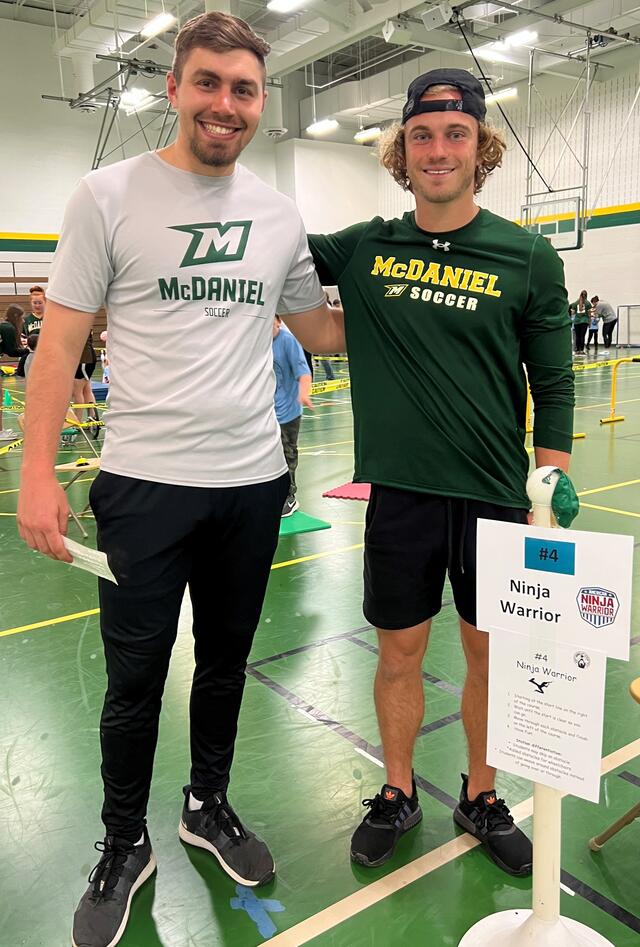 Many students in the course are Kinesiology majors, but not all of them want a career in education, says Kephart. Some are interested in occupational or physical therapy, athletic training, or speech and language. "I try to teach beyond the K-12 setting for students who may have a future client or patient with a disability."
Four students enrolled in an independent study with Kephart also had an opportunity for experiential learning, specifically in event planning.
The four formed a planning committee to handle volunteer sourcing, buddy assignments, and other event logistics. "It's definitely a good memory that I'll keep. It's a fun time for the kids, a learning experience for all of us, and a great experience for the campus," says committee member Chuck Csejka of Orange, Connecticut. Csejka is a senior Kinesiology major and member of the golf team who attended the tournament for the first time this year.
Senior Kinesiology majors Mattie Whalen of Magnolia, New Jersey, and Maddie Froemel, of Suffolk, Virginia, had attended the tournament as athlete volunteers when they were first-year students, while Amanda Butz, a sophomore, learned the ropes this year to help with future tournaments. The three first met each other as teammates on the McDaniel softball team.
"It's been really rewarding to see it first on paper and then to see it all come together," says Butz, a Kinesiology major from Perry Hall, Maryland. "I'm not on the education track; I'm interested in physical therapy work, but it benefits me to work with kids and people with different abilities."
For Froemel, the planning was a familiar process. She had organized the Special Olympics in her hometown of Suffolk in her junior and senior year of high school and says her fellow McDaniel planners provided strong support: "It was easy for us to divide and conquer."
Whalen, who is also a member of the Student-Athlete Advisory Committee, was able to make campus connections with ease. "All the athletes were ready. They were all like, 'We can't wait to have it!' They were really excited," she says, referring to more than 100 McDaniel athletes who volunteered for the event.
"I had so much fun the first time, so I liked being behind the scenes," Whalen says. "It's also a good experience to have helped with the planning, especially going into teaching. I can't recall anything like this in my hometown in New Jersey, so it would be great to bring this back home."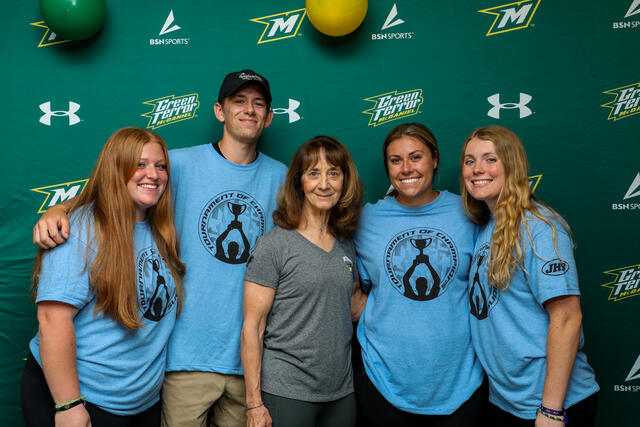 While Kephart and her planning committee prepared McDaniel for the tournament, Bill Vandegrift M.S. '13, instructional consultant for adapted physical education for Carroll County Public Schools, coordinated with more than 22 schools in Carroll County. The event included a memorial for Jim Bullock, who founded the program 30 years ago when one of his adaptive physical education students did not qualify for Special Olympics. He passed away on Jan. 31, 2022.
Each visiting athlete headed home with a Tournament of Champions medal and the friendships they formed with their new McDaniel College friends — a bond that goes both ways.
"It makes as much of a difference for the college students as for the younger kids," says Kephart, who recalls that repeat participants have remained in touch with their college partners for years after their tournament day.
View Local News Coverage of the 31st Tournament of Champions