My Design offers first year students the tools to map their route to success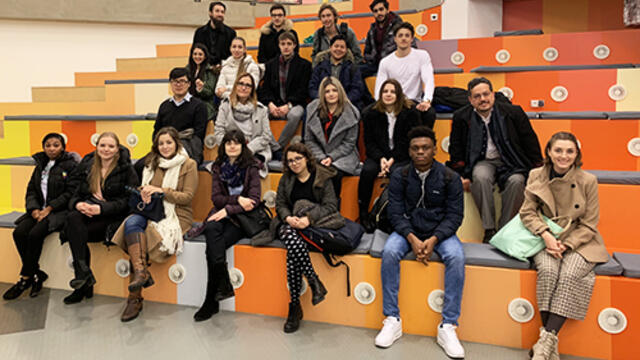 McDaniel College freshmen on campuses on both sides of the Atlantic spent Jan Term in My Design — a new course developed as part of the McDaniel Commitment to equip first year students with the tools they need to chart a course that will empower them to achieve their goals.
During Jan Term 2019, about 120 students were enrolled in My Design on McDaniel's Westminster campus and another 20 at McDaniel Europe in Budapest. Through focused mentorship, they explored the liberal arts as a means to achieve success and learned how self-reflection, internships, study abroad and real world experiences will help them answer the questions "What are my goals?" and "How am I going to get there?"
"My Design really opened my eyes to all my possibilities," says Courtney Schlotterbeck of Cumberland, Md., a freshman at McDaniel's Westminster, Md., campus. "Before Jan Term I had a very fixed mindset of what I wanted to do. This class made me realize that I needed or should have multiple paths for a career.
"I also learned a lot about myself and places of growth. It helped me to become a better me and become even more driven."
From escape rooms to wandering maps, more than a dozen alumni Skype visits and field trips to local businesses, every student spent time looking inward, team building, making connections and checking into career possibilities.
"(Making a wandering map) was like a self-recognition journey. I looked at my life from the start and identified every little thing that made me who I am today," says Heliya Shahmohammadi, a McDaniel Europe student from Tabriz, Iran. "It was fun and sometimes even sad and tiring...but at the end, I was happy because I realized how my mind works and why I am here right now and it made me want to follow my dreams and work harder."
For many of the McDaniel Europe students, class dialogue is a new idea so instructor Josh Ambrose, the associate dean of Campus and Community Engagement who went to Budapest to teach and launch My Design there, incorporated daily jumpstarts to build students' comfort levels.
The four-minutes of sharing what inspires them, along with a lot of shuffling of seats, instilled a sense of community. At the end of the class, Open Mic Night brought out talents and skills, including Nigerian culinary delights, fashion design from Germany, music from Iran — and more.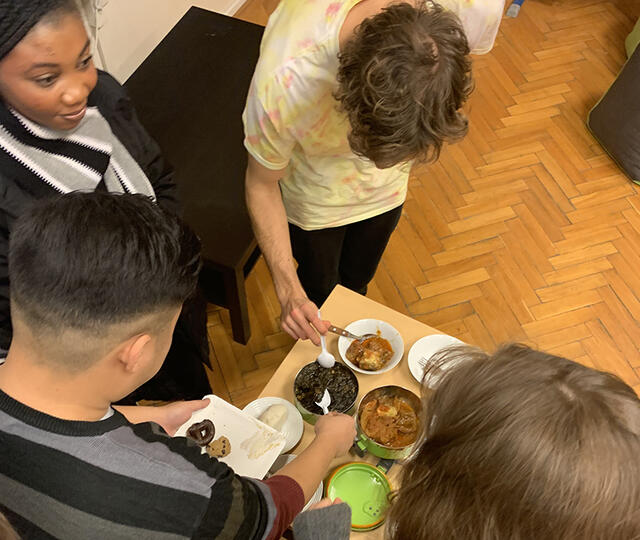 McDaniel Europe students sample Nigerian cuisine.
"I liked the idea that we were encouraged to work in groups to understand the essence of teamwork and to know better the other classmates," Adrienn Németh of Budapest wrote in her journal. "For example, the daily jumpstarts and the open mic night gave all of us the chance to be brave and reveal something special about us and to find out some interesting passions and talents from others."
First-year students here in the U.S. as well as in Budapest partnered to unlock — literally — seven padlocks on a chest using codes related to the liberal arts in order to "escape" the room.
"I used to feel a little bit uncomfortable with myself in classes," John Turan, a Budapest campus student from Besiktas, Turkey. "After that escape room activity, I realized that this course is really fun and everyone is so friendly. The main idea behind the escape room was to work as a team to solve the puzzles."
The four-phase McDaniel Commitment guarantees that every student will graduate with the academic and life skills they need to be successful. The commitment begins with My Place, designed to help new students develop roots and connections both on campus and in the local Westminster community, and continues all four years with My Design, My Experience and My Career.
Beginning with the class of 2023 — entering McDaniel in the fall of 2019 — all freshmen will participate in the summer My Place program and then, after fall semester, be required to take the three-week Jan Term My Design class.
By the time freshmen finish their first semester and their roots start to take hold, they are primed to think about their strengths and interests as well as about what opportunities and experiences are available to help them reach their goals.
Enter My Design.
The Jan Term allowed Liz Mince of Street, Md., a freshman at McDaniel's Westminster, Md., campus , to visualize her career path and the steps she needs to take to reach her goals.
"I am so glad that I took this specific Jan Term because I learned the value of a liberal arts college, how to work well in groups, met successful McDaniel alumni and had the chance to display my talents and skills with my peers in the classroom," she says. "My favorite part of the class was when we presented a PowerPoint slide that displayed different images that represented who we are as a person. It was a creative way to hear about everyone's background and the different people in their life, who have made them who they are today."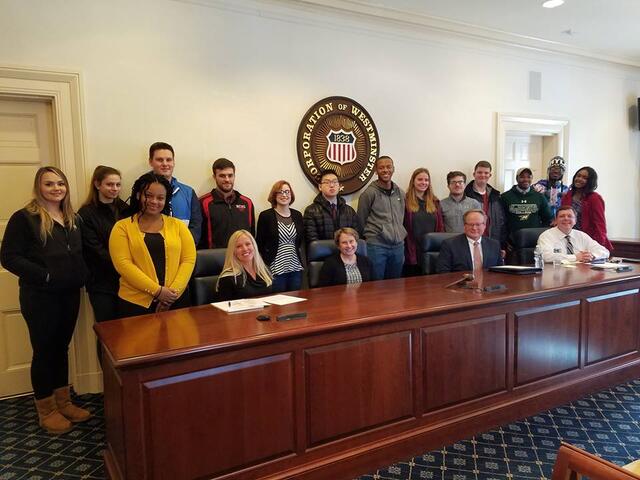 McDaniel College My Design students visit Westminster, Md. City Hall.
If the students' reflections are any indication, My Design is serving exactly the role professors and administration hoped it would. Stephanie Madsen, professor of Psychology and associate dean of sophomore students, serves as director with Barbara Swartz, assistant professor of Education, as coordinator of My Design. A group of professors designed the course.
"My Design is geared toward students at the beginning of their McDaniel experience," says Madsen. "They learn how to be intentional about how they use their time here through deep thinking about themselves, their strengths, where they want to go and how they can maximize their time at McDaniel to meet their goals."
With McDaniel Europe students coming from all over the globe, building a sense of community among students who will spend the next three-and-a-half years together was important to Ambrose.
"My Design creates a space for students to reflect and know themselves. To stop and breathe. To dig deep into who they are and figure out what fuels them," Ambrose says. "Knowing themselves and building a sense of community puts them in a perfect position to explore the many opportunities available to help them set and achieve their goals."
McDaniel Europe in Budapest My Design students.