ROTC celebrates 100th anniversary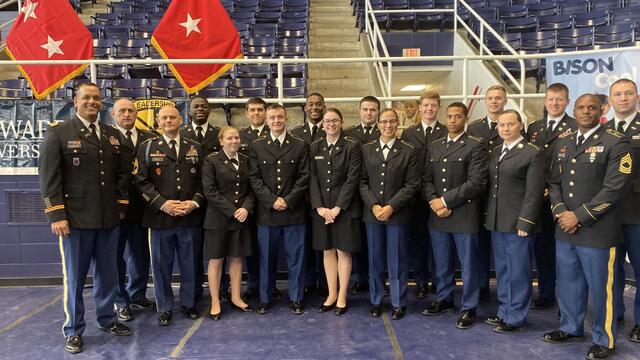 The Green Terror Battalion, founded in 1919, observes its 100th anniversary with two public events in April designed to celebrate the program's legacy at McDaniel College.
A gala will be held on Saturday, April 6, at 5 p.m. For information and to buy tickets GTB100@mcdaniel.edu.
Earlier in the week, President Roger Casey will lead a conversation about transformational leadership with Maj. Gen. Duane Gamble '85, an alumnus of the ROTC program and distinguished officer in the U.S. Army, on April 2 at 7 p.m., when the McDaniel College SmartTALK series returns to Decker Center Forum. The event is free and open to the public.
Maj. Gen. Duane Gamble's 30-year Army career includes four combat tours: three times to Iraq and once to Afghanistan. He was deployed in disaster-relief operations in Florida and Haiti, as well as to the former Yugoslavia as part of the Dayton Peace Accord Implementation Force.
As an undergraduate on the Hill, he majored in Economics and Business Administration on a four-year Army ROTC scholarship. He went on to earn master's degrees from the Florida Institute of Technology and the Industrial College of the Armed Forces. He is a master parachutist and has been recognized with awards that include the Distinguished Service Medal, the Bronze Star Medal, and the German Cross of Honor. Gamble has served in various assignments around the U.S. and overseas, most recently as commanding general of the 21st Theater Support Command in Germany. He is currently commanding general of the U.S. Army Sustainment Command at Rock Island Arsenal, Ill.
Doors open at 6:30 p.m. Requests for interpreters can be made up to one week prior to the event by contacting interpretingservices@mcdaniel.edu. Live stream available online www.mcdaniel.edu/livevideo