Senior Biology major Taylor Bauman named Academic All-American
Honors student and senior Biology major Taylor Bauman just became the first two-time Academic All-American ever in Green Terror volleyball history.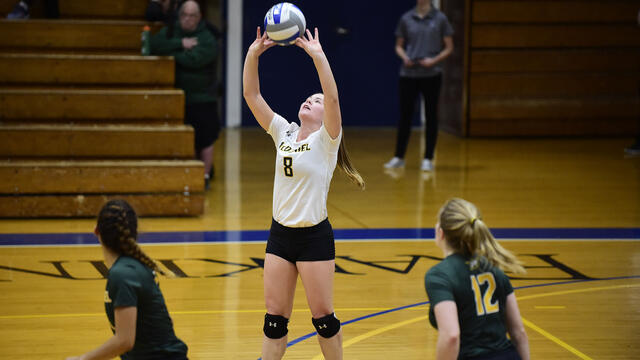 Taylor Bauman just became the first two-time Academic All-American ever in Green Terror volleyball history. The Honors student and senior Biology major has been named to the Google Cloud Academic All-America Division III volleyball first team presented by CoSIDA.
A champion both on and off the court, Bauman is also the 2018 Centennial Conference (CC) Scholar-Athlete of the Year and a member of the 1000 Dig Club. A libero or defensive specialist, Bauman finished the season with 532 digs for her second straight season of 500-plus digs. She set the program record for career digs with 1,975.
A four-time all-conference selection that includes an honorable mention nod this season, she led the Green Terror (23-9, 7-3 CC) into the conference championship match and to the finals of the ECAC Division III tournament. She was named to the CC Academic Honor Roll each of the last three seasons and has been named to the Dean's List in each of the previous six semesters.
In the College's Honors program, Bauman is a member of Alpha Lamba Delta, Tri-Beta and Phi Beta Kappa honor societies. She was tabbed to the McDaniel Green and Gold Honor Roll for the last two years.
Volleyball coach Jess Wolverton says Bauman exemplifies the Division III student-athlete philosophy at McDaniel.
"It's been remarkable what Taylor has accomplished in the classroom and on the court," says Wolverton, who has watched Bauman grow from recruit to senior. "She has been a leader in good years and in hard years and has learned through them all what sacrifices it takes to be successful and how to create a culture of inclusion and support on the volleyball team."
Although Bauman of Charlottesville, Va., is the most honored player in Wolverton's recent memory, the awards aren't what Wolverton will remember in years to come.
"I will be thinking about the times she spent in my office making a plan to make the freshman feel at home during their first week at McDaniel. Or the times she held her teammates accountable for being on time so nobody has to run when they get to practice," she says. "I'll remember the times she spent with recruits, telling them that there are so many good classes here on the Hill and it's hard to pick and choose which ones to take.
"Or all the times she carried the team's dirty jersey bag back to the locker room when the bus gets back to campus. Those are the moments that have made the biggest difference."
It's the same grit and dedication Bauman takes into classrooms and labs. Her 4.0 GPA has been well earned. Abiding by her motto of "do it now," she color-codes her calendar of assignments and has even been known to solve a few organic chemistry problems while eating breakfast in Glar. But only, she points out, if friends are sleeping in and none are close by to chat with.
Her "Honors Applied" class freshman year emphasized time management and taking advantage of even short pockets of time. Bauman took every word to heart and credits those skills with empowering her to succeed in courses and in research.
Less than two weeks after a late March nor'easter dumped more than a foot of snow on campus in 2018, Bauman and research partner Garrett Gregoire first went fishing in the nearby Haines Branch Creek near the Lehigh Cement Company quarry in Union Bridge, Md. Dressed in boots, snow parkas and gloves, they scoured the creek in search of the elusive black-nosed dace — a species of minnow — that they needed for their research study to ultimately assess the ecological health of the stream and the effectiveness of the cement company's stream restoration.
During the semester and into summer, the duo evaluated the health of the 2.5-inch-long fish by measuring how long the fish could swim until exhausted. They used the complex system they designed and built in the lab. All the fish were returned to their habitat unharmed once the study was completed.
In January, Bauman heads to Tampa with three classmates and Biology professor Katie Staab to present her capstone research on connective tissue and feeding mechanisms of several species of fish at the Society of Integrative and Comparative Biology national conference.
As she looks ahead to applying to accelerated nursing programs — characteristically looking for a fast-paced, challenging career — Bauman can't help but reflect on how McDaniel helped transform the shy and nervous freshman she once was.
"McDaniel gave me a place where I could be who I am and could succeed as an athlete and a student," she says. "When I came here for my interview, I was too nervous to talk — my dad had to talk for me."
Volleyball, her courses and most important, relationships with teammates, classmates, professors and coaches made all the difference.
"I thank my teammates, coaches and professors for making my time at McDaniel a terrific experience," Bauman says. "Now I feel confident that I can succeed in whatever task I set my mind to."
Graduating in May 2019, Bauman has some advice for incoming freshman.
"Definitely work on a research project in your major — you'll improve your communication and lab skills as well as practice thinking critically to solve problems. Enjoy time with friends and don't be afraid to get involved or be challenged.
"And always: Do. It. Now."