Senior selected by Congressional Black Caucus Foundation for first Japan exchange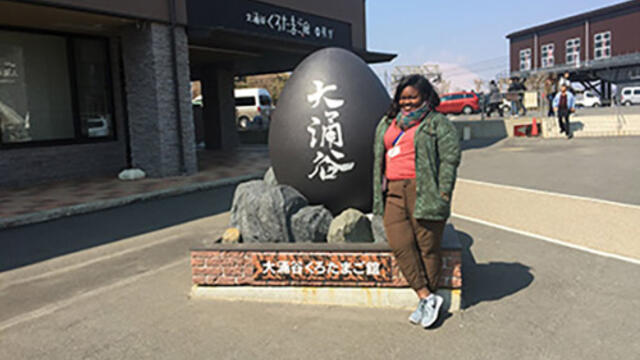 Alexaundria Leonard was outside her comfort zone even before stepping foot on the jet that would carry her 6,700 miles to Tokyo. The senior from Baltimore was thrilled to be one of only 15 students across the nation selected for the Congressional Black Caucus Foundation's first Japan exchange program March 14-24. But snow in the forecast the evening before the flight forced her to change her transportation plans so she could get to Washington, D.C., ahead of the storm.
Leonard had never traveled solo on the MARC train from Baltimore, nor on D.C.'s metro system. She did both in order to accept an invitation to stay at the apartment of a UCLA student with an internship on Capitol Hill who had also been selected for the program. The two young women immediately formed a bond over their shared love of Chipotle; the next day they met up with the delegation as planned, and their flight to Tokyo took off as scheduled.
"I was so proud of myself for figuring it all out. I was like, 'You go girl,'" says Leonard, a Political Science major with a minor in Religious Studies. "I was determined to get there by any means necessary."
The Congressional Black Caucus Foundation Leadership Institute's 2017 Emerging Leaders: Japan Exchange Program was a part of the "Kakehashi Project," a fully-funded, large-scale youth exchange program between Japan and the United States. Leonard and the other undergraduate and graduate students selected to form the inaugural class were given an expense-paid trip to Tokyo to tour cultural and historic landmarks, participate in lectures on U.S.-Japan relations and visit high-tech industries and businesses.
In conjunction with the Embassy of Japan and the Japanese International Cultural Center, the Congressional Black Caucus Foundation aims to increase African-American interest in and exposure to the culture of Japan, thereby expanding opportunities for African Americans in an era of increasing globalization.
Leonard is no novice when it comes to overseas exploration. During Jan Term of her junior year, she went to Greece as part of professor Tom Faulkner's course "Myths, Monks and Monasteries." In fact, she and a best friend from Baltimore City College high school have an informal club they call The Sisterhood of the Traveling Neck Pillow. The neck pillow accompanied Leonard's friend to Ghana, and Leonard took it to Greece and Japan.
"It's been to three continents, which I think is pretty powerful for a neck pillow," Leonard jokes.
Still, going to Tokyo required some courage, Leonard says. Greece took her outside the country for the first time, and it was her first plane ride without her mother beside her. But on that trip, she had the familiarity of her McDaniel professor and three close college friends. "I knew absolutely no one who was going to Japan," she says.
It didn't take long to bond with the members of her small contingent. Leonard, a gregarious leader, is president of the Student Government Association and a charter member of the Upsilon Gamma Chapter of Alpha Kappa Alpha Sorority, Inc. — the first-ever black sorority, founded in 1908 at Howard University. She is also a member of the Black Student Union and has served on the Peer Mentor Advisory Board and as an Engagement Peer in the Office of Student Engagement. She is a member of the Omicron Delta Kappa and Trumpeters leadership honor societies. As a junior, she was the recipient of the Ralph Candler and Dorothy Prince John Award for Academic Excellence and Service to the College Community.
She quickly connected with the Japanese people, as well.
"One of my favorite opportunities was spending time with university students. It was awesome to share our different perspectives and learn what life is like for them," says Leonard, who was able to have a conversation with a Japanese student in German, a language they both study.
Among Leonard's observations: Japan is one of the cleanest places she's ever seen; the Japanese think of Americans as really loud, which wasn't surprising because she thought of them as really quiet; stewardship of the environment is central to the culture.
"It's always at the forefront of their thinking that what they're doing will affect people 1,000 years from now," she says. "It was amazing to see a factory that doesn't mass produce, but makes items based on what will actually be used."
One of Leonard's favorite memories is of her visit to a Shinto shrine dedicated to Mt. Fuji. "It was extremely humbling to be able to participate in a prayer service," she says, while many worshippers weren't permitted inside due to space constraints.
Her "most powerful takeaway," she says, is the network she formed with other high-achieving students. "To be able to travel more than 6,000 miles with an entire black delegation was unspeakably amazing," she says. "We were all college-educated people making an impact on how black people are perceived on a global level."