SmartTALK: A wealth of wisdom from three alumni experts in financial planning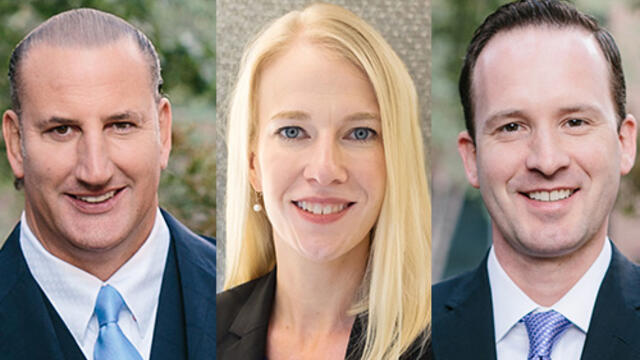 President Roger Casey will lead a conversation with three alumni who will share a wealth of wisdom from the field of financial planning Jan. 14 at 7 p.m., when the McDaniel College SmartTALK series returns to Decker Center Forum. The event is free and open to the public.
Kent Pearce '91, a Managing Director-Investments at Merrill Lynch, a Bank of America Corporation, heads The Pearce Group, which has been consistently recognized in Barron's and Financial Times as one of America's top financial-advisory practices. In addition to affluent individuals and business owners, his private wealth management team offers expert investment advice, guidance and customized financial planning to foundations and public companies, including those interacting with the NYSE, AMEX and NASDAQ markets, and to professional athletes in the NFL, NBA, NHL and MLB.
Pearce, who earned his bachelor's degree in Economics and Finance at McDaniel and an MBA from Mount Saint Mary's University in Financial Management, serves on the McDaniel College President's Advisory Council, a group of highly successful entrepreneurial alumni of the college. Two of his associates who are also McDaniel alumni will join him in the conversation.
Jeremy Kober '99, a Vice President and Wealth Management Advisor, serves as the dedicated financial planner for the Pearce Group as well as a retirement benefits consultant. A Sociology major at McDaniel, he went on to earn Certified Financial Planner and Certified Divorce Financial Analyst designations.
Kristin Harkins Kober '00 serves as the Director of Banking and Liabilities Management and also focuses on the client experience. She earned her bachelor's degree in Psychology from McDaniel and has a skilled facilitator certification from John's Hopkins University.
The hour-long event includes questions and answers from the audience. A live video stream of the event will also be available at www.mcdaniel.edu/livevideo.For more information, call 410-857-2290. Requests for interpreters can be made up to one week prior to the event by contacting interpretingservices@mcdaniel.edu.
Kent Pearce '91, Kristin Harkins Kober '00 and Jeremy Kober '99 will share tips and stories about their paths into the rewarding work of financial advising at SmartTALK Jan. 14.