There's no place like Brussels for a Political Science major studying French
Connor Norton's study abroad in Brussels began as an adventure and way to fulfill credits and requirements toward his degree, but it evolved into an experience that would forever change the Honors Political Science and Computer Science major's life.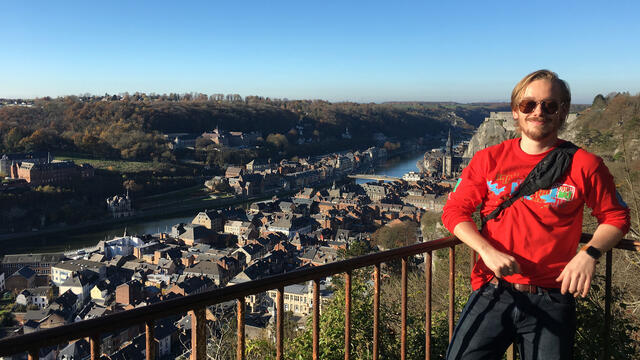 Brussels is a long way from Slidell, Louisiana — in more than miles. In fact, the Belgian city known as the capital of Europe and headquarters of NATO and the European Union has little in common with the rural town in St. Tammany Parish across Lake Pontchartrain from New Orleans.
Except, that is, that McDaniel senior Connor Norton has lived and studied in both. What began as an adventure and way to fulfill credits and requirements toward his degree evolved into an experience that would forever change the Honors Political Science and Computer Science major's life.
Norton quickly formed close friendships with eight other students, literally from all over Europe, also studying at Université Saint-Louis. They cooked meals together, went to bars and clubs together, even travelled around Europe together. Ultimately, they developed a strong bond by learning about each other and their varied cultures.
"As a kid who grew up in rural Louisiana, this really expanded my view of the world and gave me perspective," Norton says. "It's connections with people around the world like this that will create lasting peace and prosperity in the world.
"And Brussels's location in the center of Europe makes it a hub for students all around Europe, maximizing the opportunity to make these connections."
Norton chose the Université Saint-Louis because it is a hub of international politics in a French-speaking country. The university fostered his integration and orientation into Belgian culture with Norton quickly falling in love with two of its national food staples — waffles and frites or fries, although emphatically Belgian not French fries.
"For 20 days straight, I either had frites or waffles. I'm typically a very healthy eater but I just couldn't resist — they are so delicious," he says, adding that he learned that Belgian waffles are sweet and delectable all by themselves, no need to smother them in syrup.
His studies at the university fit perfectly into his program at McDaniel. He took classes that counted toward his Political Science major and French minor and could look out of his bedroom window at the Grand-Place, Brussels historic town square. Additionally, he earned credits for an Honors elective by studying abroad while completing a requirement toward the prestigious Global Fellow designation on his diploma.
Norton will no doubt take what he learned with him as he pursues a career most likely in computer programming or app design, as long as he can also tie in his political science and French background. But, since studying abroad, he's hoping his future includes more time living in Europe.
He left a bit of himself there as well — at least in the memories of his international friends. Regardless of his newfound independence and self-reliance and enthusiastic pursuit of Belgian foods, Norton and McDaniel classmate Courtney Rosenstiehl were struck with the realization as November rolled around that they had never spent a Thanksgiving without their families.
Here they were, thousands of miles from home with the all-American holiday fast approaching.
"Courtney and I organized a huge dinner with all of our friends in Brussels, around 30-40 people," he says, explaining that they even lured classmate Grayson Myers, who was studying at McDaniel's branch campus in Budapest, to come to Brussels for the celebration.
They called it a potluck, with the U.S. contingent making all the Thanksgiving classics, except for turkey because they didn't have an oven. Friends made traditional dishes from their countries and were presumably thankful for the survival of early settlers in their native lands.
Along with the glühwein or mulled wine from Germany, the goulash from the Ukraine, the crepes from France, tiramisu from Italy and the savory Spanish omelets were Rosensteil's mashed potatoes and Norton's homemade sweet potato casserole and, of course, mac and cheese.
"We ate, we hung out and we drank wine until well past midnight," says Norton.
It's a memory that will last a lifetime and the inspiration behind the plan for Norton's European friends to fly across the Atlantic for a reunion on McDaniel's campus sometime this year, perhaps even in time for a Thanksgiving celebration that includes the centerpiece turkey.