Top undergraduate awards presented at Commencement
Taylor Bauman, who graduated in 2019 summa cum laude and a College Scholar with departmental honors in Biology and a minor in Psychology, is the first two-time Academic All-American ever in Green Terror volleyball and the first two-time Centennial Conference Scholar-Athlete of the Year in both college and conference history.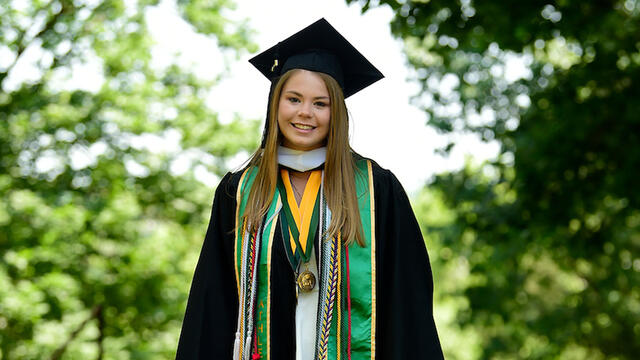 Taylor Bauman, a Biology major from Charlottesville, Va., received the Argonaut Award for highest GPA of 4.0 in her entire completed course of study and the Mary Ward Lewis Prize as the most outstanding female graduating senior during McDaniel College's May 25 Commencement ceremony.  Atticus Rice, a Political Science and Communication major from Portland, Ore., was awarded the Bates Prize for the most outstanding male graduating senior.  
Owen Long, a Psychology major from Hanover, Pa., and Daniel Smith, a triple major in Accounting Economics, Business Administration and German from Lancaster, Pa., were honored with a Ridington Award, the College's top writing award for best written honors paper. 
Taylor Bauman, who graduates summa cum laude and a College Scholar with departmental honors in Biology and a minor in Psychology, is the first two-time Academic All-American ever in Green Terror volleyball and the first two-time Centennial Conference Scholar-Athlete of the Year in both college and conference history. She is also the recipient of a Maria Leonard Senior Book Award, The H.P. Sturdivant Biology Award and one of two Dr. H. Samuel Case '65 Senior Scholar Athlete awards. A champion both on and off the court, she is also a member of the 1000 Dig Club.  
A four-time all-conference selection that includes an honorable mention nod her senior season, she led the Green Terror (23-9, 7-3 CC) into the conference championship match in 2018 and to the finals of the ECAC Division III tournament. She was named to the CC Academic Honor Roll each of the last three seasons and has been named to the Dean's List every semester. She was tabbed to the McDaniel Green and Gold Honor Roll for the last two years. 
In the College's Honors program, Bauman is a member of Alpha Lamba Delta (First Year), Tri-Beta (Biology), Omicron Delta Kappa (Leadership) and Phi Beta Kappa honor societies. She was on the team of Biology students who researched the health of the Haines Branch Stream near the Lehigh Cement Company quarry to assess the effectiveness of the cement company's stream restoration.  
In January, Bauman traveled to Tampa, Fla., with three classmates and Biology professor Katie Staab to present her capstone research on the connective tissue and feeding mechanisms of several species of fish at the Society of Integrative and Comparative Biology national conference. She's headed to an accelerated nursing program at Moravian College in Bethlehem, Pa.  
Atticus Rice graduates summa cum laude and a College Scholar with departmental honors in Communication and Political Science and International Studies. He is co-editor-in-chief of the College newspaper, The Free Press, and has been on staff since his freshman year, serving as sports editor during his sophomore and junior years. As co-editor-in-chief, he worked with his team to increase the number of print issues and overhauled goals to enrich news coverage. 
Rice, one of only 268 student leaders nationwide named a 2018 Newman Civic Fellow by Campus Compact, leaves a legacy behind on the Hill also through his work with Alpha Phi Omega National Co-Ed Service Fraternity since his freshman year and as president for the past year and a half. He was instrumental in nearly doubling the size of the McDaniel chapter to 80 members and organizing more than 1,500 service hours a year for the past four years, developing partnerships with local food banks, shelters and youth organizations as well as with the American Cancer Society and the American Red Cross.  
He traveled to West Virginia over spring break as a sophomore with other McDaniel students to work on community outreach projects. As a junior, he applied and was awarded a Griswold-Zepp award from the College to organize an alternative spring break experience for APO members working with various nonprofit organizations, including Habitat for Humanity, Carroll County Food Sunday and Carroll Hospital, in Westminster, Md. Then, during his senior year, he received a Griswold-Zepp award to purchase and install the College's first greenhouse, which will be used to start seedlings for the campus garden and to do educational programming on sustainable agriculture. 
Rice helped revive the Jewish Student Union on campus and is a member of Alpha Lambda Delta (First Year) and Lambda Pi Eta (Communication) honor societies, Omicron Delta Kappa and Trumpeters. He served multiple internships and research assistantships, including being a Peer Mentor for the Honors Program as well as doing internships at Baltimore magazine, with the Emily Shank for State Delegate campaign in Carroll County and Internet Marketing, where he worked on web and social media copy and design.  
Even the Green Terror Ultimate, the campus Frisbee team is the better for Rice's membership. Serving as captain during his junior year, he helped get the team their first jerseys and organized a number of tournaments and scrimmages with nearby colleges. 
Owen Long, who graduates summa cum laude with departmental honors in Psychology, earned a Ridington Award for his honors paper, "Belonging and marital perception variances: Emerging adults with differing disability identities."  
"Owen's paper explores how emerging adults with disabilities experience belonging and the need to belong," says Holly Chalk, associate professor of Psychology. "Previous research has demonstrated that those with disability often feel excluded. Since belonging is so crucial during the developmental period of emerging adulthood, Owen wanted to replicate previous findings about disability and belonging in this age group. 
"He extended this research by exploring a novel topic, how emerging adults with disability perceive the importance of marriage."  
The Psychology department nominated Long's paper because it is well grounded in the literature, explores a relevant current research topic and extends the literature in a meaningful way. Long's paper was applauded by professionals when he presented the research at the Eastern Psychological Association. 
A member of Phi Beta Kappa, Long is the co-founder and president of operations of Sertified, LLC, a company that "pops up" in communities in the Pennsylvania and Maryland region and provides American Red Cross First-Responder and Instructor certifications. The business took second place in McDaniel's 2018 Innovation Challenge, in which students compete for cash prizes to finance their entrepreneurial endeavors. 
Long plans to continue to grow the business after graduation while pursuing his master's degree in Gerontology at McDaniel. He is a certified Red Cross lifeguarding instructor trainer as well as an instructor in lifeguarding, lifeguard management, swim coach safety training, first aid, basic life support, babysitting, wilderness first aid, small craft safety and basic water rescue instructor.  
Daniel Smith earned the top writing award for his honors paper written entirely in German titled "Kann Poesie Diktatoren hervorsagen?," which translates as "Can Poetry Predict Dictators?" Smith investigated the life of German expressionist poet Gottfried Benn and analyzed his poetry, speeches and essays in relation to populism of the Nazi Party and the Alternative for Germany. 
An active member of the McDaniel Honors Program, Smith was named a finalist for the Portz Award for an outstanding honors student at a four-year college in Maryland. He is president of the German Club and studied abroad in Heidelberg, Germany as a Global Fellow. He has also been involved with the Ultimate Frisbee club and participated in the Model European Union. He worked as an Admissions ambassador and served as both a senator and executive board member of the Student Government Association. 
Additionally, he is a member of honor societies, including the Phi Beta Kappa national honor society and as well as Alpha Lambda Delta (First Year Seminar), Omicron Delta Epsilon (Economics), Phi Sigma Iota (Foreign Languages) and Pi Gamma Mu (Social Science). As a sophomore, he received the Outstanding Achievement in Accounting Award from the Maryland Association of CPAs and, as a freshman, earned The Duke of Edinburgh's bronze award for his achievement in community service, physical fitness, special skills and adventurous journey. 
Smith, who graduates summa cum laude and a College Scholar with departmental honors in World Languages (German), also received The Frank and Margaret Malone Award for Excellence in Foreign Language. He landed a full-time job after graduation with JP Morgan Chase & Co. in Newark, Del., where he interned in the Global Finance and Business Management Program under the Corporate and Investment Banking division.