Class of 2023: Kate Cramer
Studio Art major Kate Cramer learned to say "yes" to opportunities during her time on the Hill. A Global Fellow and Honors student, she studied abroad at McDaniel's Budapest campus, conducted student-faculty research, participated in art exhibitions on and off campus, and interned as a student teacher in classrooms around Carroll County. After graduation, she's ready to put her capabilities into practice as a certified PreK-12 art teacher.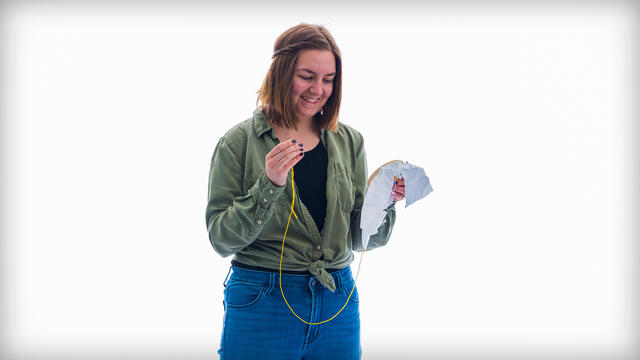 Kate Cramer is a Studio Art major with minors in PreK-12 Education, Art History, and European Studies from Glen Rock, Pennsylvania.
When I took my first step on the Hill, I was: Nervous, but also excited, to start my college journey.
The me who will ring the Old Main bell on Commencement Day is: Grateful for the amazing experiences I have had at McDaniel and looking forward to a life full of learning.
Real world experiences: I have had wonderful opportunities in each of the academic areas that I pursued while a student at McDaniel. In the second semester of my freshman year, I was able to study abroad at the Budapest campus. While I was only there for seven weeks prior to being sent home due to the pandemic, it was an amazing experience. It truly embodied what it meant to be a global learner and allowed me to make connections with professors and students that enhanced my education.
Through my Studio Art advisor, Professor Steven Pearson, I was able to do student-faculty summer research in 2022. That body of creative work has largely influenced my capstone, and multiple works of art have been accepted to exhibitions outside of McDaniel. I have also completed many internships for the Education program in art classrooms throughout Carroll County, including two full-time student-teaching placements this spring. These comprehensive teaching experiences were full of learning (for both me and the students) and confirmed that I cannot wait to have my own classroom.
My aha moment: Say "yes" to opportunities that are life-giving, and don't feel bad for saying "no" when life is too hectic and the commitments are draining. Creating healthy boundaries and taking care of all areas of life are important!
Footprints I'm leaving on the Hill: I hope fellow students will see that believing in oneself and being surrounded by a supportive community can help achieve goals that initially seem impossible. I remember once being told as a first-year student by a student at another college that I could not fulfill all of the program requirements I was interested in at McDaniel … However, I persisted, proactively planned, and sought out resources on campus when I needed help, and have successfully reached my goals.
Faculty or staff member who most influenced who I have become: Professor Steve Pearson has really encouraged me to take myself seriously as an artist, while also guiding me to opportunities that I would not have known about otherwise. He is a strong supporter of the liberal arts, and has really taught me how to use academic and life experiences to create content in my art.
Best class ever: Advanced Studio, because it is a class dedicated to creating and talking about art, plus students have the opportunity to take it multiple times.
Took me totally by surprise: Going into college, I always thought I would prefer teaching elementary school art. However, through my internships, I learned that I love working with high schoolers just as much! It really taught me to be open-minded and willing to try new things that seem daunting at first. I am excited to see where this realization will now take me in my career.
My favorite spot on campus: The patio next to Hoover Library. It is extremely peaceful, which is why I have spent many hours there studying, drinking chai lattes from Caseys', and catching awesome views of the sunset.
Most mind-boggling idea I learned at McDaniel: All disciplines overlap in some way, and McDaniel is a great place to explore that! Majors and minors do not need to immediately "make sense" together; if you want to learn about both, then do it and find the ways in which they are connected!
My capstone title: "A Woman's Place: A Studio Art Investigation of the Role of Women in Society."
What it's about in plain talk: I investigate the ways the role of women in society can be represented through multiple forms of visual media, with a specific focus on the influence of place.
Tell us a little about your activities, including sports, during your years at McDaniel: While at McDaniel, I have kept busy with lots of fun activities! I am a member of the Honors Program and a Global Fellow. I loved the additional academic and social opportunities that these programs provided. I have also participated in Palabras to Words and InterVarsity Christian Fellowship as a general member and on the executive boards. I served as a peer mentor for a First Year Seminar in the Art department, Mark to Message: Drawing Now, which was a really rewarding experience! I worked as an ambassador for the Admissions Office, and I loved having the chance to talk to prospective McDaniel students about their college search. Throughout my four years, I was also invited to join multiple academic/leadership societies, including Alpha Lambda Delta, Phi Gamma Mu, Trumpeters, and Phi Beta Kappa.
What's next: I have submitted my teaching application to multiple counties and look forward to getting to teach in my own classroom soon!
How will you stay connected to McDaniel? I look forward to coming back for alumni events and staying in touch with my peers through social media. I am also very excited to attend the future capstone shows for the current first-years, sophomores, and juniors majoring in Art!