Alyssa Romasco '10
Alyssa Romasco '10 was six years into her career as an athletic trainer when the clinical side of her work inspired her to pursue a second master's degree — to become a physician assistant. Now, she works with young patients in a neonatal intensive care unit. A big change on the surface, in reality her work as an athletic trainer had prepared her to take on the intensity of the NICU.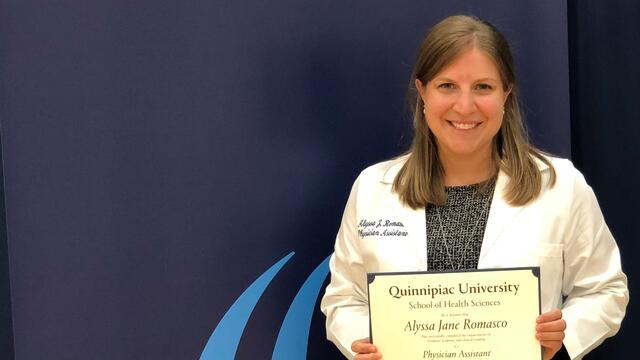 Alyssa Romasco is a self-described "creature of habit," but it's the unexpected things that make her love her job as a Neonatal ICU physician assistant at Tufts Medical Center in Boston.
"When the day starts, I don't know what's going to happen. I can only be so prepared, and I have to constantly be ready for what could happen next," she says.
Working with infants who can't communicate in the same ways that adults can presents unique challenges in the hospital setting. "They can't say what hurts or that they don't feel well. So, I use many different pieces to figure out the problem," she says.
Despite the communication barrier, Romasco says that she has found infants "to be very resilient, and that's what drew me to the NICU."
Being a physician assistant means being at the center of everything, Romasco says. On an average day, she interacts with physicians, other healthcare clinicians, occupational therapists, physical therapists, social workers, and the families and parents of her young patients.
"Even though I'm working with babies in a kind, quiet environment, it's still very intense," she says.
Being at the center of the action is familiar to Romasco, who started her professional career as an athletic trainer. Directly after graduating from McDaniel with a degree in Exercise Science, she earned a master's degree in Athletic Training from the University of Arkansas in 2012. For six years, she was an athletic trainer at Florida Gulf Coast University, supporting their Division I sports teams.
She was first introduced to athletic training at McDaniel, where she completed work studies as a student athletic trainer with the Green Terror football team. She recalls how Head Athletic Trainer Gregg Nibbelink was a major influence on her perspective of the occupation.
"I took a few elective courses with Gregg, and I really wanted to model myself after him. He embodies this calm confidence and always looks after his athletes," she says.
She still remembers taking a hands-on course called Exercise Testing and Prescription with Associate Professor Jenny McKenzie. "I learned a lot from Dr. McKenzie; she had accomplished so much as a young professional, and she was really willing to teach and work with students," she says.
Although Romasco hadn't known exactly what career she wanted as a student, she was able to talk with McKenzie and her advisor Steve McCole to explore the many pathways available to her. "McDaniel faculty members are very supportive, and really get to know their students to help them figure out their next step," she says.
Even with her passion for athletic training, after six years as a professional athletic trainer, Romasco decided it was time for a new career.
"It's never too late to make a change," she says. "If you're going into something now, and that's what you're passionate about doing, there's nothing wrong with following that path, while knowing that it's okay that it may change later."
Her passion for the clinical aspect of athletic training motivated her to switch tracks and become a physician assistant. She returned to school to earn a master's degree from Quinnipiac University in 2020 and spent a year as a physician assistant in the NICU and Newborn Nursery at NewYork-Presbyterian Lower Manhattan Hospital.
Romasco says that her time at McDaniel taught her to see the big picture, even in difficult circumstances. And for years, she has been putting things into perspective for her patients, whether they were college athletes suffering from a bad injury or the families of children in the NICU.
She can trace her ability to step back and gain new perspective to a defining moment from her time as a student-athlete.
"It was after a swim meet in the cool down pool, and I had had a bad race. It was the only thing I could focus on. And I just remember my coach, Jeff Hiestand, looking at me and saying, 'You can't see the big picture right now, but I can. And everything's going to be OK.' And in the moment, I thought, 'Oh, he's just trying to make me feel better,' because I didn't do well out there, but when I look back now, having gone through different life experiences, I can finally see the big picture."
Working in the medical field, she has learned that the big picture is always changing, sometimes as quickly as her day-to-day routines.
"I think you have to honor things as they come and be open to change — because you just never know," she says.
Sometimes, she says, she feels tempted to think of things in black and white, but she has learned to appreciate the grey areas. It was during her time in graduate school, while conducting clinical research, when she saw the worth of exploring middle ground. "Research allows us to find more knowledge about those gray areas, and allows us to make changes," she says.
"Those changes can be so valuable, especially in the medical field. We can learn that a different treatment modality may be beneficial to us, or a way of practice is better for certain situations," she says.
"I'm not saying research answers every question, but it gives us options and different routes to explore, since not everything is black and white like I want it to be."
Romasco is no stranger to uncertainty; as a physician assistant, she confronts it every day. As a student, she was filled with the possibilities that her uncertainty generated. In her career, she welcomed the exciting changes that came with it. Now, as a McDaniel alum reflecting on her path so far, she sees how embracing uncertainty brought her so much in life.
Career: Physician Assistant
Class: 2010
Major: Kinesiology (formerly Exercise Science)