Amara Foster '21
By the time she was a sophomore, Amara Foster '21 was student teaching in local schools as an Elementary Education major on the Hill. That real-world experience and mentorship from McDaniel educators led her right into her job as a fifth-grade teacher, where she makes a big impact every day.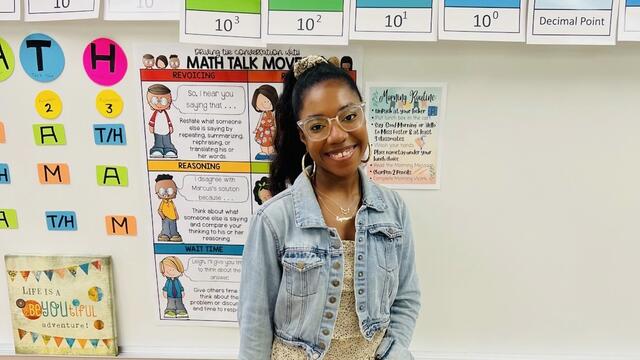 It wasn't that long ago that Amara Foster '21 was in the shoes of a fifth grader. As she says, that's because McDaniel College's Elementary Education professors take their students back to elementary school on the Hill.
"The way the Education faculty taught really helped me understand what I was going to be teaching, because they would teach in a way where they would be the teacher and we would be back in fifth grade learning the material," she says. "So, you were soaking it in as the actual elementary student rather than as a college student."
Now, Foster is the fifth-grade teacher herself, teaching in the same school where she completed her student teaching requirement during her senior year at McDaniel.
When she enrolled at McDaniel, Foster initially was planning to double major in Education and Communication. She explored both majors during her first year, but there was one pivotal course that helped refine her path.
"When I took my first Education class, Teaching and Learning in a Diverse Society, that's when the switch went off for me and I realized this was what I wanted to do," Foster says. "Teaching and Learning in a Diverse Society was just so interesting, and I learned so much. It was a great start to the Education program."
From that moment on, Foster knew she wanted to focus on Elementary Education, remembering how important and formative those years were in her own life.
"Elementary school is where they learn more than just how to be a student, but also how to be a good, kind person. I still remember my elementary school teachers and the impact that they had on me and what I learned from them," she says.
"This is where it starts. We are helping them get prepared for those higher grades and for the real world. I'm teaching them more than just math and science; I'm teaching everyday, real-life things that they can use outside of my classroom."
Throughout her time on the Hill — which isn't quite over, as she is beginning her master's program, Innovations in Teaching and Learning, in the summer of 2023 — Foster formed close relationships with her classmates and faculty members. Like her, many members of the Class of 2021 ended up staying in Carroll County Public Schools after graduation, having gained such comprehensive experience in the county through internships and student teaching assignments.
"I started interning the spring semester of my sophomore year in kindergarten a couple days a week. Every interning and student teaching experience I had just confirmed more and more for me that this was what I wanted to do," she says. "If you don't have internships and student teaching experience, you will not be ready to go into a classroom as a teacher. Hearing it and learning it in a college classroom is different than actually being there."
Over the years, Foster interned or student taught in nearly every elementary school grade level. "I use strategies that I learned from all my mentor teachers and apply them in my classroom now," she says. "Not only did I pick up skills from my courses on the Hill taught by my professors, but from these experienced teachers that I worked with along the way."
Ultimately, what keeps Foster going on even the toughest days is knowing the impact she can make on a child's life.
"I love to see where they start, where they can go, and how they grow," Foster says. "When the opportunity to stay at my school came up, I'd had a year of experience here and I loved it. I loved the staff, the school feel, and the students. So, when the principal asked if I wanted to interview, I said yes."
Since then, she's been observing some of her former students in the hallways and seen the ways they've changed. In the 2023-2024 school year, she'll even be teaching some of the same students she had when student teaching, and she's looking forward to the reunion.
"I feel like I'm here for a reason," Foster says. "The impact I can make here is greater than I could ever think."
Career: Fifth Grade Teacher
Class: 2021
Major: Elementary Education