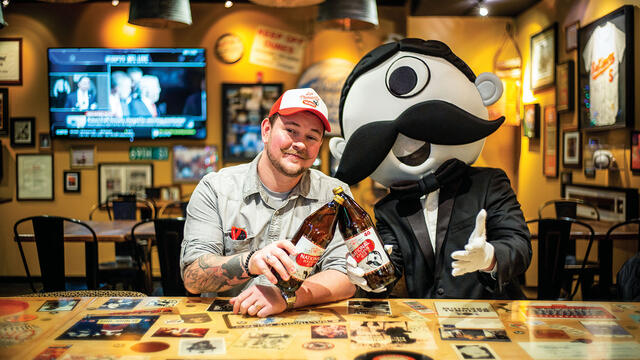 Christopher "C-Mo" Molloy '10 is caregiver, guardian and promoter of one of Baltimore's most cherished icons. As brand manager for National Bohemian, he serves as the point man, reminding consumers in and around the city that the beer is still here, still cold and still a reminder that life is pretty good.
Molloy draws every day on his experience at McDaniel, where he majored in Theatre Arts and studied interactive theatre. Most of us know his craft as improv. Live performers interact with the audience and develop plots, lines, jokes and stage movements on a moment's notice. And then another trajectory is suggested by a different audience member. Then another and another.
Quick thinking, abundant creativity and a robust supply of confidence aren't just recommended for improv performers. They're required. When asked on short notice to stand in as Mr. Boh, the one-eyed, bulbous-headed Natty Boh mascot, Molloy was in his element. He mastered the improvisational challenges of mascot appearances and reached for increasing responsibility.
"Business is the art of listening. That also happens to be the art of improv. People think improve is what you're doing. It's not — it's what you're reflecting," he says. "Most people don't listen. They want to talk. But when you walk into a business meeting, the answer is already in the room. You just need to listen for it and reflect it back."
He moved on to being a field marketing representative and then, in less than a year, C-Mo was promoted to brand manager for National Bohemian. These days, he hires others, including some McDaniel alumni, to don the Mr. Boh costume. Now he is essentially the CEO of the brand. He sees Natty Boh's simplicity as a rich opportunity for marketing. "Boh is just super warm and inviting. It's a 'come as you are' brand," he says. "It's nothing special, and I think that's what's so special about it."
Molloy has found mentors, books and software to help him hone his business acumen. But, he says, he'd already learned the most important skills in college.
Career: Marketing Brand Manager
Class: 2010
Major: Theatre Arts