Class of 2019: Jackie White
English major Jackie White discovered a new passion for Cinema to go with her lifelong love of the English language and literature. TV Production class is her best class ever — she learned how to run almost every position in a television news station as well as teamwork and adaptability.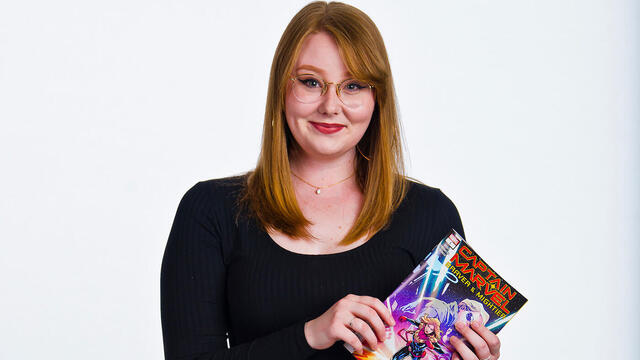 Jackie White, from Hanover, Maryland, is an English major with a minor in Cinema.
When I took my first step on the Hill, I was: a scared 18-year-old with a lot of vague hopes and dreams. I had a hard time fitting in during high school, and I was scared that I wasn't going to make "cool" friends because of my interests in things like comics or anime. I wanted to make new friends, though, so I shakily said "hi" to as many people as I could!
The me who will ring the Old Main bell on Commencement Day is: a confident 21-year-old with a lot of solid plans for her future! I have plenty of friends who are cool (no quotation marks needed) that also like comics and anime, and I'm much more comfortable with saying hi to people and creating both personal and professional connections.
Aha moment: I was in a meeting with my advisor, who thought it would be a great idea for me to enter a field of study alongside learning about my lifelong passion for English language and literature. I never knew I could be equally passionate about something like Cinema, but here I am with a Cinema minor!
Footprints I'm leaving on the Hill: The most lasting footprints, I believe, come from the work I did with English professor Dr. Mary (Bendel-Simso) on the Westminster Detective Library. I did summer research with her and a group of amazing other students, and we contributed to a project that is currently over a decade old and has no signs of stopping yet. We found American detective stories from the 19th century and added them to a database of over a thousand stories. I think that this project is going to grow and become monumental, and I'm so proud that I've gotten to work on it. I can't wait for future students to get to add to it as well.
My mentor. For life.: Dr. Mary Bendel-Simso! As a professor, her classes pushed me to be better in everything I did. She gave me some less-than-perfect grades on some assignments, sure, but that gave me a wakeup call to improve my work.
Best class ever: TV Production with Cinema professor Jonathan Slade. It was the most hands-on class I've ever taken (both within and outside of McDaniel College) and I learned so much. Not only was it a chance to learn how to run almost every position in a television news station, it also taught me a lot about teamwork and adaptability.
My favorite spot on campus: My favorite spot on campus is the Writing Center. It's my place of work, but it's also a calm, secluded study space with big windows, a comfy couch, and an abundance of coffee and tea. Even when I'm not on the schedule for the day, the Writing Center is a place where I can hide for a few moments to catch my breath on a busy day.
Most mind-boggling idea I learned at McDaniel: Class doesn't have to feel like class. Sometimes you will learn the most when you're not even in an academic mindset. I remember going on the Animating Life Jan Term to Disney World (about different kinds of animation) during my junior year, and it just felt like a vacation. I thought that it was almost cheating my way out of a real Jan Term; I mean, I just got to go on a Florida vacation for a week! However, once I got back, I caught myself giving "did you know?" facts about animatronics to all of my friends and family, and doing even more research on the history of technology and art in children's entertainment. I didn't even realize how much I had learned (and how much I really was interested in the topic) until after the fact.
My capstone: "Madmen Know Nothing, but Madwomen Know More: an Analysis of Narrative Gender in 'The Tell-Tale Heart.'"
What it's about: A reader-response analysis of Edgar Allan Poe's "The Tell-Tale Heart" where I examine how "The Tell-Tale Heart" doesn't actually use any pronouns for the character that narrates the story. I explain how gender expectations, 19th century understandings of psychology, and the historical struggles of women in society all give evidence that this narrator could 100 percent be female, and that the character's actions are much more understandable if they were coming from a woman.
What it's really about: There's nothing that says "The Tell-Tale Heart" wasn't about a lady...and it's very possible that the narrator was one.
Name: Jackie White
Major: English
Minor: Cinema
Class of 2019
"Class doesn't have to feel like class. Sometimes you will learn the most when you're not even in an academic mindset."