Class of 2021: Doug Starliper
Doug Starliper had a 15-year career as a paratrooper with the 82nd Airborne Division of the U.S. Army plus four combat deployments under his belt when he arrived on the Hill – beyond nervous – using his GI Bill benefits to major in Social Work at McDaniel. An active volunteer in the community, he and his yellow Lab companion, Sarge, are headed for grad school and a field placement with a VA Medical Center in pursuit of a career in clinical social work working with veterans in the field of substance abuse.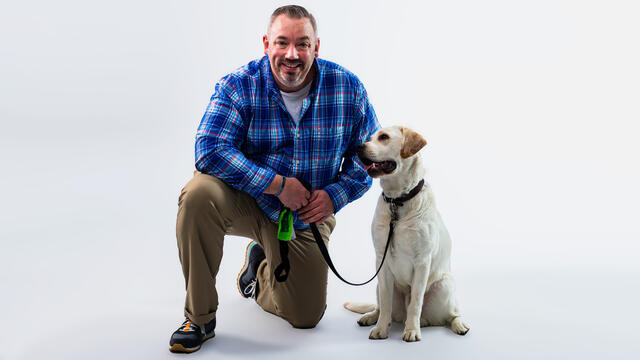 Doug Starliper is a Social Work major from Westminster, Maryland.
When I took my first step on the Hill, I was: beyond nervous, even though and also because I am a proud combat veteran with a 15-year career as a paratrooper in the United States Army's 82nd Airborne Division. I enlisted in May of 2001 and graduated basic training on September 5, 2001, six days before the terrorist attacks on 9/11. I would see four combat deployments in 15 years: Afghanistan 2002-2003, Iraq 2003-2004, Afghanistan 2007-2008, and Afghanistan 2010-2011. After breaking my back twice, once on a parachute operation and once in combat operations, I was medically discharged from the service. When deciding what I would use my GI Bill benefits for, in terms of degree path, I wanted to choose a major that would allow me to not only peruse a career that would allow me to use my education, but also my experiences in the service to help veterans who experienced what I had experienced. It turns out clinical social work was the answer. Still, I was truly nervous taking those first steps back into college life.
The me who will ring the Old Main bell on Commencement Day is: determined, goal-oriented, and ambitious. By my side will be Sarge, my 9-month-old yellow Lab puppy who has accompanied me to my field placement and hopefully will be a part of my clinical practice. I lost my dog of 15 years in July of 2020 and decided it was time for a new companion a few months later. I picked him up on Nov. 11 – Veteran's Day – 2020.
Real world experiences: Besides my life experiences as a paratrooper, I've done three internships in Social Work. Out of the three, my favorite was this year's field placement at a substance abuse recovery center, Sober Truth, in Taneytown, Maryland. Since picking Sarge up, he has accompanied me about half a dozen times to Sober Truth. Hopefully I will be able to continue bringing him to my next field placement at the VA for my master's program and even later in life in my career. I had two other internships at Shepherd's Staff and On Our Own, both in Westminster, Maryland.
Aha moment: That there is a specific and allocated time to accomplish what you are meant to accomplish in life, successfully.
Footprints I'm leaving on the Hill: I hope that through classes that I have shared with juniors, and even seniors – seeing that I am quite a bit older than the average student in my cohort – my stories about life lived, adversities, and resiliency would be something that they can take with them and apply to the difficult times that are surely ahead in their paths.
Professor who most influenced who I have become: Without a doubt, Dr. Cathy Orzolek-Kronner. She was the first professor I met with before even attending McDaniel. I had the idea that social work would lead to the career in which I was hoping to work. As the department chair, she agreed to meet with me and after describing my profession goals, I will never forget what she said to me when I asked if social work was the right fit. She replied: "The sky's the limit."
My mentor. For life.: My father. From a very young age he instilled within me the importance of hard work, humility, respect, and helping others.
Best class ever: While I enjoyed just about every class while at McDaniel, the two that stick out most to me are Addictive Behaviors with professor Michael Dvorak and Action Methods in Social Work with professor Gary Honeman.
My favorite spot on campus: Either the commuter lounge or the bottom floor of the library. I have many, many hours logged in these locations and I appreciate the quiet and solitude that it offers, which allowed me to accomplish hours of work and reading.
Most mind-boggling idea I learned at McDaniel: That after a failed attempt at college many years ago (2000-2001), it was completely possible to come back later in life and successfully complete my undergrad work while also setting me up for my graduate work.
My capstone: My senior-year field placement at Sober Truth Recovery Center.
What it's about: Sober Truth is an outpatient treatment facility that helps those in early sobriety to begin their road to recovery.
Capstone translated: Sober Truth was the perfect fit for me given both my desire to work with the substance abuse population and my experience with past substance abuse in my own life. This experience was able to give me the ability to lend my clients both knowledge from my education and a hefty side of empathy from my experience.
What's next: I will be attending University of Maryland School of Social Work's Advanced Standing program in the fall for my master's degree. This program will be accompanied by a rigorous field placement which will be at the VA Medical Center in Perry Point. For this field placement, I will be working in the substance abuse field with veterans, a population which I wish to serve in my new and upcoming career. The ability to use this GI Bill benefit in order to obtain degrees and a career in a field where I can give back to the veteran community is beyond satisfying and exactly what I was looking for. To say that I am excited about my future and what it holds would be an understatement.
Name: Doug Starliper
Major: Social Work
Class of 2021