Class of 2021: Gayle Edelstein
Gayle Edelstein made the most of her years at McDaniel – serving as a tutor in Student Academic Support Services (SASS), a lab aide in ASL, a member of the volleyball team that saw three conference and three ECAC tournaments, current president of the Student Athletic Advisory Committee, a Trumpeter, and more. The Honors student continues her studies in Psychology and Neuroscience at the University of Connecticut where she will pursue her Ph.D.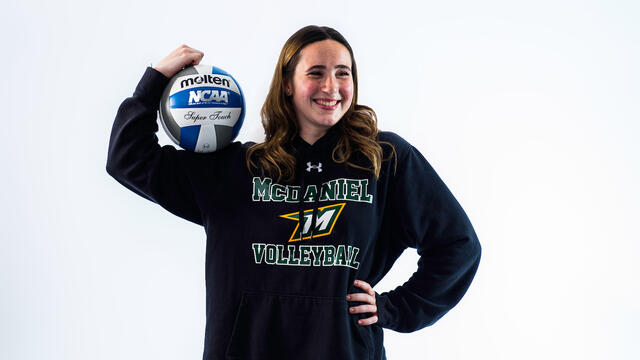 Gayle Edelstein is a Psychology major with American Sign Language (ASL) and Biology minors from Livingston, New Jersey.
When I took my first step on the Hill, I was: a student athlete who did not know where else she fit in besides the volleyball team. I was unsure of what I wanted to do with my future and who I wanted to become.
The me who will ring the Old Main bell on Commencement Day is: a well-rounded individual who has gained all of the tools I need to succeed in my future. I am now sure of who I am and have put myself on the direct path of who I want to become.
Real world experiences: One of my favorite experiences McDaniel has given me are the Jan terms. I have taken two in my four years here. The first one I took was to the Dominican Republic where me and six other students traveled to different Deaf schools to teach Deaf children of all ages. The schools selected a topic they wanted us to teach and we each created our own lesson plan. We went to five different schools and met hundreds of amazing children and teachers. Although this Jan term was a lot of hard work, it was the most rewarding experience. I hope to go back some day to visit the schools again. The second Jan term I took was the Theater Tour of Europe. In this Jan term we traveled to Ireland, Stratford-Upon-Avon, and London and watched different theater productions throughout our time there. This trip was special to me because I have always wanted to travel to these places, and I got to do it with some of my best friends.
Aha moment: When I realized that I love and am good at the "hard" sciences! I have always thought that I was not good at biology and chemistry, but now I will be using it in my everyday life post-graduation.
Footprints I'm leaving on the Hill: That you can pursue all of your interests if you put in the effort to do it. Thanks to McDaniel, I have been able to pursue all aspects of my identity by being involved in multiple clubs and organizations. Besides being a four-year starter on the volleyball team, I believe my biggest footprint will be with the Jewish Student Union on campus. Coming from a very Jewish populated area, McDaniel was a bit of a culture shock for me. Being Jewish is an important and big part of my identity. Many small schools do not have a Hillel or any type of Jewish organization on campus. McDaniel fell into that category. When I got here as a freshman the JSU was essentially nonexistent. Working alongside two upperclassmen, I took it upon myself to revamp the JSU. From then, I became the president of the JSU for two years and am currently the secretary. As of now, the JSU has almost tripled in the number of members and we have held successful events and fundraisers that will remain as traditions.
Professor who most influenced who I have become: The professor who most influenced who I have become is Paul Fitzpatrick. As a leader in the ASL department, I had Paul for almost every single one of my ASL courses as an ASL minor. I have not had another professor who cares about his students more than Paul does. He is genuinely excited about what he is teaching and loves teaching others about ASL and Deaf culture. Becoming an ASL minor was another unexpected part of my experience at McDaniel. Paul has made me a more open minded, empathetic, and caring individual. I have learned so much and have become a part of a community that has made a huge impact on me as a student and as a person.
My mentor. For life.: Psychology professor Madeline Rhodes is definitely my mentor for life. In both the academic and personal realm, Dr. Rhodes has made the biggest impact on my path. Thanks to her I have been able to figure out what I am most interested in and the path I want to pursue. She has created countless opportunities for me to gain skills and different experience that have set me on the right path. I admire the career she has had in research and will continue to be a role model for me as I set out to start my own career.
Best class ever: The best course I took while at McDaniel was Abnormal Psychology. This subject has always been a big interest of mine and Dr. Holly Chalk is an amazing professor who made the course so much fun as well as informative.  
Took me totally by surprise: The ASL department and courses! Coming in as a freshman I did not have a great experience in the past with learning other languages. When seeing that McDaniel offered ASL for the language requirement I figured I would give it a shot. Before I knew it, I was an ASL minor and traveling to the Dominican Republic to teach Deaf children. I did not ever think that the Deaf community would have such a big place in my life.
My favorite spot on campus: The quad when it is warm out. I love this spot because everyone would come out to the quad, play music, play with a football or some other sport, and all just be hanging out in one spot.
Most mind-boggling idea I learned at McDaniel: That you can create your own major. This is something that I wish I took to my advantage earlier in my career. It is such a great opportunity and shows how McDaniel really wants its students to get the most out of their educational opportunities.
My capstone: Social isolation stress in male rats and its effects on anxiety- and depressive-like behaviors.
What it's about: How social isolation or early social stressors can correlate to the development of psychiatric disorders both behaviorally and physiologically.
Capstone translated: Social isolation especially at a young age can contribute to the development of psychiatric disorders such as anxiety and depression. This is due to the stress that it can produce for the animal and the physiological and behavioral changes stress can cause. We can see these effects through the use of animal models. By observing behavioral tests, we can identify behaviors of the rats that correspond with anxiety and depressive behaviors. In addition, we can run tests on the rat's brain tissues to find measurements of certain hormones, or other biological markers that are also found to contribute to symptoms of psychiatric disorders.
What's next: I will be pursing my Ph.D. in Psychology and Neuroscience at the University of Connecticut.
Name: Gayle Edelstein
Major: Psychology
Minor: American Sign Language (ASL) and Biology 
Class of 2021