Class of 2021: Joey Conklin
Joey Conklin's goal when he arrived on the Hill was to prepare for medical school – then he took Accounting I because he needed a class and had enjoyed his accounting class in high school. The class changed everything. Joey realized that a career in accounting was his perfect fit. Three varied internships, a capstone in Business Strategy, and a double major in Accounting Economics and Business Administration later, he's accepted an offer from Sturgill & Associates, LLP in Westminster to work in tax and business valuation.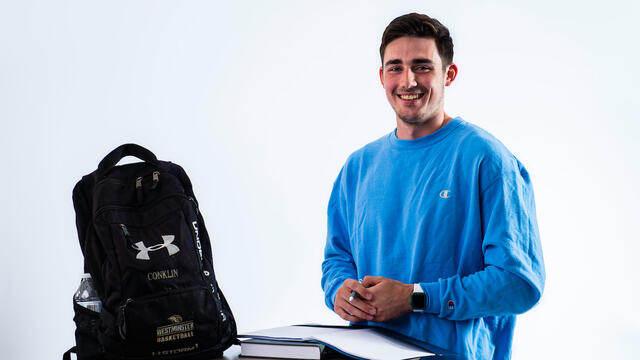 Joey Conklin is an Accounting Economics and Business Administration double major from Westminster, Maryland.
When I took my first step on the Hill, I was: Unsure. I was unsure of what I wanted to do in life and how to figure it out. I was unsure of whether I wanted to play a sport and how to manage my time. And I was unsure of how I would make a name for myself on campus and how to define my own success in college.
The me who will ring the Old Main bell on Commencement Day is: Confident. The past four years have been a challenge, but they have taught me more about myself than I would have ever expected. I am confident in who I am as a person and I am confident in where I am going. I know that I can be successful in any road I take in life by using the lessons that I learned on the Hill.
Real world experiences: I have had the fortune of having three different internships in accounting while in college. I worked at the auditing firm Myers & Stauffer for a summer, I did a summer program with RSM in tax, and I have been an intern for the past year and a half with Sturgill & Associates in Westminster doing mostly tax and business valuation. I learned a lot from all of these opportunities, but I would have to say that my favorite internship was at Sturgill & Associates. It is a very small firm, different from the other two places I worked, but it feels more like a family atmosphere and I was able to gain a lot of responsibility quickly and feel like I was a big contributor to the team.
Aha moment: My freshman year, I took mostly biology and chemistry classes thinking that I wanted to go to medical school. When I needed a class for the fall of my sophomore year, I threw Accounting 1 on my schedule because I had taken accounting in high school. On the first day of class, Dr. Julie Routzahn asked all of the business majors to raise their hands. When I didn't, she asked me why I was in the class. I replied: "Because I think accounting is fun" to a bunch of laughs. But in that moment, I realized that maybe I should dedicate my career to something I think is fun, and on that day, I became an Accounting major.
Footprints I'm leaving on the Hill: The footprints of someone who always dedicated all of his energy to being the best at whatever he took on. Whether that be in the classroom, on the lacrosse field, or in my internships, I always wanted to be someone who was respected as a leader because of the hard work and effort that I put in. I tried to be someone who my professors appreciated having in class and someone my peers could come to discuss the class or provide help if they needed it. Looking back, I think I did just that and I am proud of the footprints I'm leaving on the Hill.
Professor who most influenced who I have become: There is no way I could choose between professors Kerry Duvall and Julie Routzahn. Their passion for setting the Accounting students at McDaniel up for success is part of the reason I was confident switching to Accounting my sophomore year. They challenge their students to prepare them for the demands of public accounting while also providing every opportunity to succeed. The great track record of Accounting majors at McDaniel can be attributed to all of their hard work, and I am very thankful for both of them.
My mentor. For life.: My dad. He has always been the hardest-working person I know, and he has sacrificed a lot to provide for my family. I know that if I work half as hard as he has, I will be very successful in life.
Best class ever: Intermediate Accounting. I put the most time and effort into this class during my time at McDaniel because I knew how important it was in the Accounting major and for the CPA exam. It lived up to its reputation of being one of the hardest classes at McDaniel, but working so hard and doing well showed me that I was capable of being successful in the profession and that success would be really rewarding.
Took me totally by surprise: I was shocked by the bonds that I built as member of the McDaniel lacrosse team. Spending so much time on the field and in the locker room with a common goal and a common purpose really brings you closer to the rest of the team. I know that I could look back at all of the memories, good or bad, and spend a day laughing with any of my teammates.
My favorite spot on campus: The group study rooms in the basement of Hoover Library. Whenever I felt overwhelmed or needed to grind out some work for a couple hours, I would find a room, shut the door, put on some music, and get to work. They're also a great place to eat dinner and I have fond memories of meeting my girlfriend in the study rooms to eat sushi and do homework. I don't think I could count the number of hours I spent doing labs or writing papers in those study rooms.
Most mind-boggling idea I learned at McDaniel: In an honors class, we spent a lot of time talking about why college students think choosing their major is the end-all-be-all for their career. We learned that a vast majority of people end up working in a field completely different from what they majored in. It was reassuring to know that picking a major at 20 years old is not a life sentence and we always have the flexibility to make a change and still be very successful.
My capstone: Business Strategy
What it's about: We learned about how a company formulates its strategy, focusing on different forms of business analysis such as industry analysis, market analysis, SWOT analysis, and value analysis. We used Harvard case studies to put each concept into practice, studying how a real company used one of the methods of analysis to create a competitive advantage in the market. The class culminated in a project where we became the CEO of a publicly traded company and had to perform all of the analyses in order to develop a forward-looking strategy for that company.
Capstone translated: We learned about why companies like Amazon, Starbucks, and Target have been so successful and how they were able to do it. 
What's next: I have accepted an offer from Sturgill & Associates, LLP in Westminster to work in tax and business valuation after graduation with hopes to soon become a Certified Public Accountant and Certified Valuation Analyst. As someone who was born and raised in Westminster, it was important for me to stay here and contribute positively to the community that made me the person I am today. I would also love to one day coach any of the sports I played – lacrosse, soccer, or basketball – at my alma mater Westminster High School.
Name: Joey Conklin
Major: Accounting Economics and Business Administration
Class of 2021