Class of 2021: Makayla Patterson
Makayla Patterson not only founded but developed the campus Pre-Health Club into an organization with an active, engaged membership and plenty of opportunities for mentoring and preparation for careers in health fields. The Biomedical Sciences and Biology major and stand-out volleyball player will serve as an EMT in her hometown of Colorado Springs while applying to medical school.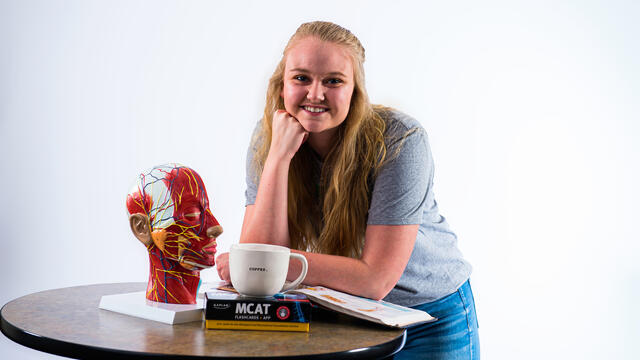 Makayla Patterson is a Biology and Biomedical Sciences double major with a minor in Chemistry from Colorado Springs, Colorado.
When I took my first step on the Hill, I was: So excited! I think being from so far away, it was sort of expected that I should be nervous, but I was the opposite. When I was starting my college search in high school, I always thought to myself that these four years would be a great opportunity to move across country and try something completely different and out of my comfort zone. I was excited for this new adventure and for what the future would hold.
The me who will ring the Old Main bell on Commencement Day is:  Extremely thankful. I am so grateful for the people and the opportunities that McDaniel has brought me. Coming in, I hoped to find a home away from home, and I absolutely did. I have grown and learned so much during my time on the Hill. I am more confident and resilient than when I started four years ago. Through my different experiences at McDaniel, I am ready to embrace the excitement as well as the challenges that will come after graduation.
Real world experiences: I went abroad to Germany, Austria, and the Czech Republic during the Jan Term of my sophomore year. This was a once in a lifetime opportunity and was amazing. We were able to see beautiful historical sites, but also learned more about the difficult history of the Holocaust. During the Jan Term of my junior year, I had an internship/volunteer opportunity at University of Maryland Shock Trauma Center. This furthered my love of medicine, and solidified that I want to be a surgeon one day. I was able to be in the operating room as the top trauma surgeons in the country operated! Watching them work was fascinating.
Aha moment: My "aha moment" came through doing research with Dr. Peter Craig. Coming into college, I wasn't sure that I would enjoy research because there is so much that is unknown. I didn't think I would like searching for answers that may never come. One of my first days of summer research with Dr. Craig, he explained to me that research isn't always about finding what works. Finding what doesn't work is just as important because that gets you one step closer to the goal as well. This completely changed my perspective on research, gave it more purpose in my mind, and made it fun and exciting!
Footprints I'm leaving on the Hill: I believe the footprints I am leaving behind are in the Pre-Health Club. I helped co-found this club my sophomore year, and serving as president this year is one of the things I am most proud of at McDaniel. This year, we not only increased membership, but we also saw a huge jump in number of students attending events, which was really exciting! With a lot of help from the alumni office and Dr. Susan Parrish, our fantastic advisor, I was able to bring in speakers so that we could have events almost every week. We were able to hear a wide variety of perspectives from different health professionals, that I believe were helpful to our members on their own journeys to reaching their dreams. I think we also became more of a community this year: a place where pre-health students could go for mentorship and to ask questions, which was really cool to see form.
Professor who most influenced who I have become: Dr. Cheng Huang has most influenced who I have become. The first biology class I took at McDaniel was his Principles of Biology class. Dr. Huang expects nothing short of the best from his students. I enjoyed the challenge of his Principles class, so I took Genetics with him the next semester. The Genetics class pushed me to my limits. I didn't do well on the first exam, so I went into office hours. Dr. Huang explained the material to me at least three different ways to help me understand it. He takes the time to help students, if they know when to ask for help. His courses were difficult, but I learned within my first year at McDaniel the work ethic that it would take to succeed, and to ask for help when I needed it, and I am extremely grateful to Dr. Huang for that.
My mentor. For life.: Dr. Katie Staab. She is incredibly smart and a fantastic professor, but beyond that, she is kind, caring, and compassionate. She is an activist for social justice, and stands up for what she believes in, which I admire. Dr. Staab pushes her students and expects us to work to the best of our ability; I learned so much from both Biology classes I took with her. At the same time, she understands that life happens too, and is willing to work with students to help us succeed. She has been a great mentor both in the classroom and out. She brings out the best in the people she is around, and I hope to emanate just a few of these qualities as I enter my next chapter.
Best class ever: This is a very difficult question for me, as I have really enjoyed all of them. But, if I had to pick, I would pick Endocrinology, which is the study of hormones. This class further sparked my love and fascination of medicine because it was all applicable to the field. Along with the functions of the different hormones, we also learned about diseases associated with them, and the treatments for those, which was really interesting! I also loved comparative anatomy because I learned so much in that class.
Took me totally by surprise: I really like art history. I have always favored science and math classes over things like history, English, art, etc. So, when I got to McDaniel and had to take a creative expression class, I was honestly pretty nervous about it, to the point that I waited until senior year to take this McDaniel plan class. I am not artistic, at all. But, I took History of Western Art with Dr. Gretchen McKay, and it became one of my favorite classes. I am glad I saved this class until senior year, because I think I was able to appreciate the art more, and look at the broader picture. The art was incredible, but beyond that, I learned how to think in a different way and to analyze on a broader scale. There is never going to be one answer to a medical question, and this class taught me to look beyond what is directly in front of me, which I think will be very beneficial.
My favorite spot on campus: The quad! I love enjoying the weather on nice days, and I love the community that forms. One person brings a speaker, and everyone benefits, or different people jump in on a game of Spikeball or share hammocks.
Most mind-boggling idea I learned at McDaniel: How intricate the human body is. Through taking classes like Cell Bio, Molecular Bio, Microbio, etc., there were times that I truly questioned how scientists have discovered what they have. There are an infinite number of microscopic working pieces that all come together perfectly to make us move and talk and think, which I struggle to fully wrap my head around even after four years!
My capstone: "Comparative Genomics of Symbiodiniaceae-Associated Bacterial Isolates"
What it's about: I compared 52 bacterial genomes to try to determine the mechanisms behind the tripartite symbiotic relationship between corals, Symbiodiniaceae, and bacteria.
Capstone translated: Coral forms symbiotic relationships with Symbiodiniaceae (basically a really small algae) and bacteria. I looked at specifically the relationship between the Symbiodiniaceae and the bacteria by analyzing bacterial genomes to try to figure out how this relationship is occurring. I discovered a couple things, but one interesting finding was that both of these organisms exchange nutrients, which means that one produces something that the other will use. We think this is one reason the symbiotic relationship is beneficial.
What's next: I am currently in the process of applying to medical schools. The application process is about a year long, so during my gap year, I am going to go back home to work as an EMT to gain some clinical hours. I also hope to volunteer wherever I can.
Name: Makayla Patterson
Major: Biology and Biomedical Sciences
Minor: Chemistry
Class of 2021