Class of 2021: Peyton Fair
Peyton Fair, an accomplished equestrian who competes in dressage with her horse, GR Fancy Action, understands hard work and keeping her eye on the prize. In preparation for her dream of becoming a physician, the Biology major interned at University of Maryland Shock Trauma and did research at Johns Hopkins, where she landed a position as research technician while applying to med school. She'll long be remembered by the enormous DNA molecule she built and installed on the second floor of Eaton Hall.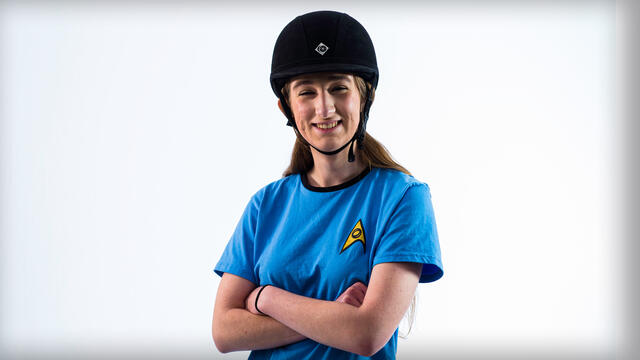 Peyton Fair is a Biology major with a specialization in Molecular Biology and a minor in Chemistry from New Oxford, Pennsylvania.
When I took my first step on the Hill, I was: ready to learn. I was so inexperienced and knew so little about science, the world, and even myself. So, I was ready to take the first step on my own in the world in order to learn all that I could.
The me who will ring the Old Main bell on Commencement Day is: one step closer to accomplishing her dream of becoming a physician. I will be proud of the fact that I have learned to become a critical thinker, a scientist, and have grown into an adult who can navigate the world with ease.
Real world experiences: As a part of a Jan Term at McDaniel, I had the pleasure of participating in the UMMC Internship. For this, I volunteered at the University of Maryland Medical Center shock trauma unit. As a pre-med student it was an eye-opening experience to be able to see how the trauma unit is run. Everyone there works synchronously in an unspoken ballet in order to save lives. It really is a beautiful thing to be a part of and to witness. However, my favorite experience I've had is a research experience. I was able to become an undergraduate student researcher at the Johns Hopkins University Department of Radiation Oncology where I am currently working on a research project. This experience has really showed me just how valuable the critical thinking skills that I have learned through my time in the lab at McDaniel are in a variety of settings. Research, at the heart, is about using creative thinking in order to solve a problem through designing experiments, compiling data, and presenting results. Even though my current project is outside of my major, I can still use all the skills I have obtained in research-based labs at McDaniel into solving the question this project addresses. I have also had the pleasure of shadowing many physicians in and around this department. They have really shown me what it means to be a good doctor and have cemented for me the fact that I want to become a physician.
Footprints I'm leaving on the Hill: One time, a class was offering extra credit for creative projects for DNA day. Being me, I wanted to build a DNA molecule but, I thought that was too basic. After coming up with more ideas that were also deemed too simple, I thought, "Well if you can't get creative, get big!" So, my friends and I went to Home Depot, my home. I ended up picking up 2, 10ft corrugated drainage pipes, several 3ft long, quarter inch in diameter dowels, and a few cans of paint. Then, after I got off work at midnight, I drove to the Hampstead Walmart and bought out all their Styrofoam spheres, tiny dowels, and candy. Then my friend and I spent all night painting the dowels and Styrofoam balls in the basement of DMC, drying the paint with my hairdryer. We put it all together, slept on the floor for an hour, and then paraded it across campus to class. This DNA molecule now stands in Eaton on the second floor.
Professor who most influenced who I have become: Dr. Cheng Huang was the professor who influenced me the most at McDaniel. He has been my advisor since freshman year, and I have taken or been a TA for every class he offers at McDaniel. He has taught me to become a better writer, as well as how to critically think about experimental setup, results, and conclusions. These lessons have been the most important lessons I have learned not only as a scientist but in my life. In fact, being a decent writer and a critical thinker have come in handy in many situations in life.
My mentor. For life.: My mom. My mom is my best friend, my mentor, and the person I look up to the most. She is a strong, independent Irish woman whose favorite motto is, "Where there is a will, there is a way." I have taken that motto to heart, and it has allowed me to do what I never thought possible, more times than I can count.
Best class ever: Developmental Biology is the BEST class at McDaniel and my favorite (yes those two concepts are very different). Developmental Biology ties together genetics and molecular biology to explain how an organism develops from a single cell in a multicellular organism. The concepts we learn here are crucial to understanding how all of our cells contain the same DNA but have a wide variety of structure and function. This class also teaches us how to criticially analyze primary literature and write scientifically. Finally, Developmental Biology has a lab that is research based. We design our own experiment to answer a question that does not yet have an answer. We then learn to write lab reports and present our data in lab meetings. This class did not only teach me material, but it taught me how to function in a research lab, which is where I am going to work after graduation.
Took me totally by surprise: I had always received A's in my English classes and on my papers, even as a freshman. However, once I got into writing lab reports for Dr. Huang, I got one of the hardest awakenings of my life. I was awful at writing. My logic was so disconnected, made no point, and was all over the place if I did manage to make a point. It was definitely surprising to say the least, but I'm glad I found out now and not later when submitting a paper for publishing.
My favorite spot on campus: The Quad is my favorite spot-on campus because it is a wonderful place to set up a hammock and do your homework in the sun with some music and friends. It is also a conveniently short walk from Casey's Corner for that caffeine boost.
My capstone: Investigating a cdx-regulated, hox-independent Pathway during Development of the Central Nervous System
What it's about: The central nervous system originates from the caudal neural plate and develops into the segmented brain, including the hindbrain (HB), and unsegmented spinal cord (SC). In zebrafish, cdx4 deficient embryos show caudal extension of the HB at the expense of the spinal cord, showing that cdx4 functions to correctly position the HB-SC boundary. In addition, zebrafish cdx4 was found to promote the expression of posterior hox genes, yet overexpression of posterior hox genes in cdx4 deficient embryos failed to rescue the HB-SC boundary defect. This suggests the existence of a hox-independent pathway that mediates cdx4's function in properly setting the HB-SC boundary. Recently, a hox-independent pathway downstream of cdx4 was discovered in chick, immediately raising the possibility of its involvement in positioning the HB-SC boundary. As a first step to test its candidacy, here I propose experiments to test whether this pathway in chick is conserved in zebrafish. Specifically, I propose to reduce the function of cdx4 in zebrafish, and determine whether the expression level of pax6a is reduced and that of nkx1.2 increased, as predicted by the chick model.
Capstone translated: Basically, my capstone is a research proposal that proposes the first step needed to take to discover whether a pathway discovered during central nervous system could be a pathway that has yet to be discovered that functions to correctly position the hindbrain-spinal cord boundary during development.
What's next: I am applying to medical school this cycle but until then, I have a job at Johns Hopkins University Department of Oncology as a research technician. I will also be competing in the Potomac Valley Dressage Association with my horse, GR Fancy Action. I live on an 8-acre farm and plan on getting it ready to plant an orchard and vegetable field. There is a lot of area to clear, prepare, and plant.
Name: Peyton Fair
Major: Biology with a specialization in Molecular Biology
Minor: Chemistry
Class of 2021