Class of 2021: Sydney Kelly
Sydney Kelly hasn't wavered from her plan to major in Biology and ultimately become a physician, but she has made some game-changing discoveries during her years at McDaniel. A big one is Arabic. She fell in love with the language and the culture from day one of her first Arabic course and was able to tackle Arabic and a hefty load of science classes with much support from her professors. Graduating Phi Beta Kappa, research at Hopkins and waking up to a view of the pyramids of Giza during a Jan Term study abroad to Egypt top off her college experiences.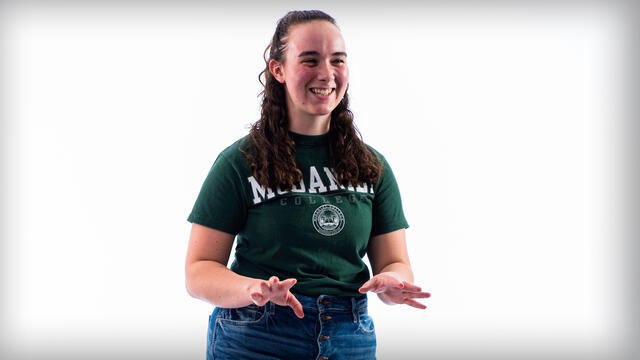 Sydney Kelly is a Biology major with a minor in Arabic from Windsor, Pennsylvania.
When I took my first step on the Hill, I was: someone who thought she had it all figured out and knew exactly how her four years were going to go. I knew that if I put my mind to it, I could accomplish anything, but there was a lot that I needed to learn yet.
The me who will ring the Old Main bell on Commencement Day is: much more open minded. I had a great work ethic before coming to the Hill, but following my four years, I am more accepting and willing to listen. I have been able to achieve all the goals that I set before I even came to McDaniel, but I have also accomplished so much more. College is not just about academia (although that is a big part of it), but also about learning more about yourself. I have grown so much as a person here and I have so many people and experiences to thank for all of that.
Real world experiences: My first internship was at Johns Hopkins Hospital as a volunteer where I shadowed various surgeons in the pediatric department. I primarily was in the urology department with this amazing surgeon who really took me under her wing and inspired me to pursue medicine. The next summer I did research at Hopkins with Dr. Caitlin Pozmanter '12 on a novel Tudor domain protein in Drosophila. Although difficult at times, this opportunity was incredible because it taught me patience in the world of research. Some things will not just be handed to you like they are in a textbook, sometimes you have to put the pieces together. This type of critical thinking really prepares you for any work in the science field, and it is so rewarding. Finally, right before COVID hit, I was able to take the JanTerm study abroad trip to Egypt. This trip was simply amazing. It was my first time out of the country, and I could not have asked for a better group, a better place, or a better experience. I'll never forget waking up to the sight of the pyramids of Giza right outside my window, or any of the people that I was able to speak with in their native language. I hope to one day go visit my friends again.
Aha moment: My spring semester of my sophomore year, I decided to really push myself and take as many classes as I could. I decided to take five classes (four of which were in the sciences, and one in Arabic) and three labs. Before the semester started, I was a little weary of it all. Could I handle all of these classes all at once? But by pushing my limits, I was able to learn that I could handle more than I initially thought that I could. This experience taught me the importance of staying organized, so that I can still watch the softball game that afternoon and get all of my assignments done on time. I spent many nights at the library with my friends and learned that I also really benefitted by studying in groups with my peers, even if they weren't the same major that I was. This experience really opened my eyes as to what I could accomplish with my time here on the Hill not only on my own, but with the help of others, even if they had little knowledge in what I was learning.
Footprints I'm leaving on the Hill: The footprints I hope to leave on the Hill on ones that encourage to try things outside of their comfort zone. Whether that is taking a class on something they know absolutely nothing about, learning a language they have no background in, walking away from a sport they love, or even trying to take five classes and three labs all in one semester. Just try it. I have learned so much by pushing myself past what I know, even if I ended up failing. Failure is not the end; it is just part of the process. And the most growth occurs when you push yourself past what you already know.
Professor who most influenced who I have become: It is hard to pick just one professor that has had a huge influence on my life. Dr. Susan Parrish has been a huge influence in my science and pre-med career. As my Principles of Biology professor, she was my first look into the field of biology, and she really nurtured my love of STEM. On the other hand, Carol Zaru, my Arabic professor, really showed me that I can do anything I set my mind to. If you would have told little high school Sydney that she would be speaking Arabic by the end of her four years of college, I would have said "What the heck is Arabic?" I had no previous experience with the language or the culture, but through learning this language, I have learned so much more about other cultures, other people and respect for them, as well as so much more about myself. That is what is so cool about McDaniel, is that you can try things you never thought you could do, and your professor will guide you to be the best you can be. You can take lots of science classes, but still learn a language or create art or music and get a degree in both. As long as you are willing to put the effort in, someone will be there help you excel to new heights.
My mentor. For life.: Dr. Pozmanter will certainly be my mentor for life. She has been through it all and helped me through so much. After completing research with her at Hopkins, she did not just stop helping me after that summer, she continued to mentor me through my academic decisions, through my life decisions, and so much more. She has been in my corner, ever since I took her class (RNA Biology), and I could not have asked for a better person to have on my side. I cannot thank her enough for all that she has done for me and helped me accomplish.
Best class ever: My sophomore year I took a class called "RNA Biology" with little idea about the subject. But throughout the semester, I was able to communicate with my peers, each of us at different levels in our years of knowledge and learned more as a result from talking with them and our professor. This class gave me a great background to understanding in the science of today, especially when talking about the COVID vaccines, despite this not even being a thought when I took the class in 2019. Following the class, I fell in love with the molecular side of biology and all of the inner workings of our cells which has propelled me into my science career following graduation.
Took me totally by surprise: I never expected to fall in love with the Arabic language. I took the class on a whim, just for the fun of it. I didn't know a single thing about it. But after my first class, I knew I could not just stop. I just had to know more! Thankfully my professors have been so flexible since many of my labs and Arabic classes overlapped. But this has never stopped me from taking the classes. That is what is great about McDaniel, since the school is small, my professors know me, and understand that if I have to miss some of class to go to another, that I will certainly come to office hours later to catch up on any material I missed. They can work with you because they know you on a personal level.
My favorite spot on campus: My favorite spot really depends on the season! In the fall, I like to take my hammock out by Harvey Stone and work on homework there. It is so peaceful and although I am still doing work when I am out there, this place always seems to clear my head. Seeing all the beautiful colors of the changing trees is a sight that never gets old by that pavilion. However, in the spring, I love to hang out in the garden behind McDaniel Hall. I like doing homework here in the spring because it has a nice stone bench under two giant pink flowering trees. This place helps me clear my head, reflect, and just appreciate how beautiful campus is.
Most mind-boggling idea I learned at McDaniel: Something that really blew me away when I finally put the pieces together is something I learned during biochemistry. As a living organism, everyone and everything must maintain this highly ordered state called homeostasis. This issue is, the universe is constantly leaning towards a state of disorder called entropy. So, to keep molecules ordered, we ingest and digest food to gain energy from our environment. This means that the food that we eat, which are other organisms (plant or animal) is allows us to borrow another organisms energy. In other words, the energy that we have been given from our food is all borrowed. Then, when we can no longer maintain homeostasis, we can no longer borrow enough energy to keep this ordered state, our energy that we borrowed is returned to the earth to be used again by another organism. This idea in simple terms is just the circle of life, but it combined all my knowledge from previous classes from chemistry, biology, and physics. This truly was the coolest realization out of all my four years.
My capstone: Tudor Domain Containing Protein-5-Like post-transcriptionally regulates maternally deposited RNAs in Drosophila.
What it's about: Tudor Domain Containing Protein-5-Like (Tdrd5l) localizes to granules and regulates RNAs that are deposited by the nurse cells in Drosophila egg chambers to the oocyte. By regulating these RNAs, Tdrd5l is suspected to ensure the proper localization of these molecules. This allows for the appropriate specification of the body axes in the developing fly.
Capstone translated: My capstone is really looking at how this protein called Tdrd5l regulates and specifies the body plan in fruit flies. By looking into this protein and how it functions, we could gain insight into certain fertility problems in humans and determine a better treatment for them.
What's next: I will be doing research on rare diseases at the NIH through their post-baccalaureate program! But before I start this position, I am hoping to take a road trip across the country to see the Pacific Coast and many of our National Parks. Following the completion of this program, I plan to pursue a degree in medicine and become a doctor.
Name: Sydney Kelly
Major: Biology
Minor: Arabic
Class of 2021