Class of 2021: Zach Kiick
Zach Kiick conducted COVID-19 research with Chemistry professor Dana Ferraris and five classmates that has shown potential in inhibiting the life cycle of the virus. A swimmer and two-time captain of the Green Terror swim team, he volunteered with the Special Olympics. The Chemistry major spent part of his senior year doing an internship in Johns Hopkins Applied Physics Lab and looks forward to launching his career there as a research chemist while considering whether to pursue a master's or Ph.D.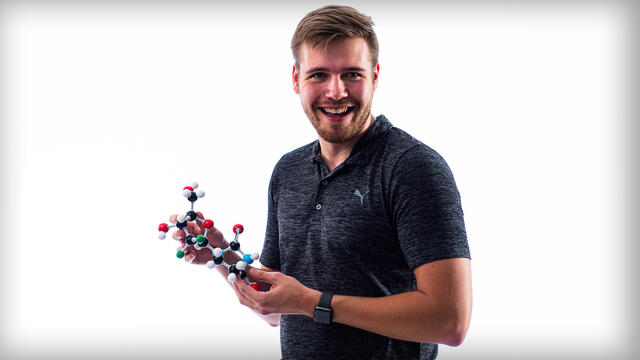 Zach Kiick is a Chemistry major with a Biochemistry specialization and a minor in Business Administration from Gettysburg, Pennsylvania.
When I took my first step on the Hill, I was: When I first stepped onto the Hill, I was a young 18-year-old who had no idea what he wanted to major in, so I picked Business Administration. I decided to take Intro to Chemistry my first semester to fulfill my Scientific Inquiry requirement for the McDaniel Plan. Little did I know that this was the first step on the path of me to becoming a Chemistry major.
The me who will ring the Old Main bell on Commencement Day is: Still the same kid who rang the bell when I was a freshman. However, I now have found the job and career I want to continue to pursue. I have also grown as a person and gained confidence to continue to explore the things I love to do.
Real world experiences: While on campus I was fortunate enough to participate in two Jan Term and one summer research sessions with Chemistry professor Dr. Dana Ferraris where I spent one session on PARP and two sessions on COVID-19. I was also lucky enough to get the chance spending the last two months of senior year as a chemistry intern at the Johns Hopkins Applied Physics Lab. I think this past summer doing COVID research here on campus was definitely my favorite because I was able to be in the lab with five other people and have fun.
Aha moment: My Aha moment here on campus was learning about all of the amazing opportunities a small college had to offer. Through connections with professors, or all of the internship and research opportunities, students have virtually unlimited options to pursue any career path.
Footprints I'm leaving on the Hill: Although I have not been involved in a lot of programs/activities here on campus, I hope that within the programs I have been involved with I am leaving behind the idea of being able to achieve anything you put your mind to.
Professor who most influenced who I have become: Dr. Dana Ferraris is definitely the professor who influenced me the most in who I have become. He is the one that introduced me to the world of chemistry research and helped me to develop the skills and confidence to do this work as a living.
My mentor. For life.: Dr. Dana Ferraris, my academic advisor and Jeff Hiestand, my swim coach. Both of them have mentored me throughout my college career plus have taught and helped me grow the skills that I would need to excel in life post college.
Best class ever: The best class I have taken here was Medicinal Chemistry with Dr. Ferraris. It was my favorite class because it took knowledge from a majority of the chemistry classes and combined them into one. Dr. Ferraris also was a great professor to make the class interesting and exciting. Plus, the coffee, bagels, and having class with a lot of my friends weren't bad reasons either.
Took me totally by surprise: The thing that took me by surprise is the how close-knit the McDaniel community really is. Throughout all my four years here I would have professors, with whom I took one of their classes, would see me on campus and stop and talk with me about swimming or how my other classes were going. The professors really care about your aspirations and want you to succeed in whatever career path you decide to follow.
My favorite spot on campus: My favorite spot on campus is Harlow Pool. Although it's not really a popular place on campus for students outside of the swim team, it always felt like home for me. While here on campus I worked as a lifeguard, club swim coach, swim lesson instructor, as well as a member on the swim team. So, I can say that it was most definitely my home away from home, if I wasn't in my room or in class you could have found me at the pool working or hanging out with other members of the swim team.
Most mind-boggling idea I learned at McDaniel: The most mind-boggling idea that I learned is that we can use strong magnets to determine the molecular structures of compounds. Which is possible with the NMR that we have available to use for research in Eaton!
My capstone: The Design and Synthesis of Inhibitors of the SARS-CoV-2 Main Protease.
What it's about: My capstone was spent in the chemistry lab over the Summer of 2020 and during Jan Term of 2021. We were attempting to create a small molecule and develop a pharmacophore that could inhibit the SARS-CoV-2 main protease, therefore inhibiting the life cycle of the coronavirus. By using a method called fragment linking, we were able to synthesize some molecules that could be considered good candidates.
Capstone translated: How I explain my capstone to my friends and family, is that I spent my time in the lab creating a small compound that could help inhibit the life cycle of the coronavirus. Basically, we were trying to create a drug that a person could take if they were exposed to COVID-19 and it would help the body to recover and fight the virus.
What's next: I will be a working at the Johns Hopkins Applied Physics Lab as a research chemist. I have also considered the idea of pursing either a master's or Ph.D.
Name: Zach Kiick
Major: Chemistry with a Biochemistry specialization
Minor: Business Administration
Class of 2021