Class of 2022: Andrew Witten
Andrew Witten knew he wanted to be remembered as a go-getter and a leader during his time at McDaniel, and he made his mark on the football team, as president of the Jewish Student Union and a Student Ambassador, and through an internship with the Baltimore Orioles. Also ambitious in the classroom, Andrew's favorite course was Entrepreneurship, which, along with his Business Administration major and minor in Sports Management, has prepared him to pursue a career in sports.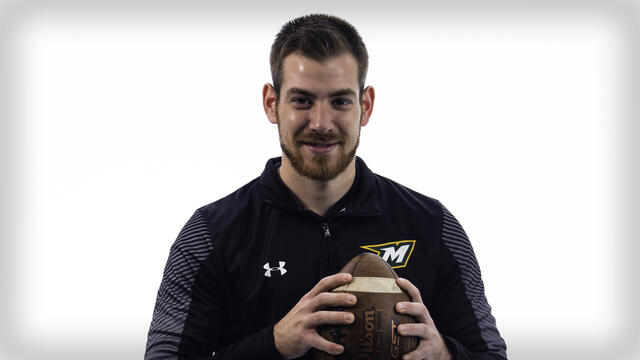 Andrew Witten is a Business Administration major and Sports Management minor from Holland, Pennsylvania.
When I took my first step on the Hill, I was: A high school senior who was not sure what my future career would be, but I knew that being able to continue my football career along with all the other opportunities at this small liberal arts college was going to be key to my success.
The me who will ring the Old Main bell on Commencement Day is: A guy who feels accomplished with what he has done throughout his four years at McDaniel and excited to see what the next chapter holds after his time on the Hill as a student comes to an end.
Real world experiences:  I have had the opportunity to work as an intern with the Baltimore Orioles through the Ballpark Operations team. This internship has been such an important part of my time here on the Hill because I have been able to implement the teachings from the various classes I have had into what I plan to be my future career path. With the help of my professors and other administrative figures, it was a great process in applying for my internship and all the little details that went along with it, from creating my resume and cover letter to preparing for the interviews themselves.
I also had the opportunity of taking part in the Bahamas Jan Term, which has become one of my favorite experiences. Being able to go on a two-and-a-half-week trip with my fellow classmates and some of my best friends was a moment that I will continue to cherish forever. Being able to study in a hands-on setting where we embarked on many snorkeling and hiking adventures was by far one of the coolest ways to learn about a specific subject, especially since it was an area of study that I had not learned about since high school.
My aha moment: My aha moment on the Hill must be about taking advantage of the opportunities that you are given. During my time here, I have had the pleasure of taking so many different classes, being a part of and experiencing many different clubs and organizations, and continuing to play a sport that I thought I was done with after my senior year of high school. Being able to say that I did something because I had the courage to just go and try something different has allowed me to get so much more out of my college experience. Most importantly, it has led me to meet so many incredible people as well.
Footprints I'm leaving on the Hill: As my time comes to an end, I hope to be remembered by the efforts I have made within the Office of Diversity, Equity, and Inclusion as the president of the Jewish Student Union (JSU). I have had the pleasure of working with many others to continue to grow the awareness of the Jewish population of students on campus and provide a safe place for people Jewish or not to come and embrace Jewish culture. I also hope to be remembered for the various roles I had on and off campus with community service through Alpha Phi Omega, my many hours spent working as a Student Ambassador, as well as my role of expanding McDaniel College's name recognition through my internship with the Orioles. Most of all, I hope to be remembered as a scholar-athlete who was a member of the leadership committee on the football team and the guy whose teammates felt comfortable coming to him when they needed help.
Faculty or staff member who most influenced who I have become: Though I never actually took one of Dr. Gretchen McKay's classes, I will always appreciate the love and support that she provided her students each day. I have heard countless stories about Dr. McKay going the extra mile for her students because she always knew what was best for us, not only in the classroom but also on the football field. Dr. McKay was the first administrator that the team always meets every year and the amount of support that we feel immediately is like no other. Within her role as the faculty mentor to the Green Terror football team and the faculty athletic representative to NCAA, she has done a fantastic job of truly understanding what it means to be a DIII athlete, and the tools needed to be as successful as possible.
Best class ever: Throughout my college experience there have been many classes that truly were enjoyable and taught me more than I could have expected, but my favorite by far must be Professor Lori Hockley's Entrepreneurship class. In this class, we glimpsed what it takes to become an entrepreneur and the risks and rewards that can come from it. It was a class that, for me, was even more important to take because with COVID limiting a lot of what we could do, it was amazing to be able to have real guest speakers who had real businesses that they had started and were continuously running throughout times that no one expected. This class also allowed us to be creative and reach deep into our own ideas and create a mock startup company to see the ins and outs of what entrepreneurship is and gave us the opportunity to work with fellow classmates to create this idea.
Took me totally by surprise: The amount of support that the alumni provide to McDaniel has continued to amaze me each year. From alumni of Western Maryland College to those of McDaniel College, it has been amazing to not only have their support at our football games cheering us on, but more importantly being able to meet and potentially work with these people down the road. Everyone at McDaniel understands what the family feeling on the Hill means, and I believe that a good portion of that feeling comes from the alumni who have shaped what McDaniel looks like today.
My favorite spot on campus: My two favorite spots on campus include Kenneth R. Gill Stadium and the golf course. I feel as if I have spent about half of my college time at these two places. For football and other events throughout the week, from playing games on Saturdays in the fall or watching my fellow athletes play in the spring, that field has been my go-to place to just take a break from anything else going on and just be in an atmosphere that I love. Next, the golf course is a place where I can get a quick nine holes in after class during the week with some friends or play 18 with my dad and mom when they visit on a Sunday. Golf was something that I never thought would be a sport that I enjoyed, but like McDaniel has done, it provided me with a place to spend time with friends and family, and a spot to go and enjoy the outdoors for an hour or two.
Most mind-boggling idea I learned at McDaniel: That work can be both fun and serious at the same time. A good work environment that has you wanting to go in and do your work each day should be everyone's goal. With this I began to understand that I am happiest around sports and that I want to continue to work in sports moving forward.
My capstone title: The class I am taking for my capstone is called Business Strategy.
What it's about in plain talk: We get to learn from our professor who is very knowledgeable about the business world and what we should be ready to expect as we prepare to start our future career path. We dive into various case studies that teach us the necessary knowledge of the business world by using real cases that are relevant and help us in understanding why successful and unsuccessful companies are the way they are.
Tell us a little about your activities, including sports, during your years at McDaniel: From the Jewish Student Union, to football, to Alpha Phi Omega, to Green Life, to ultimate frisbee club, to intramural sports, to being a student ambassador, and to all the other opportunities I have had on campus, it has been a truly tough time to narrow down which opportunities I am going to take part in each week. This has been the best and worst problem to have at McDaniel, as I almost always have something to do and somewhere to go. The best advice I can give to any college student is to take advantage of any opportunity that is of importance to you. All of these opportunities enabled me to create a schedule for myself so that I always made sure to get my course work done so that after football practice I had time to take part in all these festivities.
What's next: I plan on continuing my work within professional sports as my short time thus far with the Orioles has been amazing, and I cannot wait to see what this experience guides me toward next. I would love for this to allow me to travel and see more of the U.S. and provide time to travel globally. It is fascinating to meet people from all over and take the chance to indulge in different cultures. Maybe one day I will venture on and continue my education in grad school.
How will you stay connected to McDaniel? I have already made many promises to my professors, coaches, and most importantly my fellow students to stay engaged, and I will be sure to come back and visit (catch you all at Homecoming!). In all honesty though, I hope that the connections and legacy that I have made here on the Hill will make it so that people feel comfortable enough to reach out if there is a question they need answered or if they just need advice. Everyone's college experience is going to be a little different, but it is so important to take advantage of the resources that you have, and I hope to be one moving forward.
Name: Andrew Witten
Major: Business Administration
Minor: Sports Management
Class of 2022
"Being able to say that I did something because I had the courage to just go and try something different has allowed me to get so much more out of my college experience. Most importantly, it has led me to meet so many incredible people as well."