Class of 2022: Anna Jezerski
Anna Jezerski, a triple major in Accounting, Business Administration, and Economics with a minor in American Sign Language, was able to pursue all of her passions through the support of professors like Kerry Duvall and her Green Terror teammates on the volleyball team. With hands-on experience as a STEM tutor, SASS tutor, and with Conference Services, Anna will be remembered for her tireless work ethic and as a volleyball alumna with endless team spirit.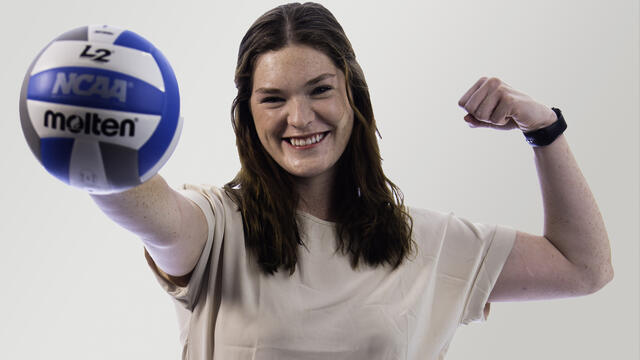 Anna Jezerski is an Accounting, Business Administration, and Economics triple major with a minor in American Sign Language from Ellicott City, Maryland.
When I took my first step on the Hill, I was: A young, naïve high school student who did not know what I wanted to do with my life or where I wanted to go.
The me who will ring the Old Main bell on Commencement Day is: Beyond amazed with how much I have changed over the past four years and excited to take my next steps in the adult world. I am confident that I will be able to apply what I learned at McDaniel to my everyday life.
Real world experiences: I was fortunate enough to travel to Dublin, Ireland, during Jan Term of my sophomore year. However, my favorite experience was the internship I got the summer going into my senior year. I had finally figured out what I wanted to do after college and was able to secure a job after college. This took the stress off of looking for a job after graduation, but it was also great to see how each of my majors connected directly to what I will be working on.
My aha moment: When I learned that I could handle much more on my plate than I realized. I had doubted my ability to be successful in multiple areas. Whether it is on a volleyball court, in the classroom, or working toward my career.
Footprints I'm leaving on the Hill: The footprints I am leaving on the Hill are the footprints of someone who initially did not know what path they wanted to take but learned as they went. I came onto campus clueless about what I wanted the next four years to look like or the rest of my life after college. I am leaving McDaniel now knowing who I am as an individual and proud of the hard work I have put in. I want to be remembered for the effort I have put into my classes, volleyball, work, tutoring, and any other activity that represented McDaniel or myself. I take pride in my time at McDaniel, and I hope the people I am leaving are proud of the person they helped me become.
Faculty or staff member who most influenced who I have become: In the Business department, so many professors genuinely care about every student and their success. However, Professor Kerry Duvall has gone above and beyond for her students. After my first exam in her Principles of Accounting I class, she asked me to consider an Accounting major. Somehow by the end of the semester, I had agreed to pick up a third major. After just one class with her, Professor Duvall began helping me look for internships in accounting and business fields, which led me to get the job I wanted after college. I have seen her work tirelessly to find opportunities for her students to have successful careers after college.
Best class ever: The best class I ever took was the Business capstone. I loved being able to apply everything from the past four years. We looked at Harvard case studies to analyze them and put ourselves into the mindset of a businessperson. I felt like I came into the class with the knowledge I had already learned and put it all together.
Took me totally by surprise: The strong McDaniel connections that have formed over the last four years extend to alumni and future Green Terrors.
My favorite spot on campus: The lobby of Gill Gym. It is a nice relaxing place where I can work on my homework, chat with my teammates and classmates, and be ready to walk into practice.
Most mind-boggling idea I learned at McDaniel: I was amazed by the close-knit volleyball community McDaniel has. Being part of the volleyball team all four years, it has been a privilege to meet the alumni who have played before me, especially those that have truly paved the way for women's athletics at McDaniel. Many alumni come back to support the volleyball team and have even come back to watch our games, even after graduating 40 years ago. It has been great to see the players before my time here be recognized for their athletic achievements in the Green Terror Sports Hall of Fame.
Tell us a little about your activities, including sports, during your years at McDaniel: I have played on the volleyball team all four years and have been to playoffs twice. Most of my favorite memories have come from being part of the team. I also have worked a plethora of part-time jobs at McDaniel, including grading papers, being a tutor in STEM and the SASS office, setting up events for Conference Services, and working at retail stores near campus.
What's next: After graduation, I will be working as a credit rating analyst in Frederick, Maryland.
How will you stay connected to McDaniel? I hope that I will be like the alumni I mentioned earlier and frequently come back to support the volleyball team even after I have left, 50 years from now. I am proud to be a part of the McDaniel community.
Name: Anna Jezerski
Majors: Accounting, Business Administration, and Economics
Minor: American Sign Language
Class of 2022
"I take pride in my time at McDaniel, and I hope the people I am leaving are proud of the person they helped me become."