Class of 2022: Micaela Champion
Micaela Champion is graduating as an English major, but she started as a Biology major. Through opportunities to explore new subjects, like working with English Professor Mary Bendel-Simso in the Westminster Detective Library, Micaela investigated her personal passions and discovered her ideal major. A member of the Honors Program and Student Alumni Council, even Micaela was surprised by the many ways she got involved on and off campus. She was president of the student ambassadors, member of the Jazz Ensemble, a tutor in chemistry and in the Writing Center, and a resident assistant. With each opportunity to learn and grow, she became the person she had always wanted to be.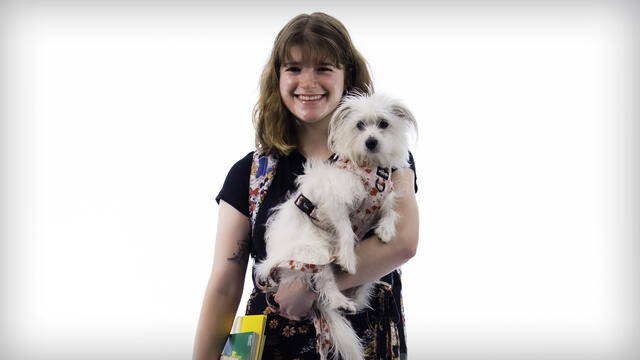 Micaela Champion is an English major from Chambersburg, Pennsylvania.
When I took my first step on the Hill, I was: Terrified but also excited about all the opportunities it seemed like McDaniel students had. My first time on the Hill was for a lacrosse camp. I had never been away from home like that before, but the McDaniel community immediately opened up to me and showed me support during my time on campus. As a first-generation college student with no clue about the college process at the time, I was overjoyed by the sense of community and the feeling of home that McDaniel gave me.
The me who will ring the Old Main bell on Commencement Day is: Successful and determined. As a freshman I was so set in my ways and thought I needed to have the most "prestigious" occupation and take the hardest classes in order to prove my worth and show my success. My experiences at McDaniel have shown me that I am my own measure of success and my happiness and sense of fulfillment with life is so much more important than anyone else's opinion. I am so excited to use what I have learned from McDaniel both in and out of the classroom to continue to pursue my dreams.
Real world experiences: I was an intern in Hoover Library for a semester and was a summer research assistant to Dr. Mary Bendel-Simso in the English department, working on a project called The Westminster Detective Library. I don't think I could pick one as my favorite, as I was able to learn so many valuable lessons and had some life-changing experiences with both. Being an intern in the library helped me to find my passion for spreading knowledge and helping others. Working as a research assistant allowed me to further develop my research skills and introduced me to a lot of really wonderful people, including alumni who were previous research assistants on the same project.
My aha moment: My sophomore year I was one of very few underclassmen in a 3000 level English class. I had gotten around taking the prerequisite for the course, so I was a little behind on some of the information that was sometimes discussed. Even though this was true, I loved the content of this course and excelled with the work we were doing. I wrote my first substantial literary criticism paper in this class and ended up receiving the highest grade out of all of my peers. Receiving that grade removed the doubt I had in my abilities and showed that my love for English studies had merit. It showed me that studying English could bring me the success and sense of fulfillment I was looking for.
Footprints I'm leaving on the Hill: I believe the footprints I am leaving behind are those of someone who was dedicated to all that they did and who sought to make a difference. I have taken on so many roles and found the things that I am truly passionate about within my time at McDaniel. Whether it was working in the library, giving a tour to prospective students, or doing service as a brother of Alpha Phi Omega coed service fraternity, I have always put all of my effort into the tasks that I have taken on and have worked to make a difference in the lives around me, whether by simply bringing a smile to a person's face or through my community service efforts.
Faculty or staff member who most influenced who I have become: Without my advisor, Professor of English Mary Bendel-Simso, I would never be the person that I am today. Dr. Mary has always believed in me and gave me the courage to switch from a Biochemistry major to an English major my sophomore year. She helped me to redefine my definition of success and showed me that being happy and finding joy in the work that I am doing is so much more important than receiving the validation and approval of others. She has taught me to be brave, to stand up for what I believe in, to ask for help when I need it, and ultimately to believe in myself. I know that even after I graduate Dr. Mary will continue to be a mentor and a friend, and I will forever be grateful to McDaniel for bringing her into my life.
Best class ever: I have loved every class I have taken but House of Fiction: American Stories would have to be my favorite. I discovered my love for short stories in this course and truly learned how to fully analyze literature. This course really challenged me, as it was the first higher level English course I took, but I think that pushed me to do my best. I was also taking this class when the pandemic hit, and when I was suddenly back at home, this was the class I looked forward to the most.
Took me totally by surprise: Before going to college, I knew I wanted to be involved, I just never expected to do all of things that I have. In my time on campus I have been the McDaniel men's lacrosse manager, a resident assistant, a chemistry tutor, Writing Center tutor, Hoover Library intern, reference desk worker, tour guide, vice president and now president of the Student Ambassador program, a Biochemistry major, an English major, member of the Honors Program, member of the concert band and Jazz Ensemble, Student Alumni Council member, McDaniel Live Music Club member, president of Alpha Phi Omega Coed Service Fraternity, a member of over five honor societies including Phi Beta Kappa, and so much more. McDaniel has allowed me to explore all of my interests, become truly immersed in the community, gain new friendships, and real-world work experience. I truly don't think I would have been able to have such a fulfilling college experience anywhere else.
My favorite spot on campus: Harvey Stone Pavilion. Harvey Stone is located way back behind the baseball field near the golf course and is a little hidden. I walk my dog, Clover, on the trails to get to Harvey Stone almost every single day, and when it is nice out, I spend a lot of time there. The walk there gives me a chance to decompress a little bit and helps to get rid of any anxiety or stress I'm feeling. Harvey Stone itself offers a little bit of a hideaway to do work while being surrounded by nature and allows me to take a break from the hustle and bustle of campus.
Most mind-boggling idea I learned at McDaniel: In pretty much every English class ever students are taught to look for a "deeper meaning," but there are truly a million different ways to analyze a text and find meaning and connections in it. A lot of people discredit English majors as the field isn't as "technical" as the STEM field is, but what they don't realize is that in order to even perform literary criticism, we have to study and understand other disciplines to have the knowledge we need to support our arguments. Along with that, I've learned that a person can pretty much get a job in any field with an English degree, which is something I think more students should be aware of.
My capstone title: "Undecidability Prevails: The Deconstruction of Gender Binaries in Dante Gabriel Rossetti's 'Jenny' and Christina Rossetti's 'In an Artist's Studio'"
What it's about in plain talk: I explore Dante Gabriel Rossetti's dramatic monologue "Jenny" and Christina Rossetti's poem "In an Artist's Studio," both of which are well known Victorian-era works. While both of the Rossetti siblings have rather traditional views on gender standards, their works show a different perspective on the issue of gender. I argue that through creating works in which men seem to have control but are obsessed with thoughts of the women in the works, and where the women are completely silenced and ignorant to the man's obsession with them, both the men and women show masculine and feminine characteristics which places them in an undecidable state. This undecidability works to deconstruct the gender binary as now neither the men nor the women in the works have complete control, nor are they in a completely submissive state. In being able to further consider the placement and use of gender in works like these, a deeper understanding of how gender is formed and what gender means to a person is able to be considered and greater space is created for dialogue surrounding gender issues.
What's next: I will be pursuing a Master of Science degree in Library and Information Science at the Catholic University of America and will hopefully one day work as an academic librarian at a college or university.
If you received financial aid, what did that mean for you and your family? Financial aid is what has allowed me to go to college. Without financial aid I would not have been to attend a school like McDaniel and get such a fulfilling liberal arts education. It has really helped to take some of the burden of paying for school off of me and allowed me to get the full McDaniel experience.
What has being a first-generation college student meant to you? Being a first-generation college student has come with a lot of struggles and hardships, but being able to get my degree and finally walk across the stage will make it all worth it. Being able to attend college has truly been a dream come true and McDaniel has given me the support and experiences to become the person I have always desired to be and to help me chase my dreams.
How will you stay connected to McDaniel? I have formed great connections with my classmates, professors, other faculty and staff members, and alumni during my four years on the Hill. I truly believe in being a Green Terror for life and hope to stay in contact with all of the amazing people I have met through the McDaniel community.
Name: Micaela Champion
Major: English
Class of 2022
"Being able to attend college has truly been a dream come true and McDaniel has given me the support and experiences to become the person I have always desired to be and to help me chase my dreams."