Class of 2022: Raquel Sobczak
Raquel Sobczak's positive outlook and global engagement have served her well in her role as president of the Honors Program, intern at the American Embassy in Budapest, and worker in the Admissions office. An active member of the Dance Company and Green Life, Raquel balanced her extracurriculars with her academic work as a History and Religious Studies dual major. Raquel is bringing her cultural knowledge along on a post-graduation trip to Europe with McDaniel's Office of Student Engagement.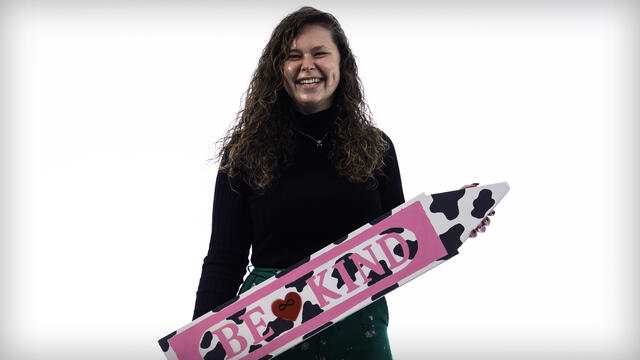 Raquel Sobczak is a History and Religious Studies major from Severna Park, Maryland.
When I took my first step on the Hill, I was: Unsure of myself and not confident in who I was or what I wanted to do.
The me who will ring the Old Main bell on Commencement Day is: Sure of herself and ready to take on the next chapter in life.
Real world experiences: While studying abroad at the Budapest campus I had the opportunity to intern at the American Embassy. In this position I hosted English conversation hours, gave presentations on American culture, and coordinated outreach events. I even got the chance to teach a class at a Hungarian high school. I got the chance to meet people from all around the world and learn about their cultures, and I learned some key insights on how the rest of the world sees Americans.
My aha moment: The two biggest things I learned on the Hill are that I am not capable of being in charge of everything and being involved in every single organization and club, and to let go of things that are hurting you more than helping you.
Footprints I'm leaving on the Hill: I want to be remembered as the silly lady who is always in socks and sandals, who is always willing to help support others and is not afraid to take on anything that is thrown at her. I hope the structures I have built in multiple organizations and programs will live on and provide support to students and student leaders. I hope students see some of the "Be Kind" signs I have painted and hung up and choose kindness when interacting with each other.
Faculty or staff member who most influenced who I have become: Dr. Brad Stoddard in the Religious Studies department helped me view the world in a different lens and was very supportive in my hot-sauce-making quarantine activities, and Dr. Bryn Upton in the History department helped me understand that I should not limit myself because I think I can't do something and provided plenty of cooking advice!
Best class ever: Religion and Critical Thought was hands down the best class I have taken on campus. It provided me with a different lens to analyze religious groups, which I quickly learned can be refocused to learn about a group or individual. Things are rarely as they appear!
Took me totally by surprise: Faculty's willingness to collaborate with students totally took me by surprise.
My favorite spot on campus: The paths around Harvey Stone Pavilion! If you are lucky, you can spot a couple groundhogs on your walk!
Most mind-boggling idea I learned at McDaniel: Some frogs can jump over 20 times their own body length.
My capstone title: I had two (let's go double major!): "Second Wave Feminism and Southern Baptist Convention (SBC) Reactionary Doctrine and Theology" and "Clashing Priorities- Moderates and Fundamentalist in the SBC."
What it's about in plain talk: I investigate second wave feminism and explore how the SBC reacted to the movement. As a result of the feminist movement, the group created new rules restricting women's place in society, roles within the organization, and sexuality.
There are two major groups within the SBC, moderates and fundamentalists. This research investigates how these two groups conflicted with one another and how the fundamentalists were ultimately victorious in determining the doctrine.
Tell us a little about your activities, including sports, during your years at McDaniel: I work in the Admissions office, Center for Experience and Opportunity, and the Writing Center, connecting with prospective students, staff, faculty, and the student body. I am also the president of the Honors Program. This year the program altered its first-year programming and introduced Honors Symposium, providing first-year students with snapshots into a variety of departments. The Honors Program also provided me with multiple opportunities to present at conferences and win awards. I currently live in the Sunrise McDaniel house, providing a collaborative space for eco-activism. Outside of academics, I spent my four years dancing with the Dance Company, hiking with Green Life, and attending every Office of Student Engagement event I humanly could.
What's next: Immediately after graduation, I am helping lead a trip to Europe with the Office of Student Engagement to show students how culture and location can impact leadership styles. Once I get back to the states, I'm embarking on a two-month-long road trip across the country to see as many national parks as possible. I'm super excited! After I travel, I am going to apply to Ph.D. programs in History.
How will you stay connected to McDaniel? I plan to stay in contact with all that faculty and staff that I have built relationships with.
Name: Raquel Sobczak
Majors: History and Religious Studies
Class of 2022
"I hope the structures I have built in multiple organizations and programs will live on and provide support to students and student leaders."