Class of 2023: Capri Savoy
Social Work and American Sign Language (ASL) major Capri Savoy learned to be a role model on the Hill through experiences like captaining the cheerleading team, joining the ASL Club, and interning with the Carroll County Department of Social Services. By discovering her inner strength, Capri learned to show up for others in Phi Mu, as a resident assistant, and as an executive board member of GirlTrek.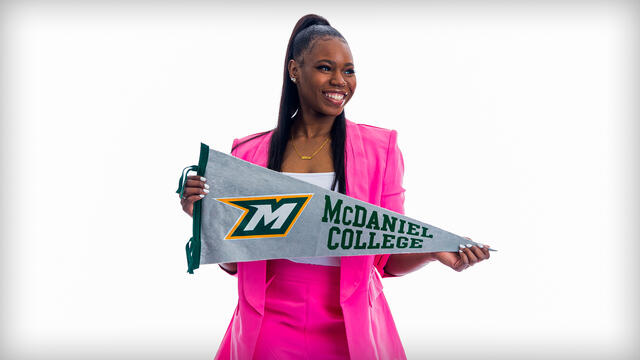 Capri Savoy is a Social Work and American Sign Language (ASL) major from Annapolis, Maryland.
When I took my first step on the Hill, I was: I was a young adult, searching for independence in a world that felt like it was against me and looking for ways to share my hidden talents that I had stored away for years, because I was too afraid to fail.
The me who will ring the Old Main bell on Commencement Day is: Now, I can speak wholeheartedly and say I am not who I was before. I have spent the last four years learning how to be a role model and how to love myself properly, committing myself to new discoveries and making lifelong connections with the people that I love most, and lastly, challenging all the stereotypes that were up against me.
Real world experiences: I have had two internships: one in the ASL department, where I helped teach ASL to students, and my senior placement for Social Work, where I helped vulnerable adults who may be experiencing abuse, neglect, or financial exploitation. My favorite experience was my internship senior year with the Carroll County Department of Social Services' Adult Protective Services Unit. This experience helped me grow in so many ways and has taught me how to think quickly on my feet and be informative with the way that I communicate. During my internship, I was given the opportunity to oversee clients, attend court hearings, shadow Adult Protective Services cases, and build relationships with long-term clients. All of which leads me to care for each and every one of the vulnerable clients that we serve with an open, honest, optimistic, and caring nature. This has been my favorite, because I get the opportunity to address my concerns on behalf of the community of vulnerable adults and connect them to resources that can enhance their life.
During my internships I was honored to connect with past alumni and even more specifically past alumni of my sorority or my direct major.
My aha moment: My aha moment was when I realized that in order to love yourself to your full capacity, you must begin by genuinely loving yourself. You spend so much time in organizations and classes, but the most important thing about your four years is that you have created a space inside of you that makes you feel strong, inspired, that challenges you, and lastly that is realistic. It's important that you are putting yourself above anything else in your life, because to function and to give so selflessly you must have something to give. Over the years, I learned that I wanted to give any and everything that I had to the next person, because it was helpful to them, however it left me in burnout season; today I fill my own glass and then I will pour the next person a glass.
Footprints I'm leaving on the Hill: As my time concludes here on the Hill, I want to be remembered for the person that I am. Most people know me on campus as someone who is involved in several positions in several clubs, but who instantly takes you in as her own with only a single contact. I hope that when students walk around campus, they smile at the person passing by just because they might need it.
Today I leave behind a newly established organization called GirlTrek — which addresses and focuses on the empowerment of women's health — as one of the first executive board members; traditions in my sorority, Phi Mu; my passion for the students through my Residential Life positions; my commitment to the cheer team; and lastly an understanding and appreciation for the ASL Club. Within these organizations listed, I know that the future is limitless and that these women will continue to lead by example, be loving, accepting, and grow here on campus.
Faculty or staff member who most influenced who I have become: Catherine Orzolek-Kronner '86 and Michelle Young '01 have impacted my life more than I could ever share. These women met me as a first-year student and have watched me blossom into who I am today. They have been the first ones to recognize my accomplishments, been my confidantes, and most importantly guided and corrected me into where I needed to be at any point during my last four years. Without their support, I can honestly say that the odds would have been against me, and I would not have been able to complete my four years, nor would I have been able to obtain advanced standing for my master's program. These women go above and beyond to build personable relationships with their students, they put their profession aside to be a human, and that means more than any words can say. I could never thank these women enough for continuously showing me that there are still amazing, pure, and optimistic people in this world, especially when I needed it the most. It is my hope to continue to make them proud in my future endeavors.
Best class ever: My favorite classes were all the ones that dealt with ASL with Paul Fitzpatrick. Paul is passionate about the Deaf community, and he is only interested in making safe spaces for the community and making it accessible. I enjoyed learning new things every class, and now I plan to continue using my ASL education in my future.
Took me totally by surprise: I never expected to find a college that was so small and personable; everyone is so friendly when you see them and there is always someone admiring you for what you have done or where you are going. The community is so generous with the amount of care shown at this college.
My favorite spot on campus: My favorite spot on campus is the balcony of Roj. It overlooks the city of Westminster and has the prettiest sunrises and sunsets. This was just one way that I showed self-care to myself. It is easy to sit with friends, read a book, or even do homework in the fresh air.
My capstone: My internship with Department of Social Services: Adult Protective Services.
What it's about in plain talk: It's about my field placement and how we impact the community with adults. What type of things we deem as neglect by self, neglect by others, abuse, financial exploitation, and guardianship, and how we navigate those within the department, including legal action.
Tell us a little about your activities, including sports, during your years at McDaniel: During my time here at McDaniel I have been busy! Freshman year: I joined the cheer team and my sorority, Phi Mu. Sophomore year: I remained on the cheerleading team, did sisterhood development for my sorority, and was a resident assistant for upperclassmen. Junior year: I remained on the cheerleading team but also was the fundraising chair, I was treasurer of the ASL Club, head resident assistant for independent housing, president for Phi Mu, and a student intern for the ASL department. Senior year: I became captain on the cheerleading team, head resident assistant for first-year housing, membership director and treasurer for Phi Mu, and a student intern at the Department of Social Services.
While I had been incredibly involved, I also worked inside local childcare facilities and volunteered throughout my time here at McDaniel.
What's next: This summer I will spend my time traveling, and shortly after that I will be continuing my education at the University of Maryland School of Social Work this fall, and eventually pursuing a career in clinical social work.
If you received financial aid, what did that mean for you and your family? I received several scholarships and financial aid during my time here at McDaniel. Not only did these scholarships hold me accountable, but they were life-changing for someone who has never had anyone in her immediate family attend college. I received recognition scholarships, academic scholarships, and more.
Are you the first in your immediate family to attend college? What has the experience meant to you? I am the first to attend college in my immediate family, and it has truly been a blessing. It is a blessing to be able to inspire your siblings to go after everything that they want, and for me personally to be the one to set an example. This experience has meant everything to me, and I will never fully be able to put it into words.
How will you stay connected to McDaniel? I will stay connected to McDaniel by attending alumni events and connecting with the organizations I was a part of. They say it's not just four years, it is for life, and I plan to take every advantage of that.
Majors: Social Work and American Sign Language
Class of 2023
"I have had two internships: one in the ASL department, where I helped teach ASL to students, and my senior placement for Social Work, where I helped vulnerable adults who may be experiencing abuse, neglect, or financial exploitation."